The 6-lane road of Dhangadhi has been accompanied by a smart light system. It is expected that the remotely operated bulbs will the road more secure at nighttime and help curb the number of accidents. Far West Province (Sudur Paschim Pradesh) Minister for infrastructure development, Prakash Bahadur Deuba inaugurated the newly installed smart light last Wednesday.
The smart light in Dhangadhi has been set up from Mohanapul ward no. 3 to Dhangadhi Airport gate in ward no. 13. The road stretching 6 and a half kilometers has been transformed with the advanced light system.
Nepal Electricity Authority (NEA), National Road Light Promotion Project, and Dhangadhi Sub-Metropolitan City's joint investment carried out the smart light system.
the mayor Gopal Hamal said that the plan is to install smart lights in all 19 wards. Since the 6-lane road is highly significant, it was given the first priority. Our objective is to light up all the wards with smart lights.
Also read: Kathmandu Metro Trials Pelican Crossing and Smart Light
The project of smart light in Dhangadhi will be completed in phases
The sub-metro will pay the power bills for the smart lights. So far, 432 smart bulbs have been installed on 212 poles under the "Ujyalo Dhangadhi" program.  The project has cost Rs 2.70 crores so far. Out of which, Dhangadhi Sub-Metro has invested Rs 61 lakh and the remaining 1.7 crores are to be invested in the project, the local government's divisional engineer Dijraj Bhatta said. Additionally, 40 high mast lights will also be installed in the first phase plan.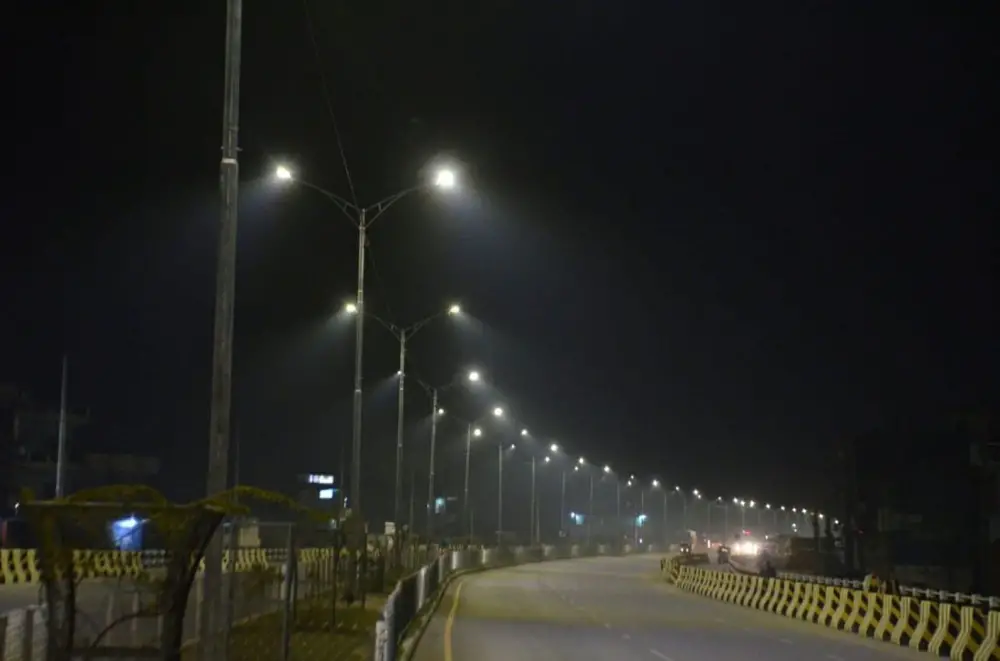 Project chief Shriram Pokharel said, "Mayor's active role ethics helped implement the project. Such works can be done in other places too". He added that smart lights are power efficient and glow more at night. They also add beauty to the road.
Smart lights are equipped with sensors that help them switch on after dark and turn off when morning brightens.
Suryodaya Urja Pvt. Ltd. set up the lights after winning the contract. It is expected that the ambitious 6-lane road will now be safer for all including drivers and pedestrians as well as help promote road safety. Don't miss: Pokhara tobe illuminated to High Mast and Smart Street light
In the second phase, Dhangadhi Sub-Metro plans to install 10 high mast lights, and in the third, add more smart lights from the customs to Chauraha to the remaining areas in the city.