IME Pay is offering 2500 cashback on NLIC premium payment installments
The offer also includes 2 tickets for Chandragiri Cable Car for a winner every single day
Only KYC-verified users are eligible for the offers
IME Pay has announced the 'Premium Tirau, Cashback Paaun' offer. Under this, the users of the digital wallet can pay Nepal Life Insurance Premium in installments and earn cashback of up to Rs.2,500.
The scheme will encourage NLIC insured to pay installments via their smartphones digitally. They can pay conveniently on the go which is also an objective of the company.
The company says that while paying via IME Pay wallet, one can get 0.5% or maximum NPR.2500 in cashback. Besides the cashback, the company selects one lucky winner every day to reward two tickets to the Chandragiri cable car.
Also see: IME Pay and Goldstar Enters Partnership, 30% Off on Shoes
Conditions
While paying the NLIC premium, it should be done before the due date or within 7 days of the due date.
The payment must be done via the IME Pay app
Besides, you must be a KYC-verified user to be eligible for the offer.
IME Pay has 25 insurance payment companies as partners already.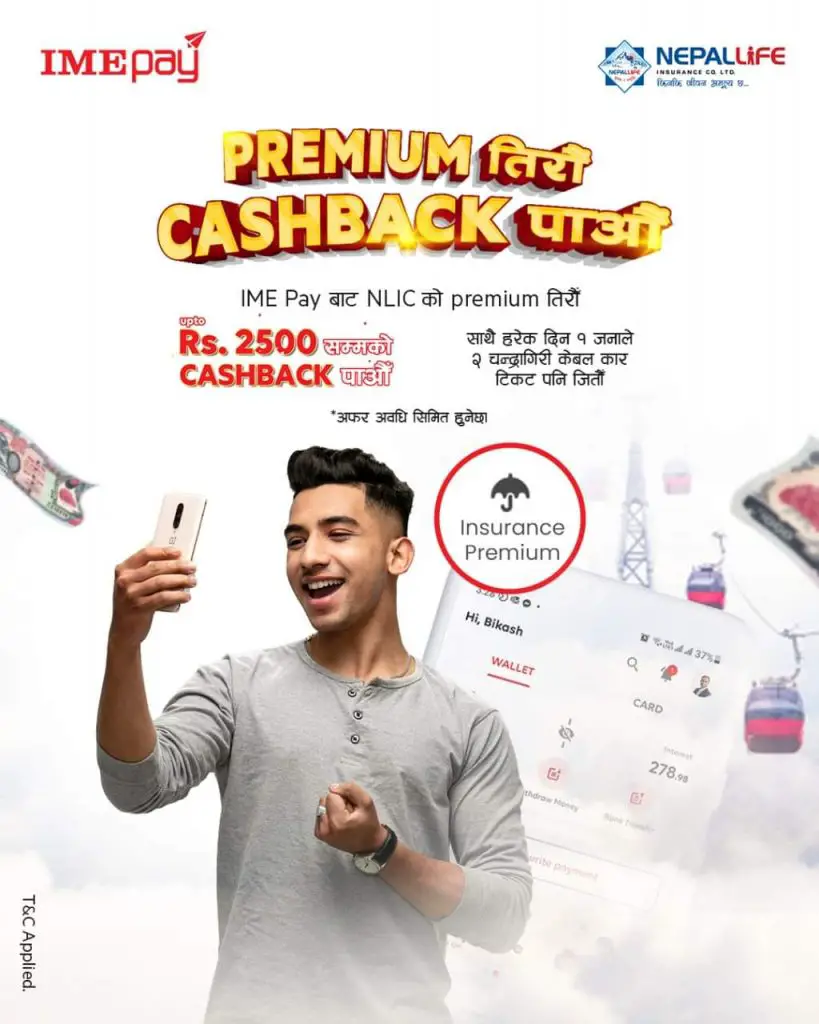 The company says the offer will help promote digital transactions among smartphone users.
IME Pay is a fast-growing digital wallet in Nepal with a strong base of 3 million users. It is licensed by Nepal Rastra Bank as a payment service provider and powered by IME Remit.
Do check out: Implement Interoperability: NRB to Digital Payment Service Providers
IME Pay has 25,000 touchpoints to facilitate digital payment across the country. With it, you can make utility bill payments, and book air, movie, and Chandragiri tickets. Besides, you can also buy tickets and vote for events.
What is your opinion on NILC payment via IME Pay? IS the offer compelling enough to make payment via the mobile wallet? Do share in the comments below.