IME Pay and Goldstar Shoes have agreed on a partnership
The Collaboration brings 30% discounts on Goldstar shoes while paying via IME Pay
The offer is for a limited period only
IME Pay by IME Digital Solutions Limited has entered a partnership with Goldstar, Nepal's leading shoemaker. This collaboration will bring 30% discounts to users on Goldstar shoes when buyers pay via IME Pay.
Both the companies signed the agreement papers at a recent signing ceremony in Kathmandu. Pramod Man Singh Basnet, the General Manager of IME Pay, and Mr. Prabesh Mishra, the eCommerce Head of Goldstar officiated the agreement with their signature.
This unique partnership means people who buy Goldstar shoes and pay online through IME Pay. As per the agreement, they will receive up to 30% (or Rs.300) while buying shoes from the popular shoe manufacturer.
Upon the agreement, Mishra, eCommerce head of Goldstar shared that he hoped the partnership will grow in the future. IME Pay GM Pramod Man Singh shared similar enthusiasm. He said, "we are very excited about this agreement, and this will encourage customers to take advantage of the available discount."
Also read: How to Get a Virtual VISA Card With IME PAY?
IME Pay and Goldstar partnership brings 30% discounts
The offer kicks off from Baisakh 23, 2079 and it is only staying for a limited period. To benefit from the discount scheme, you need to purchase new Goldstar shoes from official websites. Then, they will get 30% concessions on Web checkout.
You can also get the discount while paying through Smart QR while purchasing shoes from official Goldstar stores.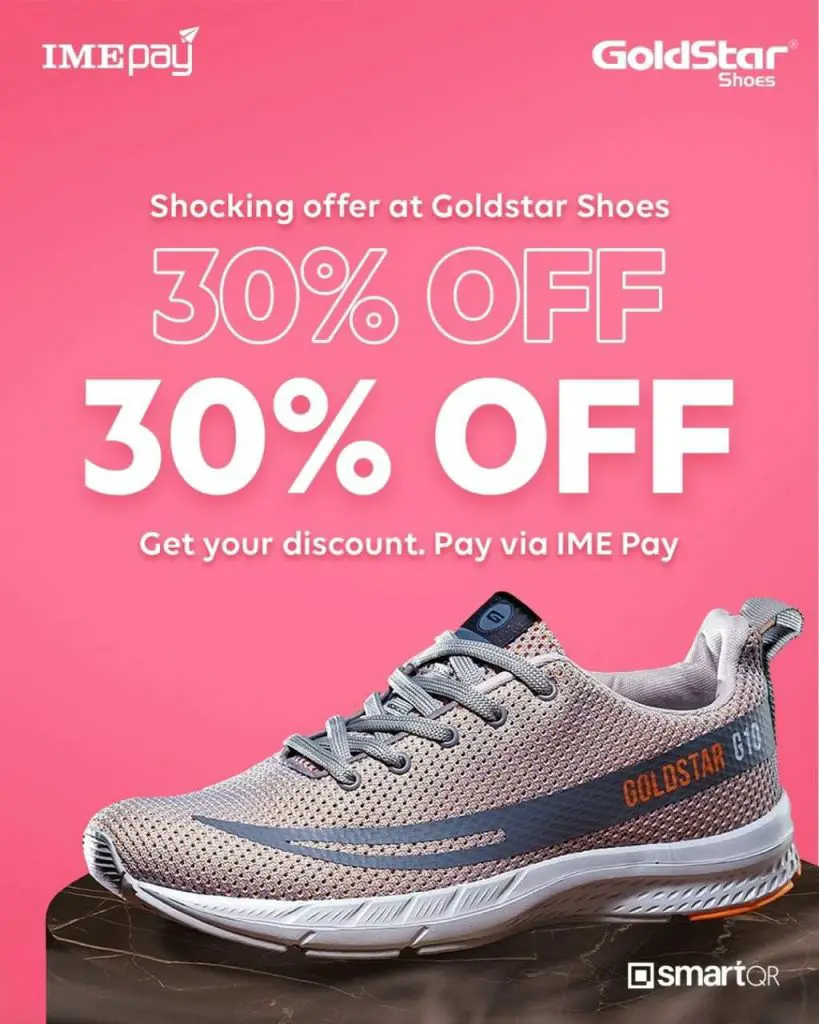 IME Pay is a growingly popular digital wallet in Nepal. With it, users can transfer money, pay utility bills and make purchases online. Goldstar on the other hand is the leading shoe brand for years. In recent years, the company has restrategized and also produces trendier youth-oriented shoes.
The partnership between these two companies will encourage smartphone users to buy their favorite Goldstar shoes and enjoy the 30% discounts.
Does this benefit compel you to buy your next pair of shoes and pay through IME Pay? Do share in the comments below.