In this article, we are going to compare two major payment service providers in Nepal, eSewa vs Khalti app. Most people are quite familiar with the services of digital wallets, eSewa and Khalti, and their popularity.
There are uncountable electronic services that have been developed and have been successful attempts. One of such revolutionizing evolutions is the Digital wallet, also known as an online wallet or e-wallet. Digital wallet is already a celebrated idea in western countries as Apps like Paypal, Google Wallet, Square Wallet, Zipmark, etc. had a strong foundation in the digital market. Only after the success of such online transaction apps in western countries came the trend in Nepal.
Do checkout: ConnectIPS Review: Easy Direct Payment from Bank in Nepal
As we approach 2021, we have witnessed blossoming online careers here in Nepal. One of the major growths seen in the online transaction trend is the Digital wallet. With the vision of creating convenience, security, and financial inclusion in the online payment system in Nepal, two of the digital wallet apps took on the Nepali e-market. And, they are eSewa and Khalti app.
There's no doubt these online payment apps have made the daily life of users easier. People travel long distances to stand in a queue and wait for their turn to finally pay the bills. It is time-consuming and tiring. The digital wallet has helped reduce this burden. Now, people can pay the bills from home using a smartphone. Access to the Internet can probably get half of your job done. These digital apps found a premise in the digital market merely because it reduced the daily hassles to carry a bundle of cash; it ensured efficiency and end user's satisfaction.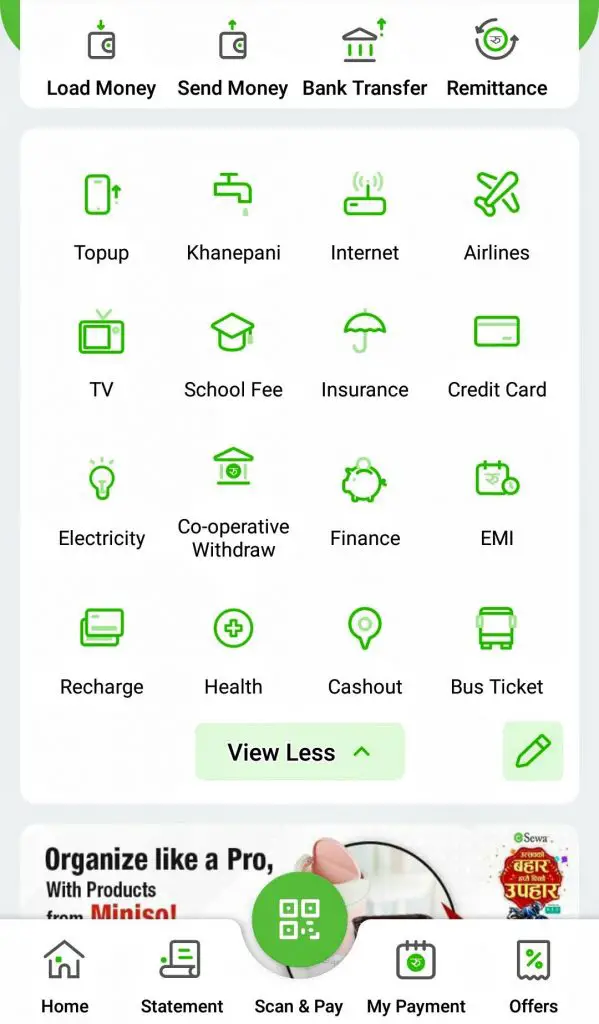 eSewa Vs Khalti: Differences and Similarities
With the increasing popularity of both eSewa and Khalti, people are often confused about deciding which is better: eSewa or Khalti? There are lots of similarities between these two online payment platforms, yet possess some distinct features that differentiate them from each other. People might be confused while they compare eSewa and Khalti. So let's compare these two apps on various levels and find out the similarities and differences between them.
Accessibility
Both of these digital wallets are easily accessible on Android and iOS phones. eSewa has a size of 10mb, whereas Khalti sizes to 13mb. You can easily install these apps on your mobile phone with the help of an Internet connection. You need to first register and create an account in these digital wallets. Then, log in to start online transactions. Both eSewa and Khalti have a similar process of creating an account.
Origin
eSewa, founded by F1 soft company in 2009, is considered as the pioneer in the online payment trend in Nepal. It provides various services inside Nepal, such as Topup, Internet bill payment, DTH recharge, Landline bill payment, electricity bill payment, online shopping, hotel booking, buying movie tickets, bus tickets, flight tickets, ride-sharing, reality shows voting, sending, and receiving money, etc.
eSewa didn't easily gain customers, as the idea of the electronic transaction was new back then. People were skeptical about online payment apps. People had the habit of following the traditional way of paying bills. On the other hand, though Khalti debuted years later, the popularity of eSewa didn't stop Khalti from gaining customers within a short period of time.
Khalti, founded by Sparrow Pay Pvt Ltd in 2017, also provides the same facilities provided by eSewa, as mentioned above. Though Khalti came later in the game, it has gained around 1million+ users just like eSewa. So, the types of services eSewa and Khalti provides its customers are also similar.
Banking transactions
Since eSewa and Khalti, both are digital wallets, it is obvious that they are integrated with various banks and organizations. Khalti has a partnership with around 54 banks, whereas eSewa has partnered with about 49 banks. Both the apps are unable to provide 24 hours service related to banking transactions and utility payments.
In the case of banking transactions, we need to link our eSewa and Khalti account with our Bank account for banking transactions. To transfer funds from one bank account to another, we need to load funds on our digital wallet from the sender bank account and then transfer to the receiving bank account. For this purpose, both eSewa and Khalti charges a service fee depending upon the amount involved in the transaction.
If you want to skip this long process of banking transactions, use the Connect IPS service and enhance the user experience of mobile banking. Connect IPS makes direct bank to bank transfer in real-time with less charge than digital wallets. Similarly, eSewa and Khalti both do not provide payment services to the revenue department, public service commission, stock exchange, social security fund, etc. Use Connect IPS service to carry out governmental and semi-governmental payment facilities directly from/to the bank account.
Secure Payment
Though we believe our transactions from eSewa and Khalti are secure, they must update their security features to provide a better user experience. Here, Khalti lacks the fingerprint sensor payment feature, which is available in eSewa. The fingerprint sensor prohibits other people to make transactions through your account without your permission. You can make a transaction with the fingerprint sensor in eSewa but not in Khalti.
Recommended Read: QR code based Payment Increased in Nepal.
User Interface
In the increasing competition to be the best app, eSewa seems to have fallen a step back to provide user connectivity and satisfaction. Users not only look for just service nowadays; they want the best innovative service. Khalti is increasing its partnership with various companies and organizations and tries to come up with new schemes and offers.
Khalti app believed in engaging customers on a daily basis. For that, Khalti offers various engaging quiz contests, discounts, cashback offers, refer and earn, and so on. Such gestures increased daily transactions and likability to use the Khalti app more. Khalti first brought the service of scan and pay, which was not available in the eSewa app earlier and is available in eSewa now.
Khalti brought schemes like smart chhori, which was an initiative by Khalti to empower a girl child and emerge a habit of saving to be self-dependent. Khalti provided cashback in many transactions such as buying movie tickets, Tootle and Pathao, and refer and earn offers before eSewa.
Response to complaints
Services of both the apps are quick and satisfactory, but are their responses to customer complaints and feedbacks also quick and satisfactory? Observing the review part of these apps on playstore, we can see that both the apps have both mixed negative and positive reviews but, customers seem more satisfied with the Khalti app. eSewa has 3.8 ratings, whereas Khalti has a 3.9 rating on the playstore. Though both eSewa and Khalti respond to its customers, I found Khalti more interactive with its customers. They respond with a solution, suggestion, or advice to its customer, whereas eSewa, just asks its customers to call customer care. Khalti is doing a good job in responding to complaints than eSewa here.
E-commerce growth
These apps have certainly provided hassle-free days to the people; moreover, it has been a terrific means for large as well as small businesses, to boost their businesses. Small businesses and entrepreneurs could easily get connected with their customers through electronic transactions. They could link their e-commerce website with bank accounts and have secure transactions with their customers. Both apps have given a great platform for small businesses to increase their trade and connectivity. Both of these apps played an important role during the pandemic period to operate cashless transactions. Now, they are offering various offers to their customers this festive season that helps small businesses to gain profit. 
Awards
Khalti has the vision to reach every household in Nepal, especially rural areas, where rural communities people still don't have access to any financial services. Due to their vision of providing financial service to rural areas, Khalti was widely appreciated and was able to win the Google business storytelling contest in 2017. Khalti is also the recipient of the ICT Award 2019. Similarly, F1soft recently bagged South East Asia Business Award 2020 so, F1soft becomes the first Nepali company to win this prestigious award.
Few Distinctive features
If we look at the various facilities these apps offer, we can find that they offer almost the same services but there are some services that one app has and another doesn't. eSewa provides EMI payment service and financial transactions related to co-operatives. We can also find various popular brands like Reebok, Adidas, etc in eSewa for online shopping. These services are not available in the Khalti app.
Khalti provides services like buying shares online, providing digital education online, job information, Tootle, Pathao, etc. They are not available in eSewa. Moreover, Khalti is accessible outside Nepal whereas eSewa is limited to Nepal only.
Personal view
I started using eSewa way before the debut of the Khalti app so, I'm more familiar with the eSewa app. I used eSewa mostly for Topup, buying movie tickets, and bill paying purposes. I didn't have to go out and search for a shop just to buy a recharge card. I didn't have to stand in a long queue to pay water bills and electricity bills. So, I instantly fell in love with the idea of online payment and eSewa.
Later on, I started using Khalti as well. I was quite attracted to the offers and cash discounts they offered which were, at that time, not available in eSewa. After using both payment platforms, I felt that Khalti is more focused on providing financial service to its customers than earning from their business. I felt it for some reason.
Khalti brought schemes like Smart Chhori to cultivate the idea of saving and utilizing the money smartly for their future. It provides cashback in a ride-sharing app that encouraged people to use a secure ride to their home and workplace. Moreover, I think, rather than focusing on increasing the number of brands and shops to increase online shopping transactions, Khalti seems to be focused on increasing utility partners and bank partners to reach people living in different geographies of Nepal. 
I strongly agree that eSewa has grown to be the biggest payment platform in Nepal. eSewa is trying its best to provide pleasurable service to its customers, but it needs to listen to its customers more. eSewa also made headlines when controversies spiked regarding its data security. At that time, my heart skipped a beat for once, and had a second thought about eSewa.
Nevertheless, I've been using both apps and both have come in handy whenever I have to carry out a cashless transaction. Both come into use, for example, I cannot load funds into eSewa from NIBL. At that time, I use the Khalti app. When I have to do utility payments, I prefer eSewa because I have been collecting reward points. Therefore, my experience with both apps is so far so good.
Need to work on
Payment platforms, eSewa and Khalti, have gained popularity in the Nepali digital market with their prominent services to the people but, there still exist some places where they need to work on for better customer service. Both of them do not offer 24 hours of utility payment facilities. The payment works only during office hours. It would be better if the transaction is possible throughout the day.
Both must work on enhancing user experience. A lot of people have complaints regarding issues when they try to make a transaction. The competition is high since many online payment apps have emerged in the market, so it is necessary to make the customer experience a happy experience. Customers are their prime priority, that's why it is better if they listen to their customer complaints and feedback more often and work on it. It would help their system be more familiar with the customers, and this process will help in strengthening the bond and gaining more trust from the customers.
Conclusion
Though eSewa and Khalti app appear to be similar feature-wise, if you break it down and perceive it minutely, you can see vast differences between them. Both apps have flaws, and both have strong features. Both of them provides cashback offer and reward points in most of the transactions. Both are offering as many offers as they can to their customers during the festive season and are collaborating with small and big businesses to promote online business.
So to decide which is better between eSewa and Khalti is conflicting because it all depends on your preference. You can use any one of them or both. But we should not forget that both apps have been developed to provide service to us, Nepalese people. The vision and mission of both the founding companies are great and sincere. It is their idea and hard work that has changed the status of the Nepali e-market.
After knowing in detail about eSewa and Khalti app, what do you think? Which is better: eSewa or Khalti? Don't forget to write it down in the comment section below. Share your experience of eSewa and Khalti app services with us.