An emerging e-payment system called Connect IPS is gaining popularity for its easy and hassle-free features with direct payment from your bank account without visiting counter. Connect IPS is a product of Nepal Clearing House Ltd. (NCHL) that plays a vital role in the transformation of manual banking transactions into digital. Let's find out all the features of ConnectIPS and its review.
With the introduction of digital wallets like eSewa and Khalti, the journey to a digital Nepal has already started but, people are unable to carry out some essential transactions like tax payment, share related payments, bank to bank fund transfer, and so on. With the help of Connect IPS, users are now capable of performing governmental payments and mobile banking transactions in real-time from one bank account to another. 
In this article, we will discuss the benefits of Connect IPS in our life and how to use it, but before that, let's learn what Connect IPS really is. 
What is ConnectIPS? 
ConnectIPS is a digital payment platform suitable for bank account holders for fund transfer and making payments, directly from the sender bank account to the receiving bank account without an intermediate medium. Introduced by Nepal Clearing House Ltd, Connect IPS supports citizen-to-government (C2G), customer-to-business (C2B), and peer-to-peer (P2P) payment transactions directly to/from the bank accounts.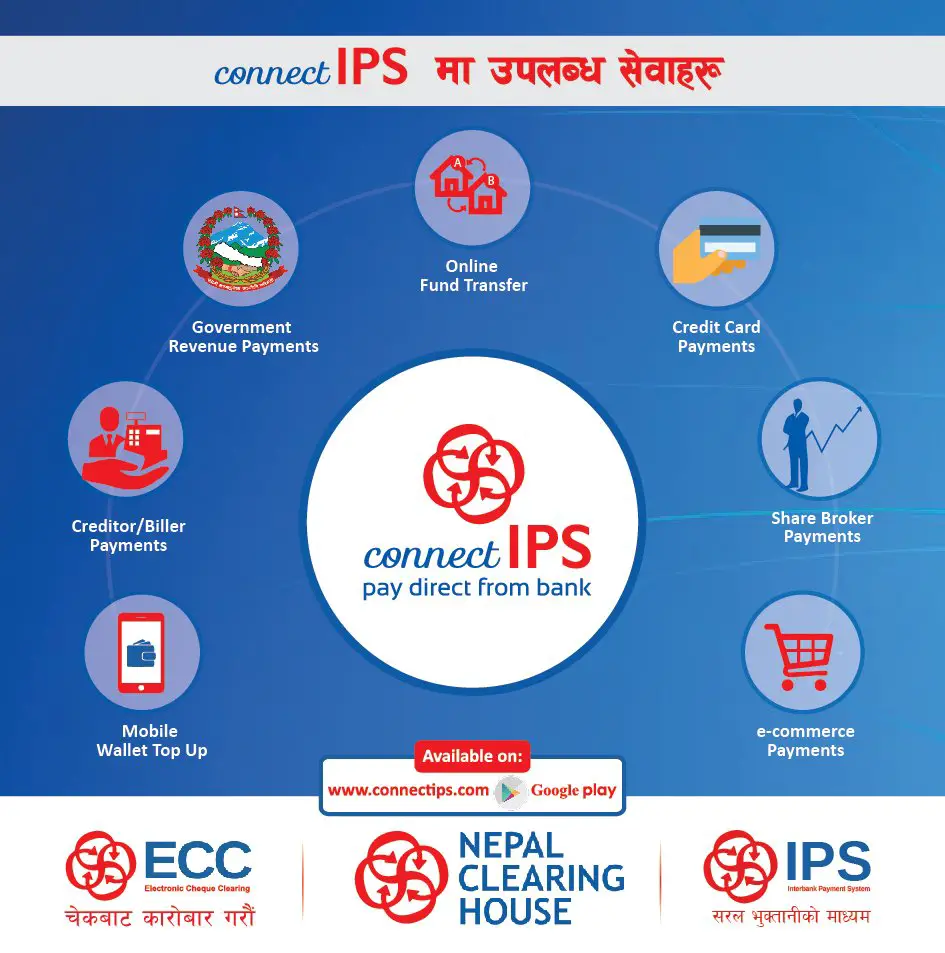 It has a National payment gateway infrastructure licensed by Nepal Rastra Bank (NRB) that aims to develop an overall ecosystem among governmental and semi-governmental organizations. It concerns the overlay services that improve the workflow and customer experience in a spectrum of invoice payments, in-app payments, point of sale (POS), social payments, and QR-code-enabled payments. 
Benefits of using Connect IPS
There are several benefits of using Connect IPS service as mentioned below: 
1) Accessible 24 hours 
You can make banking transactions anywhere and anytime. This service is accessible for 24 hours. You can access Connect IPS either via web channel (www.connectips.com), mobile app, mobile/internet banking. 
2) Highly secured 
For the last nine years, the NCHL team devoted themselves to building up a highly secure infrastructure of Connect IPS. It is established to carry out governmental and semi-governmental transactions, and contain personal details and data, so the e-payment system demands security features that meet the international standards of a secured environment and end-to-end encryption. The e-payment system is approved and regulated by Nepal Rastra Bank. You can secure your Connect IPS login credentials by verifying the authorization request using a Connect IPS username and password. 
You can also use the fingerprint system for both IPS login and confirming transaction, while you use the mobile app.
3) Link multiple bank accounts 
ConnectIPS enables you to make transactions directly from your bank account. You do not need to transfer the fund from your bank account to a digital wallet and then complete a trade. The National payment Interface (NPI) allows your bank account to link with one or more bank accounts in a single platform and conduct digital transactions in real-time. 
4) Cost-effective and easy to use
The direct link of bank accounts reduces the amount of charge that transaction costs during a transaction between a digital wallet and a bank account. Most of the service payments are free, however, it takes less charge for some transactions. The fund transfer between two accounts of different banks and some service payments can charge NRs. 2 to 15 depending on the transaction amount. The charge is lesser than the usual manual and digital wallet transaction.  
Connect IPS service is easy to use since it only requires a smartphone or a laptop or a desktop with an internet connection. It appears as a good e-payment platform for easy and cheap fund transfer. It gives relief from having to carry cash, cheques, saves countless trips to the bank, and a relief from the pain of standing in a queue in banks and ATMs. 
5) Transaction completes in real-time 
Connect IPS is a single platform where you can link multiple bank accounts. No matter where you are, you can make transactions through Connect IPS, and the transaction completes in real-time. It is convenient for online interbank transactions. You get to save the transportation time that it takes to go to the bank and make transactions. 
The users can send an amount of up to NRs. 10,00,000 through the web portal and NRs. 1,00,000 through the mobile app on a daily basis. You can make up to 100 transactions a day and 3000 transactions in a month. 
For the convenience of customers in this pandemic period, the monthly transaction limit is extended to NRs. 50,00,000 if carried out via web portal and NRs. 10,00,000 via mobile channels. However, the banks have the flexibility to set rules for their customers according to their internal policy, and it also depends on NRB's regulation. 
6) Online tax payment 
We clearly know how much time a governmental task takes to complete. Connect IPS is a great alternative for paying taxes online. To pay tax, go to the government payment option. Fill the required information in the empty boxes and press transfer. The transaction completes in these few steps.
How to create a Connect IPS account and Link Bank Account? 
After knowing how effective and convenient ConnectIPS is, you may be eager to use the connect IPS service. To be eligible to use the connect IPS service, you must create a Connect IPS account first and then link the bank accounts. Below are the steps involved in creating a Connect IPS account and using it to link bank accounts. 
Creating Connect IPS account 
1) Type www.connectips.com on the web browser or for Mobile App users, you can Android or iOS app.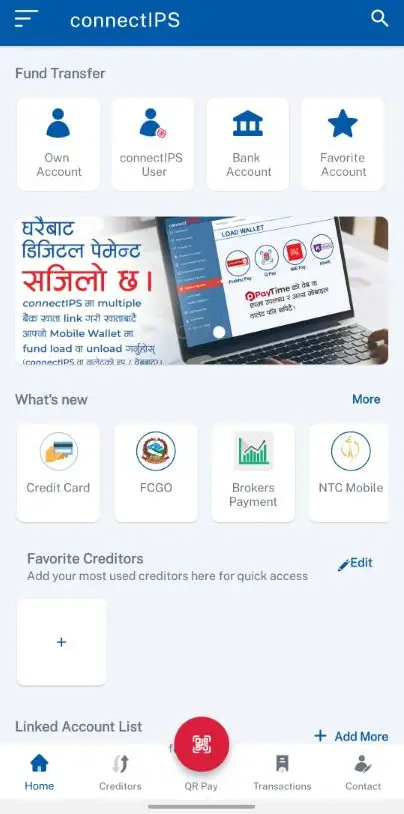 2) Secondly, register yourself by entering a few pieces of information like name, mobile number, date, and place of birth, username, and password. Then, after submitting this information, you will successfully create a Connect IPS account. 
3) After creating the account, activate the service by verifying the OTP code that you will receive on both mobile number and email id. 
Once you activate the service, get ready to link your bank account.
Linking Bank account to ConnectIPS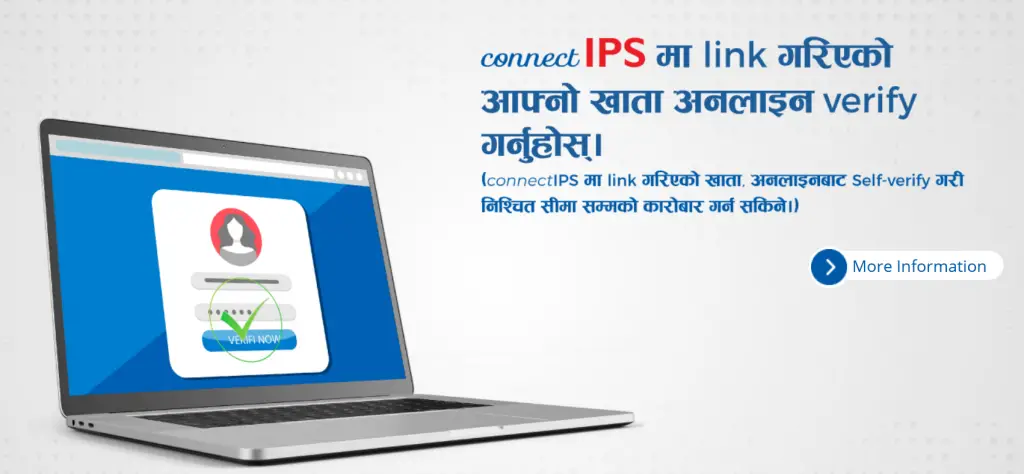 1) Log in to Connect IPS using your registered username and password. 
2) Click on 'Bank Account' from the Dashboard. 
3) Then, click on 'Link Account'. 
4) Fill in your bank account details that match the details of your KYC.  
5) After entering all the right information, click on 'Send for Approval'. 
6) Lastly, download the linked bank account form, fill it, and submit it to the concerned bank. You will receive a message after the verification process is complete. 
You can link your multiple bank account(s) & financial institutions in your Connect IPS account. Alternatively, you can select the 'self-verify account' option to self verify the linked account provided that the bank has activated such a feature. It skips the need to visit the bank. This auto linking bank account to connectIPS feature is available for few banks which they are expanding day by day.
Once you log in, you can see that the menu bar of Connect IPS includes various options like link account, manage the account, transfer to, donate for a cause, Government payment, Financial Institution, Creditors payment, Utility payment, and more. The system is useful mainly for revenue collection for various Government offices, including the Financial Controller General Office, Inland Revenue Departments, Office of Company Registrar, Public Service Commission, Nepal Stock Exchange Ltd., Social Security Fund (SSF), and Citizen Investment Trust (CIT). 
Connect IPS making payment easy
ConnectIPS has definitely made mobile banking easier. It supports direct bank to bank payment at the comfort of your mobile, reducing the hassle of going to the bank and standing in a queue. The amount slot for transactions is also high, which again eliminates the need to carry a hefty amount of cash wherever you go. You can operate transactions that involve large amounts of money quickly, and this feature certainly promotes cashless transactions, which is the need of the hour.  If you carry out banking transactions frequently, then you are highly recommended to use Connect IPS. It saves a lot of your time, effort, and charges than other digital wallets.
Do share your experience of using Connect IPS with us in the comment section below.