Bir Hospital's online ticket will make its OPD services smoother and more accessible to the public.
Bir Hospital, Nepal's oldest hospital has launched an online ticket system to improve its OPD service. The online facility allows the public to book their ticket for OPD over the internet. This rids the public of a physical visit to the hospital saving them valuable time in crunch times.
The prestigious hospital began its online ticketing system via the app Bir Hospital – Book Appointment in collaboration with Midas Technology.
The app allows users to book their appointment with the doctors at Bir Hospital and receive consultations online.
Do read: Hamro Patro Health Service Goes Live | Consult A Doctor On-Demand
Book Appointments From 23+ Departments
Bir Hospital's mobile application allows its users to book appointments with doctors from 23 above departments. They can also choose the doctors and the time of their own preference.  If required, the app users can cancel or reschedule the appointment too.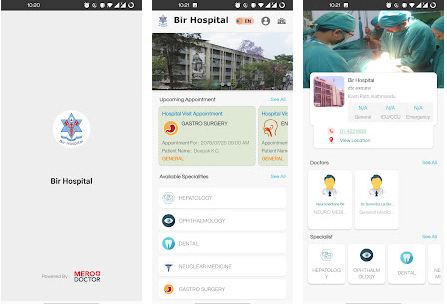 The app is useful for its users to book an appointment for themselves as well as their family or friends.
How To Pay For Bir Hospital's Online Ticket
Paying for the hospital's online service has many options. App users can pay for their booking via many digital payment gateways such as IME Pay, eSewa, or Khalti. Currently, this service costs Rs.30 for an OPD ticket.
Besides, booking an appointment online, the app users can find out the expected time of the doctors' availability to help users fix their time accordingly. The app allows users to upload their prescriptions and access the drugs prescribed to them.
Besides, the patients will be able to check on their lab reports and access their medical records on the app.
Don't miss: Book An Online Appointment With A Doctor At Civil Hospital
With the growth of smartphone and mobile broadband, and inspirited by the government's Digital Nepal Framework, telehealth is also taking off. Recently Civil Hospital also launched a service of a similar kind.
Online health services will spare people time and hassles and allow them to receive some medical facilities effectively. Let's wish such services grow and improve further in Nepal.