Hamro Patro health service will allow users to book a consultation with specialist doctors on-demand.
Hamro Patro, Nepal's most popular smartphone app has inaugurated its telehealth service from today (November 11). With this health feature, its app users can receive a paid consultation with a specialist doctor.
Hamro Patro's health service is currently live for pilot testing. To get the feature on their app, you will have to update Hamro Patro to its latest version.
Remember that the feature has landed only on Android for now. However, iPhone users will have to wait a few weeks for the service.
Regarding this, Shankar Uprety, Founder & CEO of Hamro Patro says, "The telehealth feature is available only on Android for now. But iOS users will get the update roll out within two months.
Hamro Patro allows any doctor to be part of the project who has been recognized by the Nepal Medical Council (NMC).
Do read: KMC To Begin Nepal's First-Ever Robotic Surgery
Hamro Patro's Remote Health Service | How Does It Work?
To acquire the online consultation in Hamro Patro Health, you have to create a profile with their data including their name, age, and their health hazards.  Besides, if possible, you can also submit your documents to pass along a clear state of their health concerns.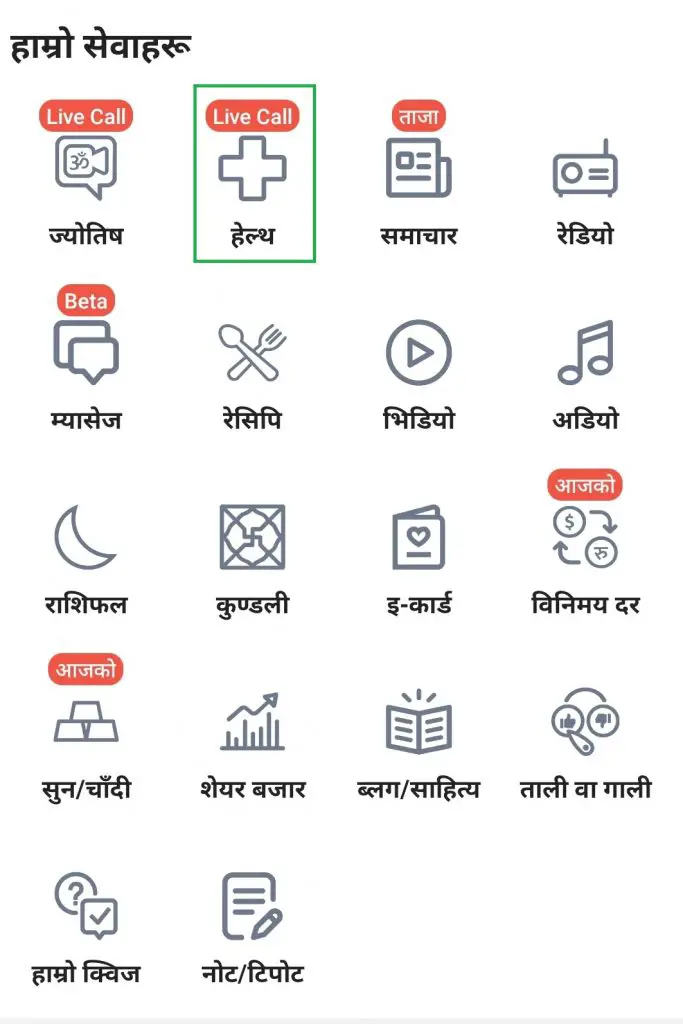 To book a consultation, you need to create a Hamro Patro profile and fill up the detail about the health conditions. You also need to buy a ticket to book a consultation with a doctor. The ticket costs Rs.500. After buying a ticket, you can instantly call any available doctor. The list of available doctors is shown at the bottom of the interface.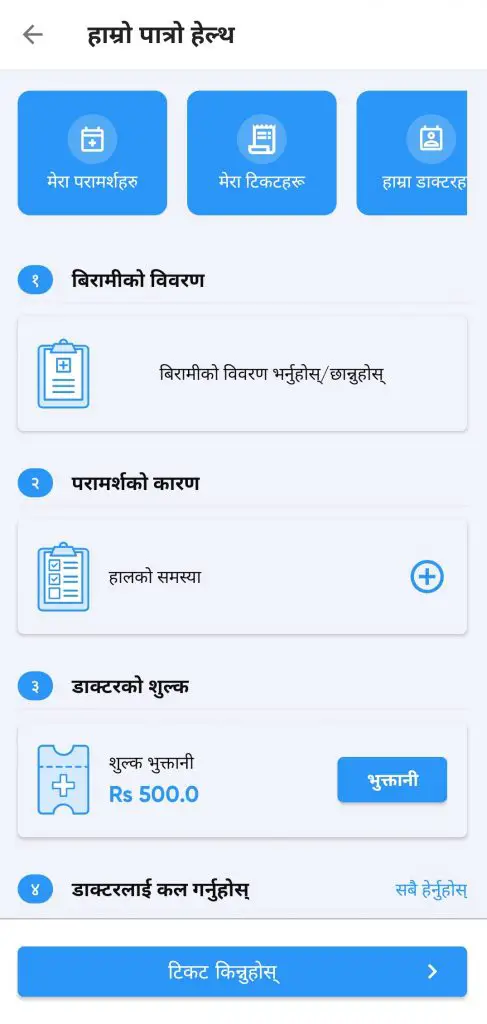 The doctor booked for a particular patient will be available for one week for follow-ups, and for assessing the condition of the user. The doctors will prescribe medications and relevant suggestions using in-app features.
Hamro Patro's telehealth interaction offers a unique opportunity for both doctors and clients to engage in a remote health service. Utilizing mobile internet for health services is still a novel concept but Hamro Patro's online health service might be a significant step in the right direction.
Don't miss: Rudra Pandey Appointed Hamro Patro's New Chairman of The BOD
Hamro Patro says the platform has already got 20 doctors aboard and more expansion is expected soon. The current pilot trials will last for 2 months before a full-fledged service goes public on both smartphone platforms, Android and iOS.
For the most effective service, the app developers will integrate an algorithm to match the patient with a doctor specializing in the said issues.
When you buy a ticket, you may call the doctor instantly. However, if the doctor is not available, they will quickly appear for the consultation as soon as they have time.
With a zeal to improve healthcare facilities for Nepalese, Hamro Patro will bridge the physical barrier between the patients and doctors. No matter the distance, the patient can discuss issues with the specialist on-demand.
How useful will Hamro Patro's health feature come to be? Can the internet play a potential role in the distribution of health services to a convincing extent? Do share your opinion below.