Learn about Hamro Patro's new Chairman Rudra Pandey, the app, and its services.
Hamro Patro Inc. a Delaware-based US corporation has announced the nomination of Rudra Pandey as the chairman of the board of directors. Hamro Patro, the popular smartphone app has recently reached a  landmark 10 million downloads milestone and seeking newer challenges. Pandey will now join his hands with Hamro Patro founder and CEO Shankar Uprety, and the senior team to spearhead its next strategies.
Rudra Pandey, Hamro Patro's new chairman of the BoD is the household name among the ICT fraternity in Nepal. He is the pioneer of the software industry and also a highly successful entrepreneur in the country.
Mr. Pandey is also engaged in other ventures. He is currently serving as Founder & Executive Chairman of Deerhold Ltd. that provides software and IT solutions globally.
Hamro Patro is one of the most common apps among Nepali smartphone users. The app was launched in 2010 as a calendar app and has evolved to offer multi-faced services such as games, horoscopes, the latest news, etc.
The Hamro Patro app has hit 10 million downloads on Play Store, a benchmark among Nepali apps, and needs fresh challenges to maintain its status. Pandey, a seasoned IT professional presence will further boost the spirit of the team and help devise a new path for the popular Nepali smartphone app.
Do Read: Renew Your Vehicle From Nagarik App
Sharing The Enthusiasm
Shankar Uprety, the Founder & CEO, and Rudra Pandey both shared their mutual excitement over their collaboration. Inviting Hamro Patro's new chairman, Uprety expressed his delight at the prospect of their joint collaboration with the affluent ICT professional. He said, "I am truly excited to welcome Rudra Dai to Hamro Patro. I am looking forward to working closely again with Rudra Dai. Rudra Dai was my mentor for more than six years in D2Hawkeye, and I respect him a lot. This is an amazing opportunity for us to have him by our side as our leader."
Meanwhile, Pandey also spoke in glowing terms for his fellow professional. Speaking in glowing terms, he said, "Shankar is a true entrepreneur and thorough gentleman. He grew under my watch during the early years of his career. He has built an amazing company. I see his company be the first unicorn coming out of Nepal. I look forward to working with Shankar and his amazing team and making this household name even more successful and bigger."
Also read: Metro Online Taxi Begins Service: Book Your Ride At Rs.99
Hamro Patro a Full-fledged Service App
Hamro Patro is not merely a calendar app. It is a feature-packed app with multiple services in its interface. Users can read the latest news, message, seek astrology services, tune in to the radio and find exchange rates.
Besides, the app has also begun a remittance service for Nepalese living in the US to send money to their friends and family in Nepal. The company is planning on extending its service to more countries soon. Similarly, Hamro Patro has been plugging for its Hamro Paro Health service which allows users to pay for an online appointment with a doctor over a video call for a consultation.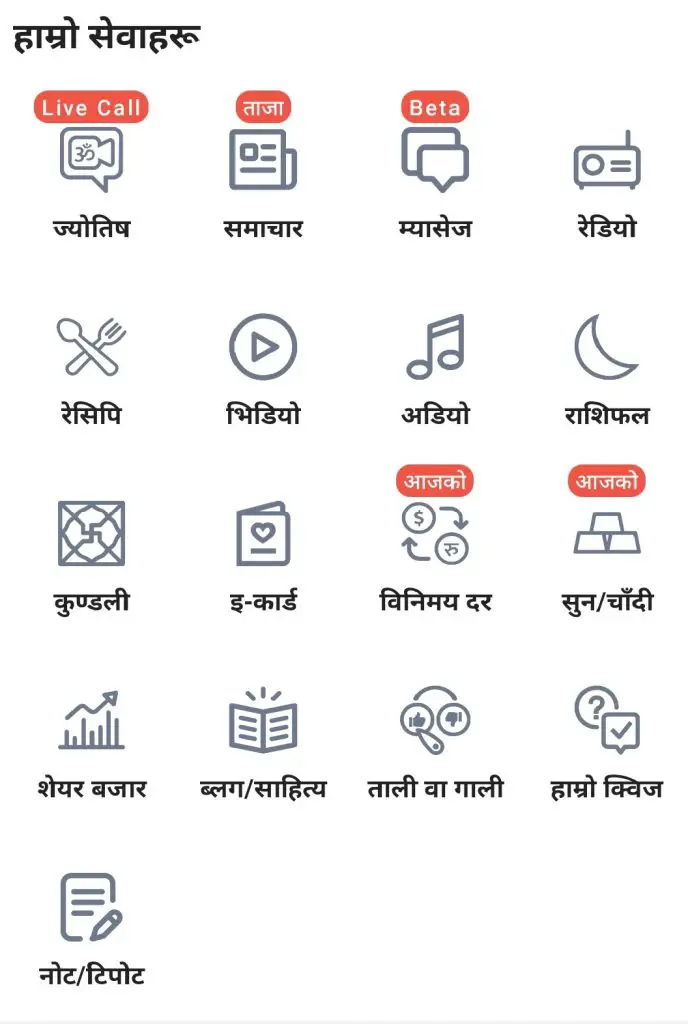 If you need to read the latest news, listen to the radio, find exchange rates, remittances, or many among others, Hamro Patro is your all-encompassing app.
Check out: Top 10 Online Shopping Sites in Nepal
Besides the obvious calendar feature, which is your favorite service on Hamro Patro? Do let us know why you use this app often in the comments below.