Find out our recommended list of the top 10 online shopping sites in Nepal with their key details.
Online shopping has become common these days. Everyone has bought something online or is aware of it. While been in existence for two decades, online shopping has exploded in the last few years. Especially, COVID-19 lockdowns have contributed most to its proliferation.
Smartphones and easy access to broadband have made online shopping a very convenient mode of shopping for those who love the comfort of buying and getting products delivered within a few clicks or just a call. The online marketplace/eCommerce is the norm these days.
Check out: Top mobile wallets in Nepal
In this post, we have compiled a list of the top 10 online shopping (eCommerce sites) in Nepal. Do check them out below.
Table of Contents
10. Fatafatsewa.com
Fatafat Sewa is another innovative eCommerce site with a strategy of its own. The company sells products on its own without vendors coming at it. This ensures that the company handles everything responsibly to bring the products to their destinations.
The company is selling products ranging from mobile phones, and laptops to other gadgets. The, especially with this eCommerce site, is that you can buy your favorite gadget on an EMI without having to pay 0% in interest. For this, Fatafat Sewa has partnered with major commercial banks to facilitate on-budget buyers to pay in installments.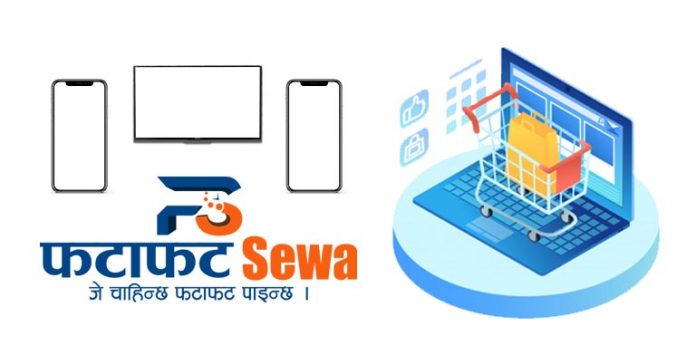 The service also has mobile insurance, repair, and exchange service which could mean a lot to many buyers. The company also promises fast product delivery and pickup and drop service.
The service began just recently in 2021 and while Gyapu and others have made an instant impact, it is still trying to break through. Its portal seems to have issues running smoothly. We promise to keep you updated on this site once it comes up and running to full capacity.
9. Durbarmart.com
Another eCommerce vendor Durbarmart is a web-based service offering products in 8 categories including apparel, electronics, and electronics. Besides shopping, you can also start selling your products through this platform after creating an account.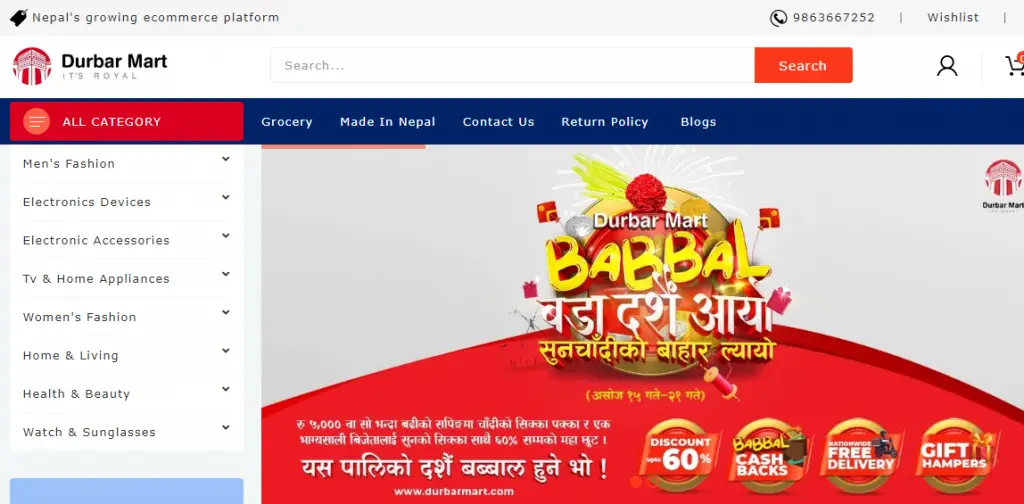 Durbarmart offers two types of discounts, coupon discounts, and automated discounts. For the former, you can simply insert the discount coupon before buying a product. As for the other, it is automatically calculated when you add products to the cart.
Customers can pay for the products right on its portal with VISA, PayPal and etc. However, they can also pay cash-on-delivery if they are more comfortable with it.
8. Onlinesathi.com
Onlinesath is a Pokhara-based online shopping site with an array of products on the table. It offers products of all cost ranges for people from different walks of life.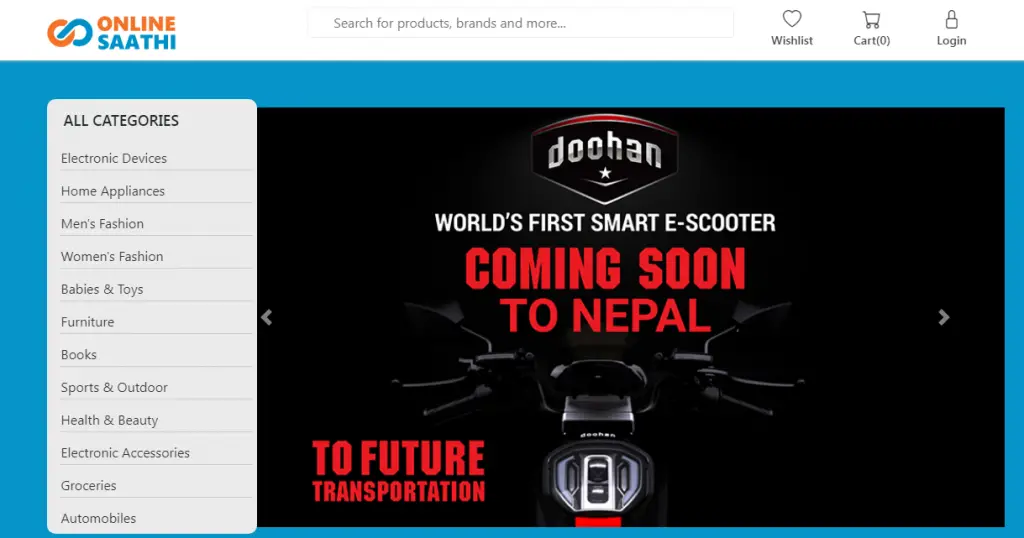 Besides, it is also an EMI-based payment solution. The company has tied multiple commercial banks to provide EMI service on the purchase of products from Onlinesathi.com. As for regular payment mode, customers can pay on delivery, eSewa, Khalti, and Connect IPS are also options.
For now, Onlinesathi offers service in Pokhara, Baglung, Waling, Damauli, Beni, and other surrounding areas. The company has charge-free delivery for select vicinities too and promises an encrypted payment mode and guarantees product delivery within 4 working days.
7. Smartdoko.com
Smartdoko entered the Nepali eCommerce scene in 2017 with 18 categories and sub-categories of products. in just 4 years, it has earned viable recognition becoming many's default portal for online shopping.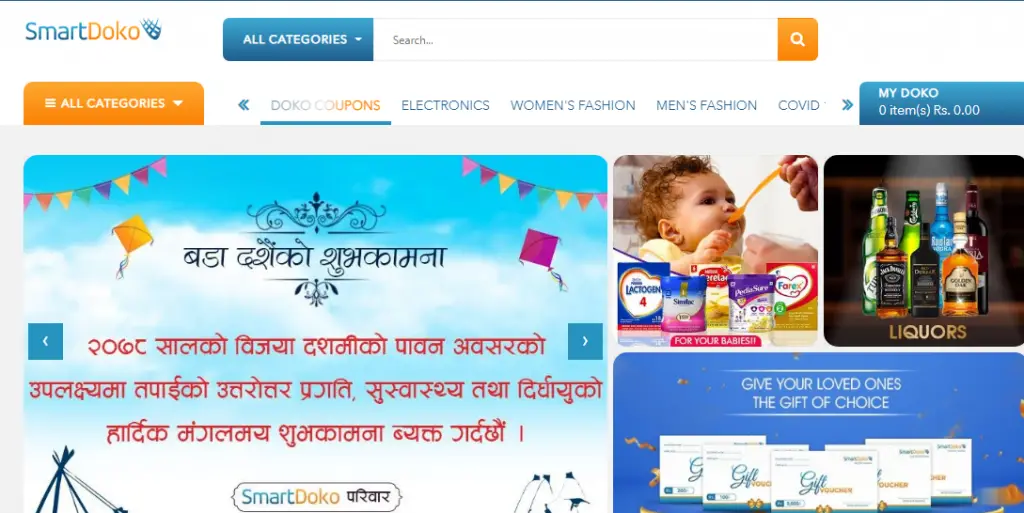 The company promises a very fast and reliable delivery of products and accepts various payment options. It sells products from kids to adult clothing, groceries, electronics, to gift items. Shoppers can pay Cash on delivery (COD), Card On Delivery, Cell Pay, Online Card Payment (MasterCard, and Visa), and ESewa to buy products.
Besides, member rewards, one kind of its own Doko-coupons carry a significant draw to this eCommerce site.
The company is mostly concentrated in major areas of Kathmandu and other select cities. Beyond the capital, Smartdoko is available in Butwal, Itahari, Dharan, Biratnagar, Narayanghat, Nepalgunj, and Pokhara.
6. Gyapu.com
Gyapu is the next big thing. It started the service during the staunch lockdown and has seen accelerating growth in the short. With a plethora of products enabled by sound marketing and technology, Gyapu could soon disrupt the established ecosystem of online shopping in Nepal.
Gyanendra Khadka, the entrepreneur behind Gyapu who also owns a blockchain ecosystem called XLAB has higher ambitions with the company. He aspires to expand his company beyond Nepal and break into the South Asian market by the end of 2021.

Just like Daraz and others, Gyapu offers a wide legion of products from automobiles to groceries, fashion, home décor, and electronics. Customers can find 20000+ products from 50 categories.
With the cheapest delivery options and allegiance with departmental stores, Gyapu is building a solid network for products diversifications. The company is highly conscious of growing demands and trends in online shopping. It sees online shopping as a holistic and engaging moment and works at delivering the corresponding service.
Gyapu has made payment options the most convenient by providing virtually all the major online mediums. Customers can use eSewa, FonePay, cards, IMEpay, Khalti, and others to get products delivered to their doorstep.
With a lofty vision and ambitions accompanied by technology, Gyapu is rising through the ranks. For now, it seems very certain that Gyapu would soon see itself among the leading eCommerce platforms in Nepal.
5. Muncha.com
If you are living abroad and want to surprise someone with a gift in Nepal, Muncha is your best buddy. Muncha.com.np is the most prominent online platform for sending gifts from abroad to Nepal.

To its credit, the brand Muncha comes along with a prestigious history. The web version is the equivalent of Muncha House in Kathmandu which is the first departmental store in Nepal. The company ventured into online service in 2000 "to offer a gifts gallery to non-resident Nepalese looking to surprise family and friends back home".
Nepalese abroad have found Muncha their best aid in sending gifts to their dear ones in Nepal such as gifts, birthday cakes, or any other merchandise. As the service is targeted at Nepalese abroad, Muncha accepts iPay, VISA, and iPay for payment. Customers can also pay cash on delivery which they complete in 2 – 3 working days.
If you are planning on sending a gift the easiest way, do consider Muncha next time.
4. Thulo.com
Previously known as NepBay, Thulo is the first online commerce venture which began operations in 2006. First beginning in Kathmandu, the platform is now available countrywide through which people can buy products from personal care, electronics, apparel, sports, and outdoors, office supplies, fashion, books, and groceries.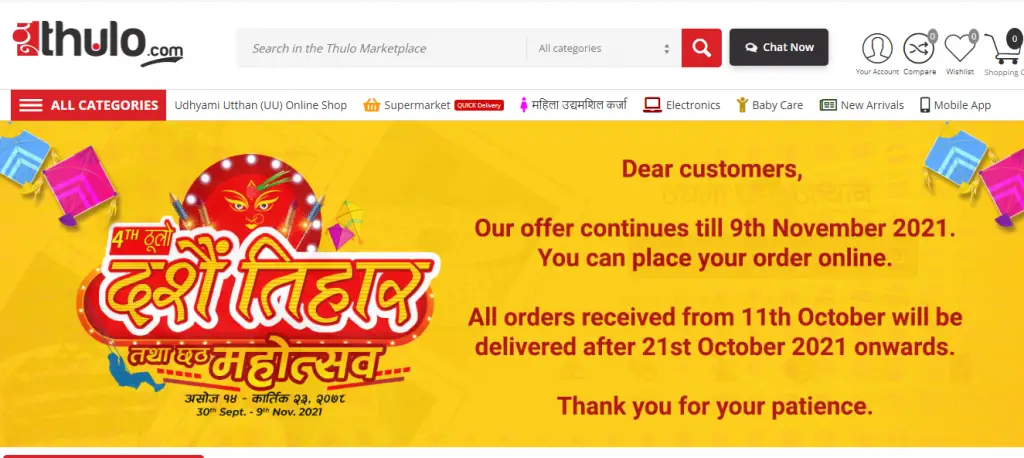 Thulo.com not only sells products but also allows customers to put their products via its platform. Customers can engage in the purchase of second-hand goods from all over. Besides, you can also become a seller on this platform with an account.
The company's web design is minimalistic and user-friendly. Any visitor to the portal can easily explore products to place an order.
Thulo.com promises a tension-free delivery for your products. The company says after the order placement, the product is processed within 48 hours safe delivery is always promised. The company has teamed up with major courier and logistics partners to get the products to their destinations on time.
Being the pioneer of eCommerce in Nepal, Thulo/NepBay holds a prestigious position among its competing peers. To buy products through Thulo.com, go to its portal or download a smartphone application available on both iOS and Android.
3. Hamrobazaar.com
Hamrobazaar is a classified portal founded by Prabal Sakura. The platform is a product listing site and therefore. It only assists in connecting a seller with his/her potential buyer.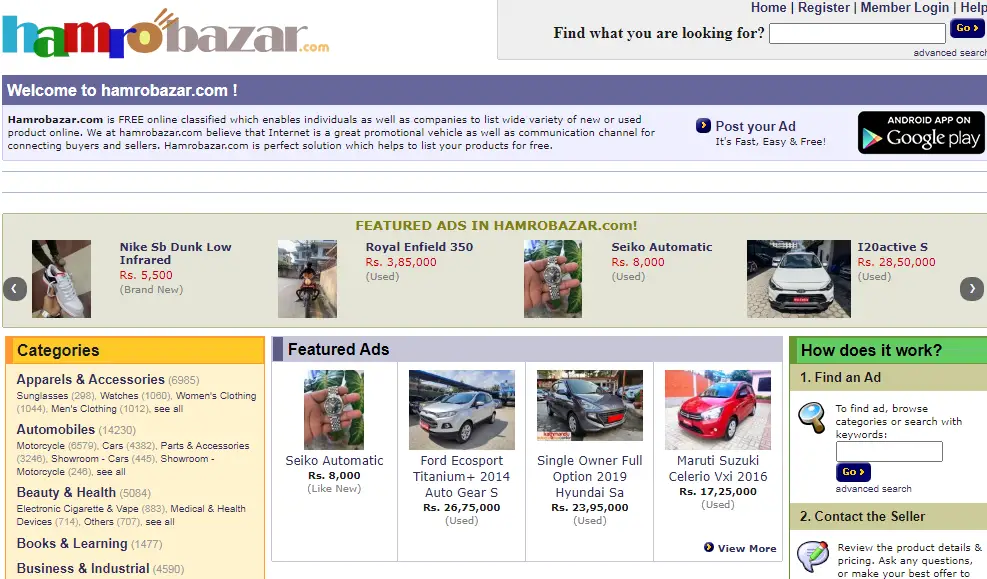 For its use of ease, the portal has garnered tremendous appeal among Nepalese who want to find buyers for their new or used products. For many of them, it is the default medium for them to find potential buyers for their electronics, motorbikes, cars, or any other products.
The site is recently acquired by MNS Investments and may have higher objectives moving forward. They had the following day after the takeover, "We have always marveled at how Hamrobazar has remained the unquestioned leader of Nepal's digital marketplace and we believe that we can take the company to even greater heights".
Hamrobazaar.com is available all across the country and to all. If you want to sell any product that you have, just visit its portal and place it. You might find a prospective buyer for your product.
2. Sastodeal.com
Sastodeal also has a decade-long history in the online shopping fraternity. Like any other eCommerce, the company offers a diverse range of products on sale through its platforms.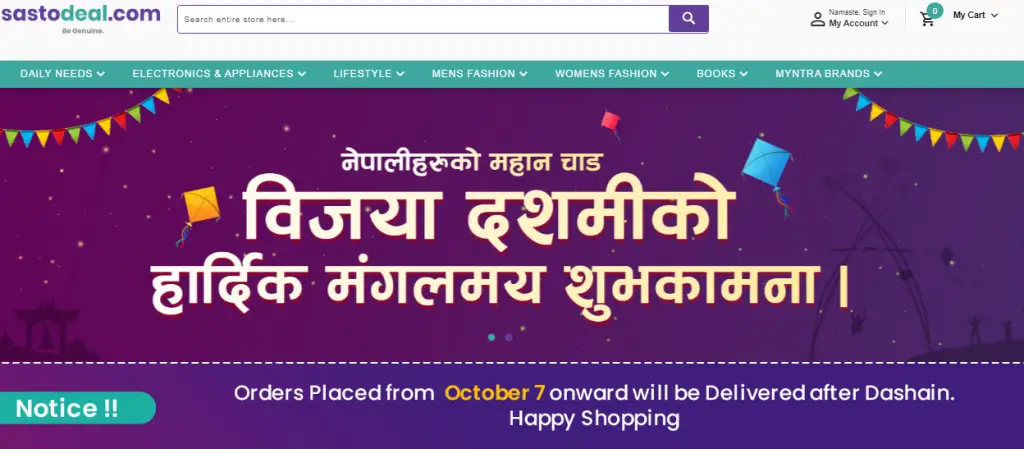 Sastodeal offers products from electronic gadgets, clothing household appliances. The company has partnered with Indian eCommerce giants Flipkart and Myntra that allowing Nepalese to purchase their favorite apparel and other products trending in India.
The platform has been in service since its launch in 2011 when internet penetration was still not encouraging. The company thus has helped greatly contribute to the online shopping culture in Nepal.
1. Daraz.com.np
With over 6,00,000 products available under dozens of categories, Daraz remains the biggest online shopping site in Nepal. Since its launch in 2014, the company has attained the biggest consumer appeal due to its robust marketing and offerings. Daraz's commitment to innovative shopping and continuous addition of new features has made it the people's one-stop favorite eCommerce platform.

Daraz has products from recognized domestic and international brands. You can find gadgets, apparel, beauty products, home decor, and all you can ask for. You name it, you will find it
The Alibaba-owned eCommerce leader has recently begun Daraz Live which brings customers and sellers into interaction for products. the features are available on mobile applications only. Besides, it also has a new user voucher offer, Daraz Gems, Daraz Wallet, bank day discounts, and etc. which brings lots of relief & rewards to online shoppers.
Shopping on Daraz is available across the country. Anyone living anywhere in Nepal can expect to land products at their doorstep with Daraz. The company has also partnered with IME Pay to provide more drop-off locations for its customers in various parts of the country. For payment, Daraz accepts cash on delivery. Besides, you can also pay through eSewa, credit/debit card, and IME Pay.
You can shop on Daraz via its web page or smartphone app.
Some Other Mentions
The list doesn't include all of the available marketplaces in Nepal. However, there are many other eCommerce trying to break through into mainstream eCommerce. Only time will tell how far they will grow. Some of those providing online shopping are:
Our list may see changes as these eCommerce providers go through ups and downs in the markets.
Online shopping has become a mainstream mode in Nepal today. Especially, after the COVID-19 lockdown, eCommerce stars brightly shone. The ubiquitous presence of smartphones and cheaper internet have made online shopping even easier. The ability to look for the desired product without sweating through the markets is a real convenience for consumers.
Do Read: WorldLink Invests in Khalti | Goal For Financial Inclusivity
Online shopping is especially popular among the youth demographic. Buying international brand products with a few clicks is an appealing idea to most of us. This has also contributed to the digital economy of Nepal and enlarged the scope of digital wallets. All in all, the eCommerce site adds a benefit or more to us all.
How often do you shop online? Do let us know your favorite eCommerce site and why do you prefer it in the comments below.