Nepal Telecom (NTC) was the first telco to launch eSIM in Nepal and now Ncell has also launched the service. SIM cards play a prominent role in mobile devices for cellular calls & packet data. eSIM is also a type of SIM card that is embedded inside a mobile device as a chip. So there doesn't come a requirement to change sim cards physically. Users can remotely add or remove operators without physically swapping the SIM cards. Let's know more about its features and NTC eSIM in Nepal.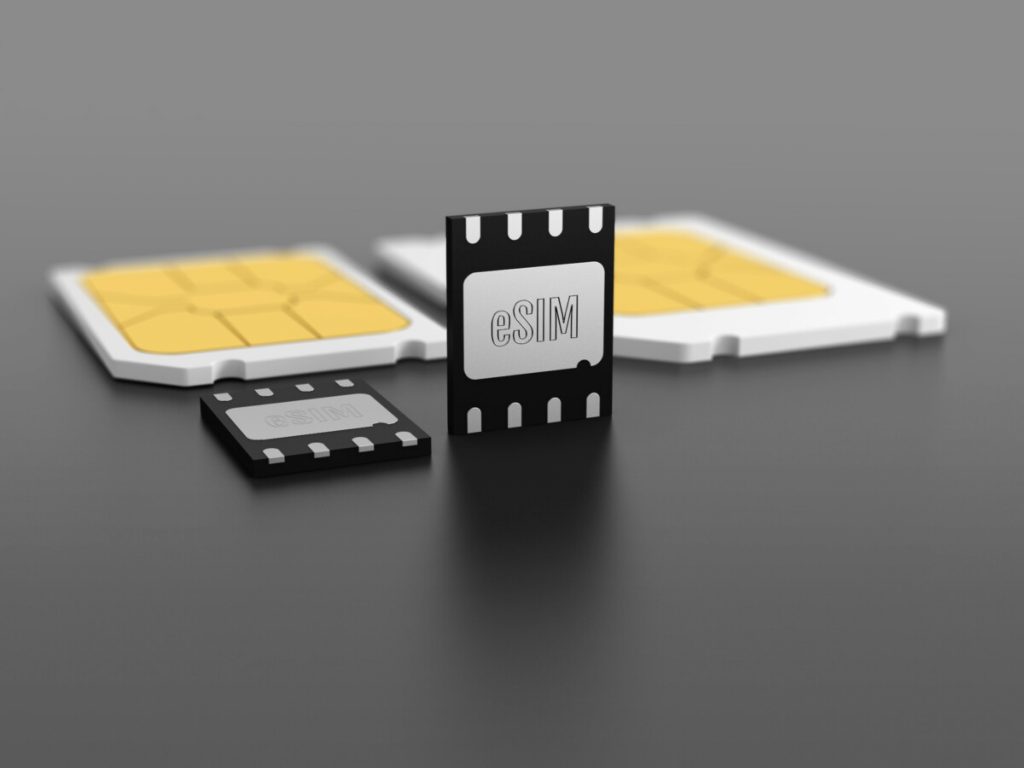 History of eSIM
The history of eSIM dates back to 2010 when GSMA discussed a potential software-based sim for the coming future. The first version of the standard was published in March 2016, followed by the second version in November 2017. Samsung Gear S2 Classic Smartwatch became the first-ever device to feature an eSIM. Apple followed the trend with its Apple Watch Series 3 & later along with iPad Pro (3rd Gen), iPhone XS & so on. Google also commenced eSIM implementation from Pixel 2 via Google Fi service in 2017.
Do check out: How to activate roaming in Ntc and Ncell SIM card?
Overview of eSIM
Embedded as a chip inside the phone and nonremovable, eSIM is different than the usual plastic SIM cards. It becomes an integral part of the phone itself. Unlike, traditional physical SIM cards, eSIM works under the machine-to-machine mechanism (M2M). Well, machine-to-machine (M2M) is direct communication between devices using any communications channel, including wired and wireless.
eSIM-enabled phones can have reliability and better network security. Since it doesn't need a connector, phones can be slimmer too. GSMA defines eSIM as the SIM for the next generation of connected consumer devices.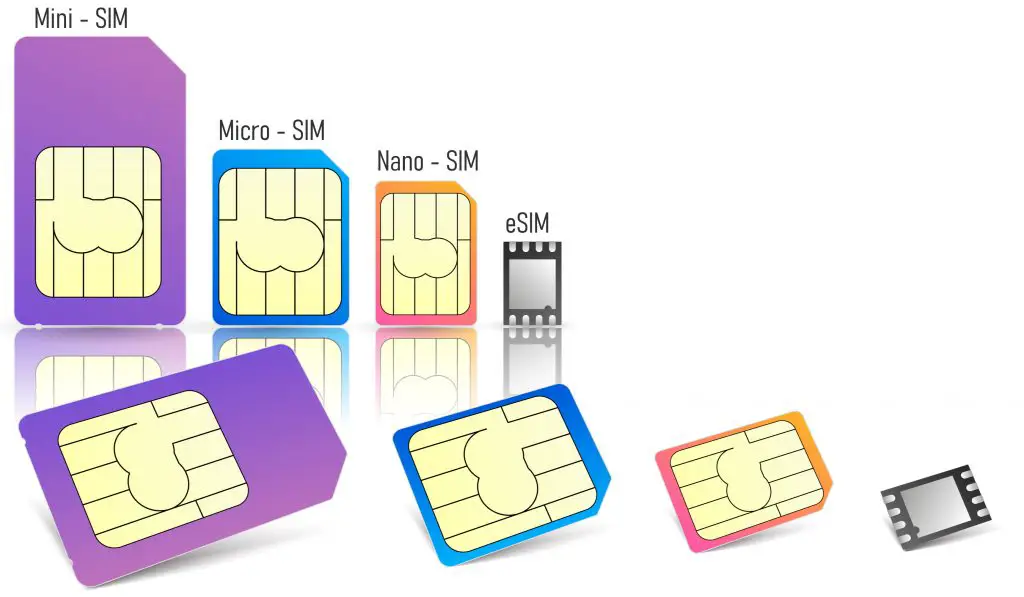 The usage of an eSIM also extends to various things such as connected cars (smart rearview mirrors), smart earphones, smart wearables, AI translators, GPS Tracking, video surveillance devices, etc. Another thing to mention, an eSIM must be supported by the carrier to function. Currently, limited carriers support eSIM but it's growing gradually.
Also Check:- Nepal Telecom Launches VoLTE Service with HD Quality Voice
Benefits of eSIM
Easier to switch networks: On an eSIM, it is easier to switch from one network to another. This means, that instead of having to get a new sim card physically from another network carrier, you can just change it via a phone call or online.
Allows to have more than one SIM: eSIM also provides the same functionality as dual SIM Phones with two SIM slots. So, via an eSIM, you can have two phone numbers on the same device.
Temporary change to other networks: eSIM can hold up to five virtual SIM cards. This enables the user to use the network of another carrier in necessary situations. Furthermore, one can also switch to the local network while traveling without having to buy the local SIM. This saves time for sure.
Uses less space on a phone: Another benefit of an eSIM is that it uses lesser space than the physical slim slots. So, this helps in implementing more innovative designs with extra features to utilize the physical space.
Easy to find lost phones: As eSIM are embedded inside the phone, lost phones can be easily tracked and found. Especially in the case of stolen phones, the thief cannot pull out the eSIM physically. On physical SIM slot phones, thieves can easily destroy the SIM cards which hamper the tracking process peculiarly.
Cons of eSIM
Switching devices is not easy: On physical SIM slot devices, the user can easily pick out the SIM and use it on another phone. While eSIM cannot be taken out physically which might become a problem in case the phone gets damaged or runs out of battery.
Subject to track & privacy: eSIM cannot be hidden or taken out. Secret security agencies or data breachers could easily track the location of the user & which might hinder the privacy of the user.
Don't miss: How to transfer balance in Ntc, Ncell, and Smart Cell?
NTC Launches eSIM in Nepal
Nepal Telecom, the state-owned telco has launched eSIM in Nepal after finishing the test conducted on Android smartphones. Also, the next test will be for Apple smartphones. Now customers will get a QR code after purchasing an eSIM. That QR code can be scanned from which you can download the eSIM profile for your eSIM. And the phones must be eSIM compatible to avail of the service.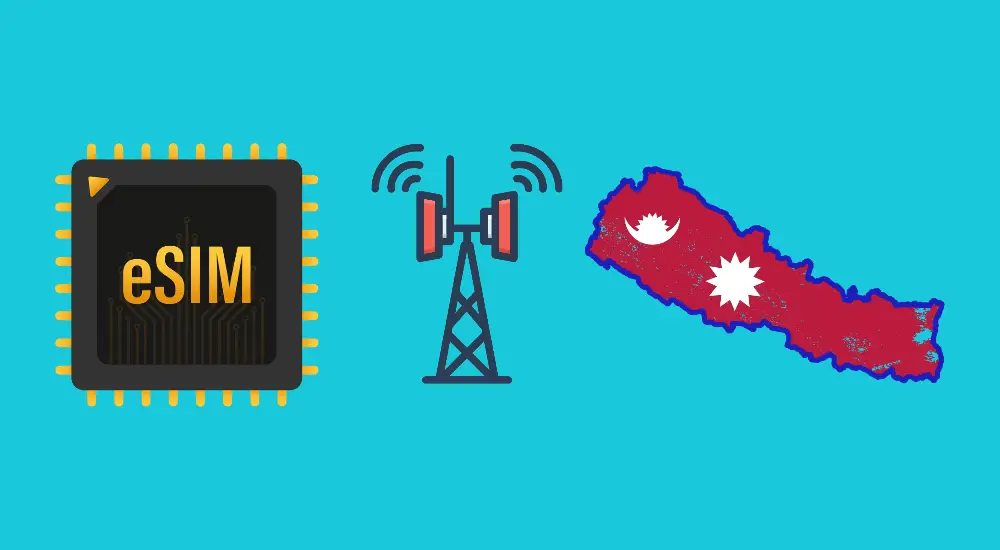 This is the first of its kind in the country. Nepal Telecom is planning to distribute 8 million eSIMs for the fiscal year. Further, it also plans to install more than one million eSIMs on supported mobile devices. For now, users can get eSIM from the Ntc counter located in several parts of the country. For that users have to go and fill up the form at the counter. And to note, new eSIM numbers are not available. Hence, only the currently used physical SIM cards can be converted into eSIMs. Let's hope, the eSIM launch in Nepal will bring more supported devices to the country.
Do Check:- Top 5 ISPs in Nepal: Find Out Their Packages and Prices
Ncell Also Launches eSIM in Nepal
Just after some months after the NTC eSIM launch, Ncell has also launched its eSIM service in Nepal. The activation/subscription process is handy here as you do not need to visit their office or customer center. Here is how you can activate eSIM in Ncell by sending an SMS to their number.
To activate Ncell eSIM,
you need to type the citizenship identity number and email address in this format; <Citizenship Number>comma<email address> and send it to 17125.
After that, Ncell will ring you for confirmation. Then, you will get a QR code on your email address to activate the service on a supported device.
Read also: Ntc Namaste Wifi based on 4G launched | Price, Packages
eSIM Supported Phones
Currently, Apple devices like iPhone XS, XR, 11, 12, 13 series, iPad series from 3rd Gen to present, and Apple watch series since 3, have the support of an eSIM. With the use of eSIM, current supportive iPhones can work as dual SIM. Similarly, Samsung Galaxy phones like Note 20, S20, S21 & S22 series can run eSIMs. Pixel phones are now also supporting eSIMs since Pixel 2. Moto Razr 2 became the very first flip foldable phone to be completely free from physical sim slots. The upcoming iPhones are also going to be eSIMs-only models.
Check out: Process to take the loan in Ncell, Ntc, and Smart Cell
There is indeed a need for eSIMs in Nepal as supported devices are already here in the country. This will ensure innovative growth in the technology & its usage in the country.
So, would you like to have an eSIM-enabled device? Both NTC and Ncell have launched eSIM in Nepal finally, what do you think of it? Do write your thoughts below in the comment section.