The voter ID card will again take over our general public discussions with local-level elections right on the horizon. These are required to cast your votes and being able to find them online would be helpful for your authentication. Below we will guide you with easy steps to find out your online registration for a Voter ID card.
Nepal is going to local-level elections on Baisakh 30. Altogether, there are 753 local bodies comprising 6 Metros, 11 Sub-Metros, 276 Municipalities, and 460 Rural Municipalities in the country. As per the government, the election will be held on a single day across the country. If you are an eligible voter, you would be thrilled to exercise democracy's key hallmark – casting a vote for your candidate. But that requires a voter id card. Anyway, the chances are if you are eligible, you are most likely to have a voter ID card already.
Don't forget: Electronic Voting Machines in Upcoming Local Level Election
Election Commission Paces Up
The Election Commission of Nepal has said it will start updating voters' details from Tuesday, February 15. According to Commissioner Dinesh Thapaliya, election offices in all 77 districts have been ordered to submit eligible voters' detail by coming Monday, February 14.
The government has launched nationwide campaigns to issue voters IDs in the past. Therefore, it is likely that most citizens have it with them. If you are one of them who have registered your name and photo for the card, you can find your name in the voters' list (nomenclature). Election Commission has brought this facility through its online portal.
Do read: Interoperability with Interwallet transfer among Digital payment providers
How to check your Voter ID Card Online?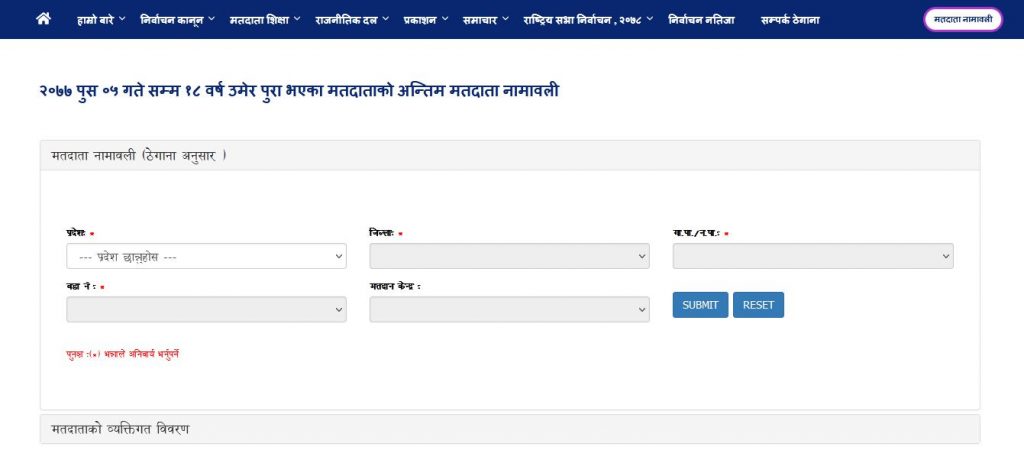 If you have submitted your name and detail for your voter id card, you can find it online. For this, you need to follow the steps below.
Click here to go to Election Commission's voter ID checking page.
You will see an online interface. Input Click on each bold header and select your province, district, municipality/rural municipality.
Also select ward no. and voting center.
Click on Submit.
Now, you will see the name list of verified voters in your chosen area. You can look for your name there.
Once you click on your name, you can fill up your DoB, and citizenship number to find out all of your details included in your voter's ID card.
So, these were the steps to check your Voter ID card online and we hope the post has been helpful to you.
Don't miss: How to convert English date to Nepali, Nepali date to English?
If you have further queries on it, let us know in the comments below.