The Ride-sharing apps in Nepal & their concept are not very old. Tootle ignited this concept in 2017 and was successful in a short span. With a growing number of smartphone users, affordable data packs & digital payments, ride-sharing have become very popular. Pathao came a year later after Tootle and is currently the most popular one in Nepal. Today, we are listing the top 5 ride-sharing apps in Nepal.
Table of Contents
Pathao
The first on our list is Pathao, the well-known app among Nepalese. Pathao started its journey in Nepal in 2018 against the likes of Tootle which came a year ago Pathao. With the rising number of ride-sharing app users, Pathao got popular within a year. Typical naming is also one of the helpful parts of being popular among Nepalese people.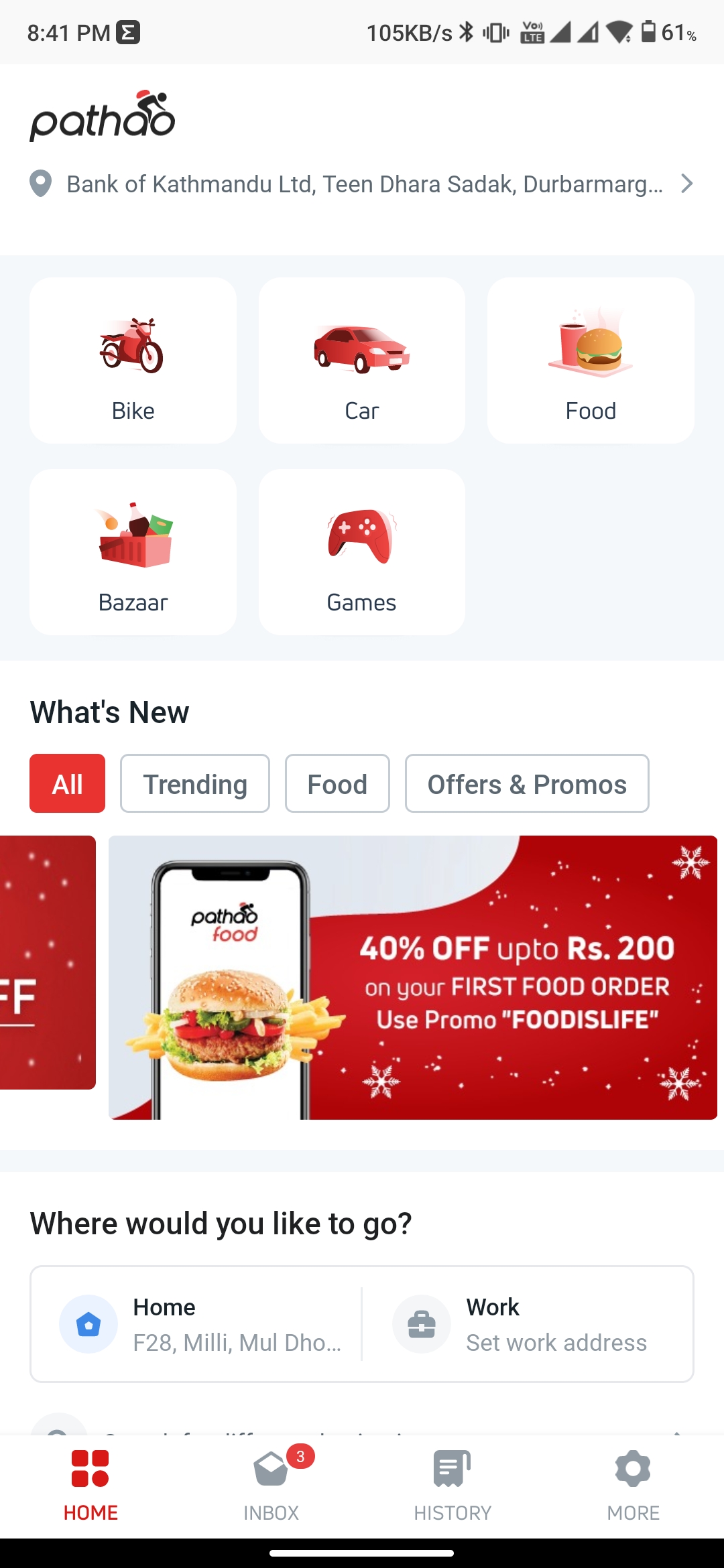 Pathao offers bike, cab, and food delivery services now. Initially, it started with motorbike services only. The company commenced its bike services on 24 September 2018, car services on 9 August 2019. Also, it started delivering food on 2 October 2020. The company also provides insurance for riders & users. Also, the App layout is polished and easy to use. With time being, people have gained trust & it has arguably become the number one ride-sharing platform in Nepal.
Country of Origin:- Bangladesh
Starting Date in Nepal:- September 2018
Services: Bike, Cab (Taxi) & Food Delivery
Notable Features:- In-App Games, Refer & Earn, Discount Vouchers, Insurance Policy, Riders Icon on Map
Downloads & Rating in Playstore: 5.5 Million (Downloads in Bangladesh & Nepal), 3.3 Stars Rating
Tootle
The second on our list is Tootle, the app which ignited the concept of Ride-sharing in Nepal. Also, Tootle is a Nepalese start-up company that was established in 2017. Expensive taxis in Kathmandu got their worthy competitor when people started booking rides on their smartphones via Tootle. The app got popular within some months. Of course, it was a unique medium of transport to get to the destinations faster than on public buses & expensive taxis.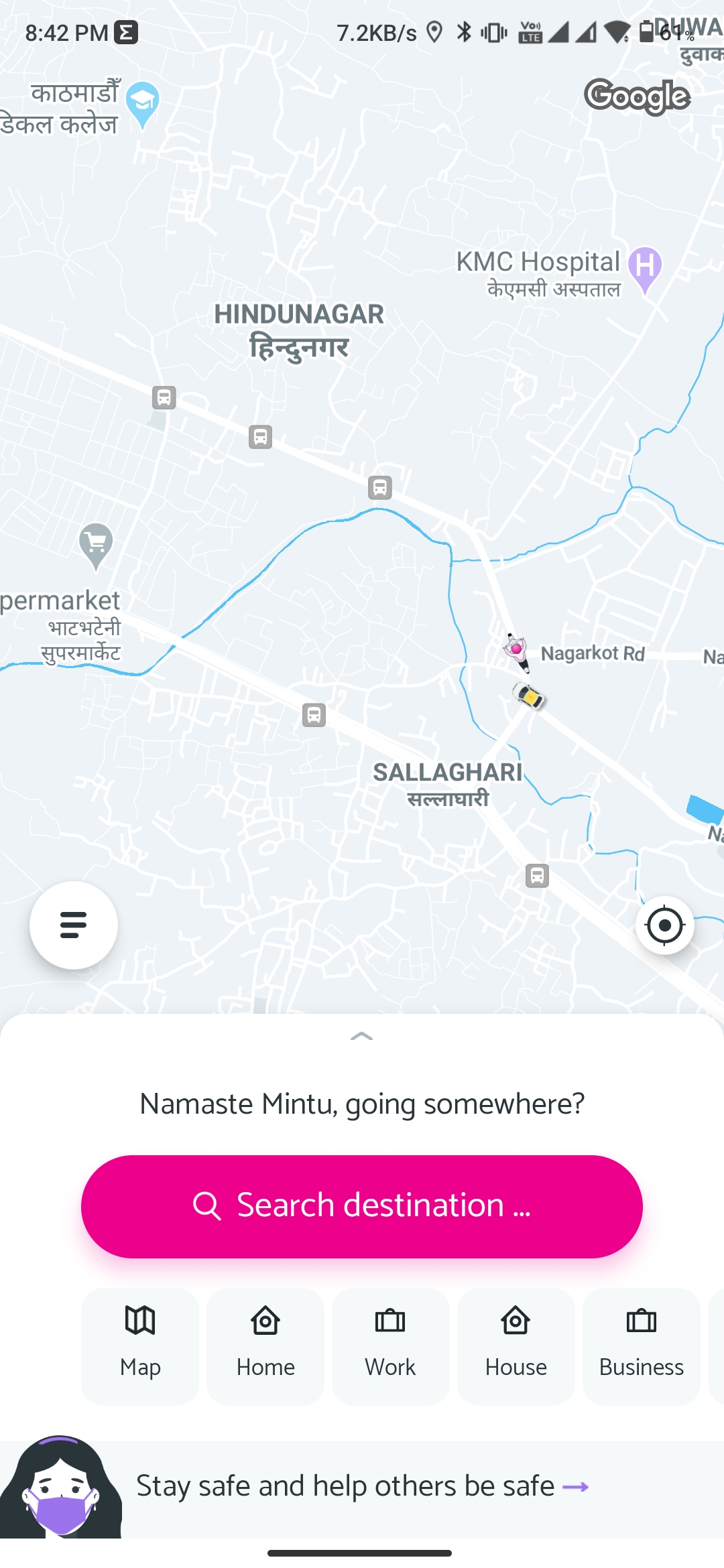 Tootle also initially started with bike services and later added taxi services. Also, it is a bit cheaper than Pathao. It also has a wallet for digital transactions where you can load money via eSewa or Khalti. The app performance is halted with crashes while canceling a ride. Besides that, there are no significant problems.
Country of Origin:- Nepal
Starting Date in Nepal:- 2017
Services:- Bike & Taxi Services
Notable Features:- Tootle Wallet
Downloads & Rating in Playstore:- 100K + Downloads, 3.4 Stars Rating
Also Read:- Pathao Vs Tootle, Which Ride-Sharing Platform is Better?
Sahara
Sahara comes at third on our list. This Ride-sharing app was released in Dec 2019 on Playstore. Sahara is also a Nepali startup company providing bike, taxi & food delivery services like Pathao. Sahara has also recently announced its insurance policy for both riders and users (passengers). Also from January 2022, the riders are given 100% of what the users pay for the right. The 0% commission rate is commendable for the riders.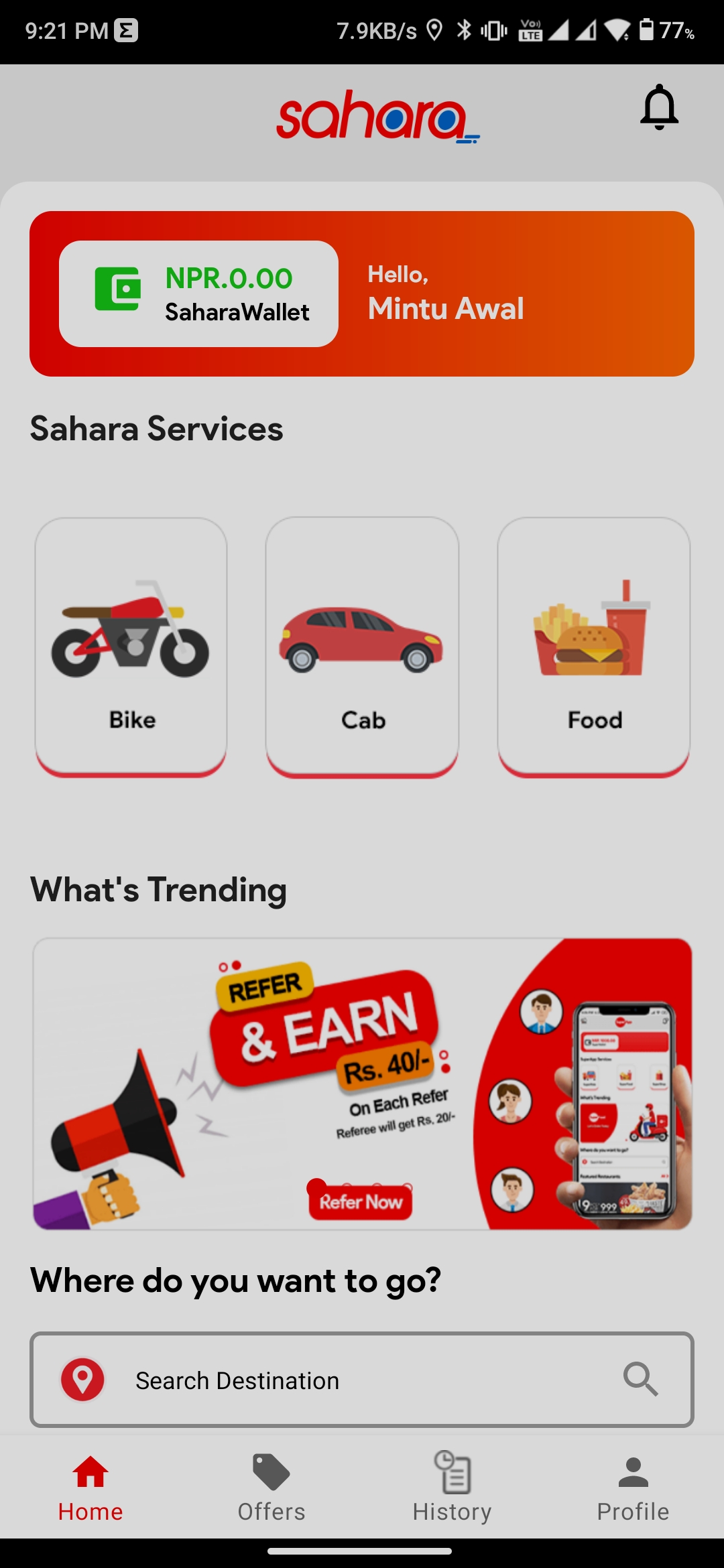 Sahara also features its e-wallet known as 'Sahara Wallet' for cashless transactions. The app layout is also impressive with a white and orange-red accent. There are also the options of promo codes and referral codes for in-app rewards which can be used for the ride. Sahara Prime, a premium membership feature is coming soon.
Country of Origin:- Nepal
Starting Date in Nepal: -December 2019
Services:- Bike, Taxi & Food Delivery Services
Notable Features: Sahara Wallet, Sahara Prime (Coming Soon), Insurance
Downloads & Rating in Playstore:- 50K+ Downloads, 3.6 Stars
inDriver
The fourth on the list is inDriver. It was founded in Yakutsk, Russia, the coldest place on earth. This app recently made its way into the Nepalese market. Coming with a unique feature, the app lets you put your price fare for your destination. In other words, you can bargain for the best fare which is quite handy for the users. The recommended fare is provided as per the app's calculation from which you can deduct the fare.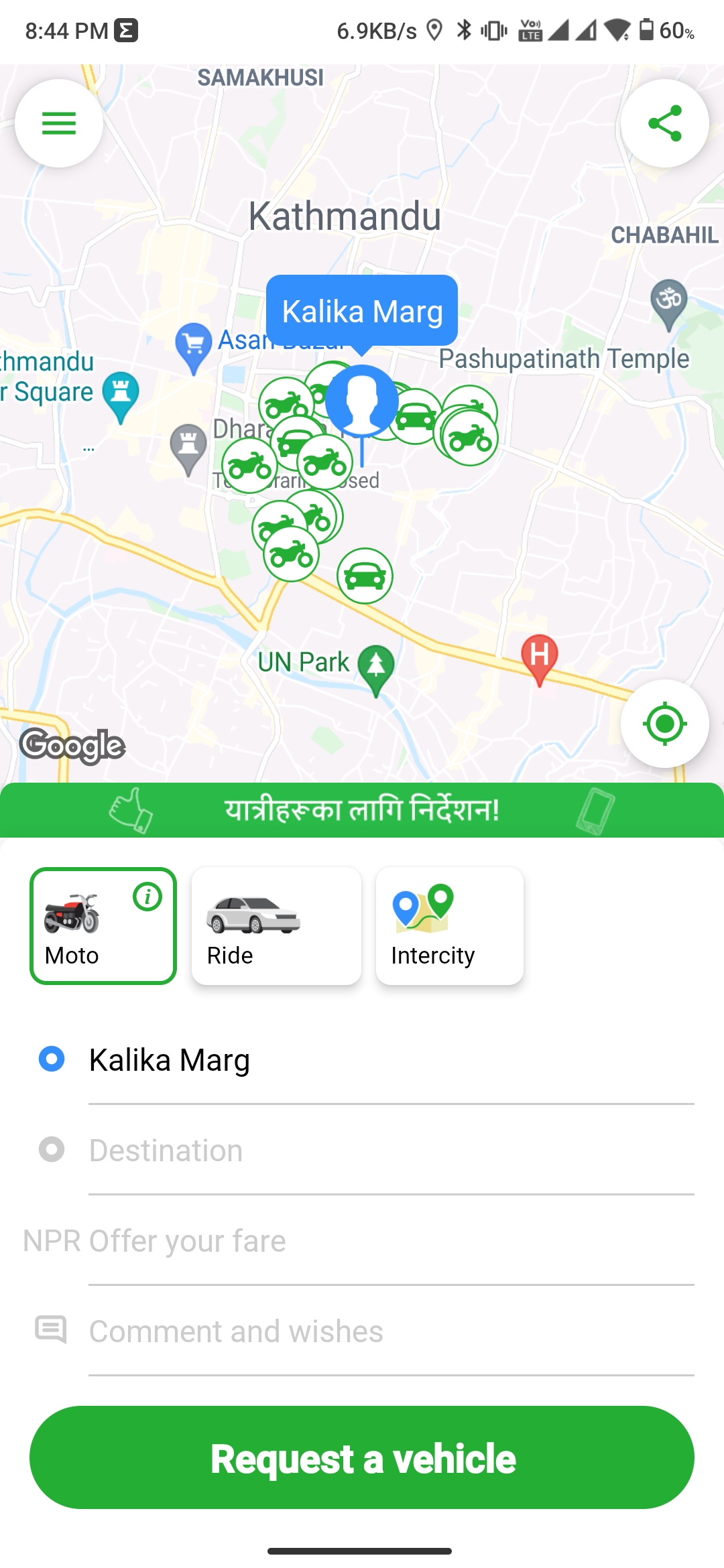 The app user interface is plain and simple to use. As an international app, it also boasts intercity rides for users to travel from one city to another. Here, you can choose your destination and book as per your traveling date. Also, you can set the offered fare. It can be cheaper than the bus & regular taxis.
Country of Origin:- Russia
Starting Date in Nepal:- 2020
Services: Bike and Taxi Services
Notable Features:- Setting Up Own Fare Price, Intercity Ride Booking, Drivers (Riders) Marking on Map
Downloads & Rating in Playstore:- 50 million + Downloads (WorldWide), 4.7 Stars Rating
Taximandu
Last but not least is Taximandu. Just as the name implies, Taximandu is all about cabs (taxis). Introduced in 2019, it saw the potential of a regularized taxi booking service for both taxi drivers and passengers. There are two options in the app; booking a ride and renting a cab. So basically, you also rent a cab for your required day of travel and period.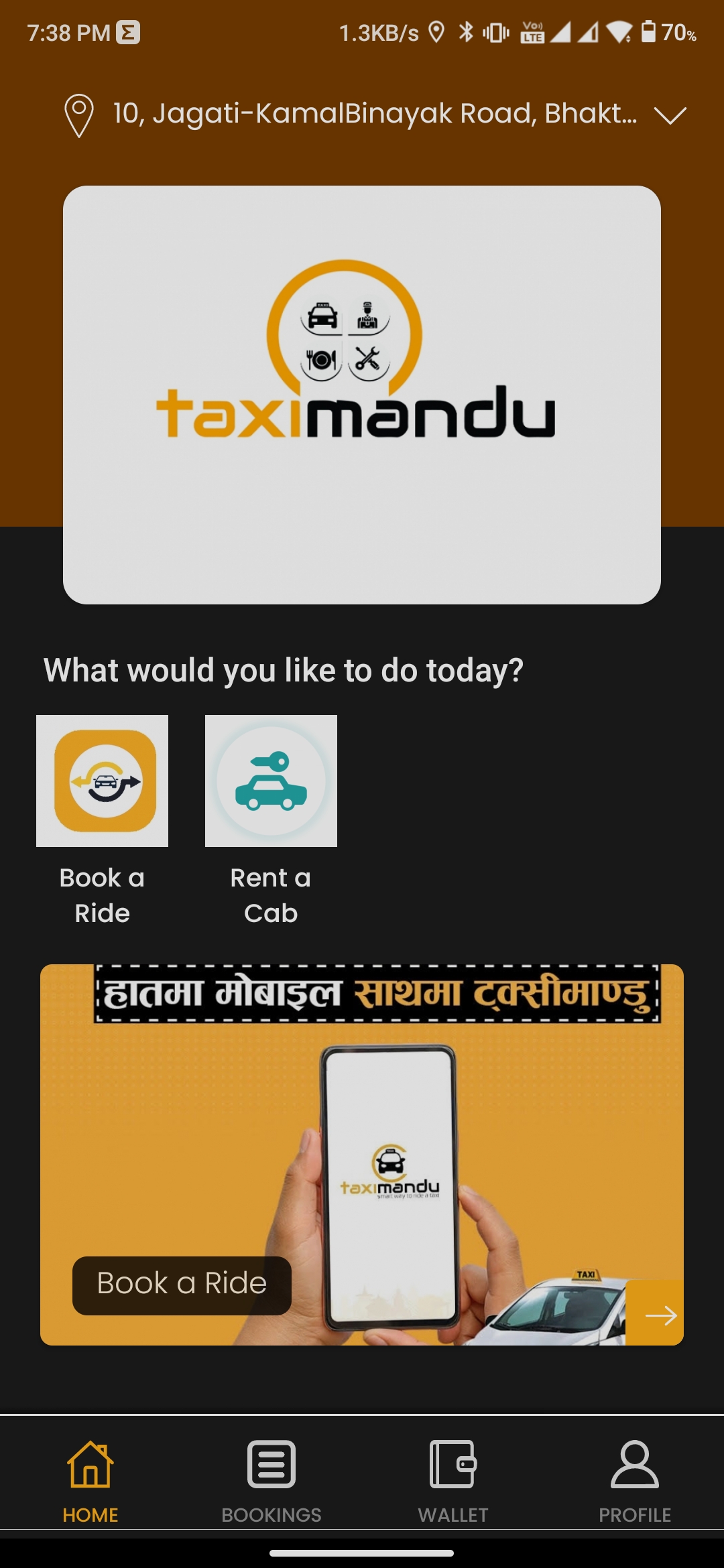 Taximandu also has a wallet that can be loaded via eSewa. Digital transactions are increasing day by day, thanks to ride-sharing apps as well. The app's logo also indicates that it will also soon provide food delivery services as well. This taxi-focused app has also lured local taxi drivers for a well-managed service.
Country of Origin:- Nepal
Starting Date in Nepal: -October, 2019
Services:- Taxi Services
Notable Feature: Taximandu Wallet, Renting Cab
Downloads & Rating in Playstore:- 10K+ Downloads, 3.4 Stars
Other Apps
Besides the aforementioned apps, there are other apps in the market too such as, Metro online Taxi, Sarathi, and Pokhara Taxi (Pokhara Specific) to name a few. There used to be Eddy Cab too which is no longer available now.
The ride-sharing platform is seemingly being better and better with competition in the market. The rise in Digital Payments has also aided a lot in easy payments. Also, traveling on a crowded bus in Covid situations is also making people opt for easy ride-booking apps with reasonable pricing. Bike services are faster and save time in case of urgent travel. Even though it is not that safe, the insurance coverage provided by Pathao & Sahara does help people. This has also guided a way for other companies to follow. Furthermore, the government needs to form a rule regarding mandatory insurance by all ride-sharing companies for both riders and users.
Check out: Top 10 online shopping sites in Nepal
So what do you think of Ride-sharing platforms in Nepal? Are you satisfied with their services? Do you often use such apps for traveling? Do write us your thoughts below in the comment section.