Sahara providing insurance for riders and users? Yes, you heard it right. Ride-sharing apps are popular these days with a huge number of people using them. Sahara is new in the market against the likes of Tootle & Pathao. Operating in Kathmandu valley, for now, Sahara is providing insurance for both riders & passengers from now on. Let's know more about Sahara Ride-sharing App & Insurance below.
Sahara Providing Insurance for Riders and Users (Passengers)
The insurance is provided to both riders & passengers by the collaboration of Sahara & Ajod Insurance Company. The company head of Sahara, Mr. Shekhar Shrestha & Managing director of Ajod Insurance, Mr. Kumar Bahadur Khatri signed the MOU agreement in a program on 4th January 2022.
Currently, Sahara is providing accidental insurance of up to 5 Lakhs Rupees & treatment insurance of up to 1 Lakh Rupees for both riders and users (passengers). The company has started this service as a means of security and reliability for Sahara riders and users. They have agreed to provide the security for two years with the insurance provider company. We can hope, the agreement will be extended.
About Sahara
Sahara is also a Nepali startup, like its competitor, Tootle. This ride-sharing platform offers bike, cab & food service. The app was released in late 2019 and now it has 50k plus downloads with a 3.5 stars rating on Google Playstore. From 2022, the company has started to take 0% commission from the riders. That means the entire earning goes to the riders which is a good thing. However, that will be valid for six months. We'll have to see if the company changes this policy after June 2022.
Do Check: Pathao Vs Tootle, Which Ride-Sharing Platform is Better?
Features & App UI of Sahara
Sahara's App UI seems polished with a red & white accent. Signing up for the app was pretty handy. I got the OTP within seconds. On this app, there are 4 sections; Home, Offers, History & Profile. The home section lets you book a ride via bike or cab and also lets you order food. The app also consists of a Sahara Wallet where you can load money and do cashless transactions. Going Digital has become the main motto of apps these days.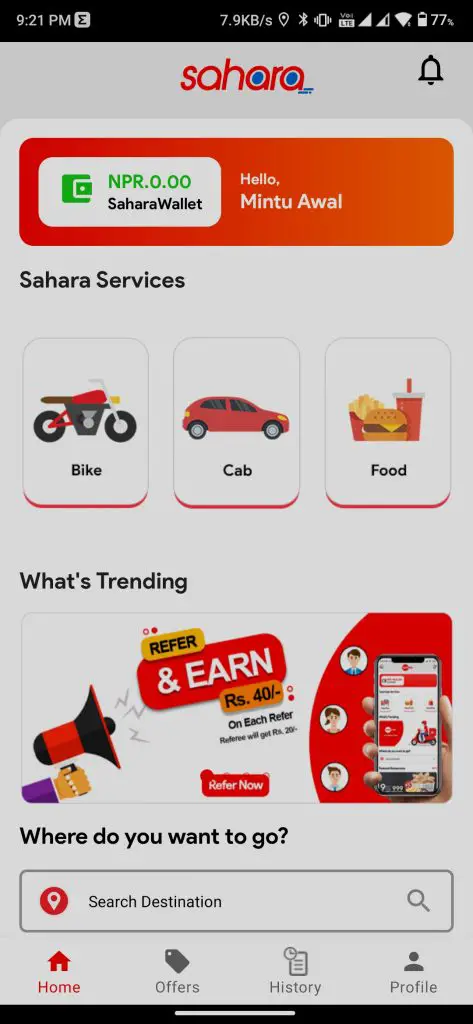 The offers section seems empty as of now. While the history section shows ride history and as well as canceled rides too. There is also a refer & earn offer on the app where you can earn via referral. Also, you can apply promo codes while the Sahara Prime membership says, it's coming soon. I found the UI to be smooth & promising.
Our Words on Sahara Providing Insurance for Riders And Users
Insurance is a must when road safety is compromised due to numerous factors. Excessive speed, reckless driving & no strict rules are causing so many accidents daily. Even if the rider is driving safely, you can meet accidents due to other vehicles, and it's unpredictable. Pathao was the first Ride-sharing platform to provide insurance services for both riders and users. And now with Sahara joining the race, it's going for safety and assurance. Hence, Sahara has indeed done a commendable job by providing insurance.
Check out: How to Type Nepali in Computer and Mobile?
With time being and hefty traffic congestions in Kathmandu, people have opted for easy ride bookings to get back home or their destination anytime. It saves a lot of time and is cheaper than typical Nepali Taxis. So, what do you think of Ride-sharing apps? Do you use Ride-sharing apps a lot? Which Ride-sharing app do you use often? Have you tried Sahara yet? Do write us your thoughts below.