Shoppers can now use the QR Code of FonePay to pay at Bhatbhateni supermarket. The popular supermarket chain has partnered with Prabhu Bank to add the digital payment system across its 20 outlets across Nepal.
The integration of QR-based payment service at Bhatbhateni was announced at an event on 28th October 2021. The service will help both retailers and consumers who love the convenience of paying over the internet.
Nepal Rastra Bank's Governor Maha Prasad Adhikari had inaugurated the service at Bhatbhateni supermarket. Adhikari had also kick-started the service at a vegetable market in Naxal last year.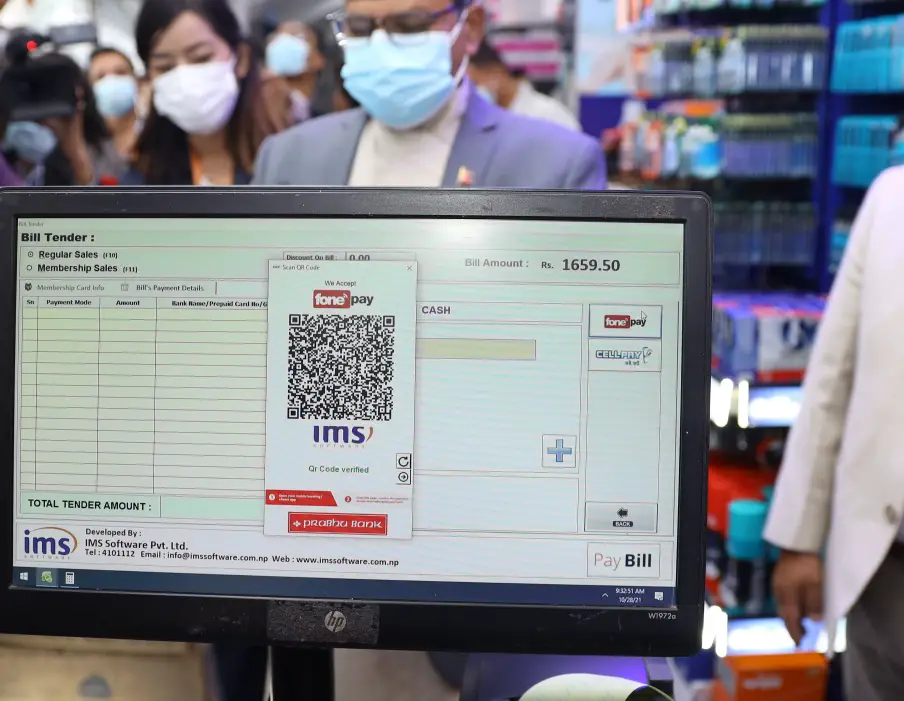 The Bhatbhateni customers can visit the stores cashless and pay with a simple scan on a card or at the POS terminals.
FonePay is the most popular payment processor in Nepal. From grocery stores to stationeries, to posh departmental stores, FonePay is everywhere. Bhatbhateni, which spans across Nepal will now have it easy for consumers to pay online.
The payment processor began its QR-based payment service in 2012. Fast forward to 2021, the company has amassed a million customer base and has collaborated with 50+ banks. The customers of these banks can find FonePay's QR scanner on their bank's app to scan and pay directly.
Don't miss: Fonepay Announces Jhatta Transfer Chatta Car Yojana
The FonePay convenience at the BBSM comes with the association with Prabhu Bank. If you are a customer of Prabhu Bank, you can utilize the bank's app and pay with FonePay's QR code.
Digital Payment is The Norm
From a minor topup to cash transfers, or payment, digital payment is becoming more popular than ever. Since heavy lockdowns measures emphasized contactless working practices, cashless payment has become the new normal. Almost every smartphone user uses some form of digital payment app. Khalti, eSewa, IME Pay, FonePay have all driven the online payment modes past COVID-19.  
Also read: FonePay Hits Rs.1 Billion Transactions In A Single Day
Nepal's Government's favorable attitude towards digital payment has also contributed to its profound rise. The governor of NRB has also approved QR Code Guidelines and Framework 2021 as a sign of his positive take on digital payment.
The stats also signify the mainstream adoption of QR-based payment in Nepal. A report has shown a surge by the steep 233% between 2077 and 2078 on QR payments. The sheer convenience and the ease at which consumers can pay with a few clicks make QR payment the mode of payment.
Don't miss: Top 10 Online shopping sites in Nepal | eCommerce platforms
Are you excited to use FonePay QR Code to pay at Bhatbhateni? The next time you visit the famous supermarket, make sure you seize the chance to pay digitally.