Automatic fuel pricing has been implemented in Nepal which means petrol and gas prices will be determined as per their costs fixed from India. Nepal Oil Corporation (NOC) decided that from July 18 Tuesday midnight, fuel prices in Nepal will be automatic. In the meantime, the government has announced new petrol and other fuel prices effective from September 1, 2023 (Bhadra 15, 2080) after the Indian Oil Corporation (IOC) sent new prices of fuels.
As per the cost mechanism, NOC will maintain a margin of 2% profit on diesel and 2.5% profit on petrol while fixing the price. However, the corporation has said that it won't keep a profit on LP Gas which is commonly used for cooking in Nepal.
The government will start selling fuels from September 01 as per the Automatic Pricing Procedure 2080.
Nepal's NOC has revised fuel prices which will be implemented from september 01, 01:00 am midnight
As per the new price structure, the cost of petrol is set to increase by Rs 4 per liter. Per liter, diesel cost will also rise by Rs 3 while cooking gas (LPG) will set the customers back by Rs 235.
Petrol, diesel, and cooking gas (LPG) cost in Nepal
As per the automatic pricing system, the new cost for petrol in Kathmandu is now Rs 182 a liter increasing by Rs 4 from the previous Rs 178 per liter. In Terai, it will now cost Rs 179.50 rising by the same Rs 4. Likewise, in inner Madhes, per liter of petrol will cost Rs 181 increasing from the previous cost of Rs 177.  
Diesel and kerosene are also getting more expensive. The new price of diesel and Kerosene is Rs 170 in Kathmandu rising from the previous Rs 167. In Terai, the new diesel and kerosene are fixed at Rs 167.50 in Terai, and Rs 169 in Inner Madhesh.
Cooking gas, also called LPG is getting a huge cost bump. As per NOC, LPG gas will now be sold for Rs 1,895 per cylinder all of Nepal from the previous Rs 1,660 marking a rise of Rs 235.
| | | | |
| --- | --- | --- | --- |
| Region | Petrol cost | Diesel/ kerosene cost | LP Gas (cooking gas) cost |
| Kathmandu | Rs 178 Rs 182 | Rs 167 Rs 170 | Rs 1,660 Rs 1,895 |
| Terai | Rs 175.50 Rs 179.50 | Rs 164.50 Rs 167.50 | "" |
| Inner Madhesh | Rs 177 Rs 181 | Rs 166 Rs 169 | "" |
Latest fuel cost in Nepal after automatic pricing including VAT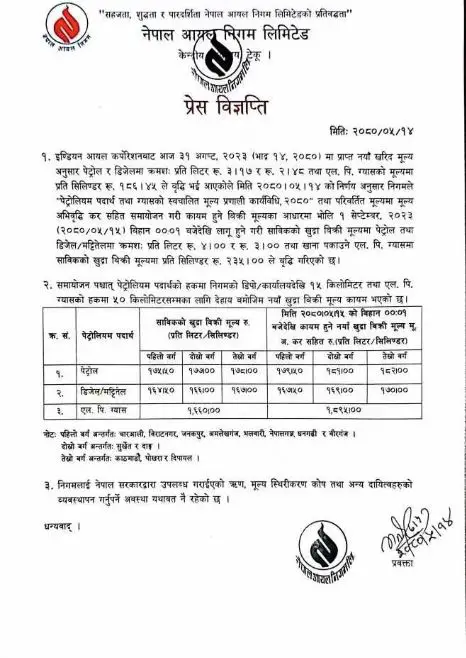 Also read: Nepal-India Petroleum Pipeline Project Enters Second Stage  
No automatic pricing on aviation fuel
In a controversial instance, the government has decided not to apply automatic pricing on aviation fuel. Jet fuel costs will be fixed by NOC, the corporation executive director Umesh Prasad Thani said.
Economist Govinda Nepal says this is unfair. "The auto pricing system needs to cover all petroleum products," he said. "Now flying is no more a luxury. It has become an essential mode of transport given the terrible state of the highways."
He says that Nepal Oil's announcement not to put aviation fuel under the auto pricing mechanism reflects its conflicting policy. "The government says it has accorded priority to the tourism industry but it has been charging hefty prices for jet fuel."
Economist Govinda Nepal criticized the government for not implementing an automatic price system on aviation fuel calling it unfair. He commented, "The automatic pricing should apply to all petroleum products. Flying is not a luxury but a need." He pointed out the state of highways to emphasize how flights have become significant in recent years.
Due to high fuel costs, more Nepalese are mulling over buying electric vehicles, however, petrol and diesel still remain at the heart of energy consumption and are key determinants of inflation.
He also lashed at the government for its policy that he believes will impact tourism. "The government priorities tourism industry however slaps a hefty charge on aviation fuel."
Initially, the automatic gas petrol price in Nepal was first implemented on September 29, 2014 however as cross-subsidy was in place, it became ineffective.
The government hopes that auto fuel prices will stop the barrage of criticism from the public regarding the costs. We face criticism for not implementing auto pricing on fuels. From now onwards, we won't be blamed," stated Manoj Kumar Thakur, Deputy Director at NOC.