The international Nepal-India Petroleum pipeline project has entered its second stage of construction. The project runs 69 km from Motihari, Bihar in India to Amlekhgunj, Parsa, Nepal. 
Under the Nepal Oil Corporation Madhes Provincial office, the construction of petrol tanks, transmix tanks, and other structures has been initiated at the depot located in Amlekhganj in Parsa.
The project will see the construction of two petrol tanks with a capacity of 4100 kiloliters, two trans mix tanks of 250 kiloliters capacity, 24 self-operational loading ways (refillers), a lab, etc.
Speaking to the media, the NOC Madhesh Provincial Office in Charge Pradip Kumar Yadav said the second phase of the project has started as planned.
Check out: A Signature Bridge Will Be Built Over the Narayani River
Nepal-India petroleum pipeline Project
The historically significant Nepal-India petroleum pipeline project has the joint investment of both states. For the two petrol tanks in the project, each country will bear the cost of one tank.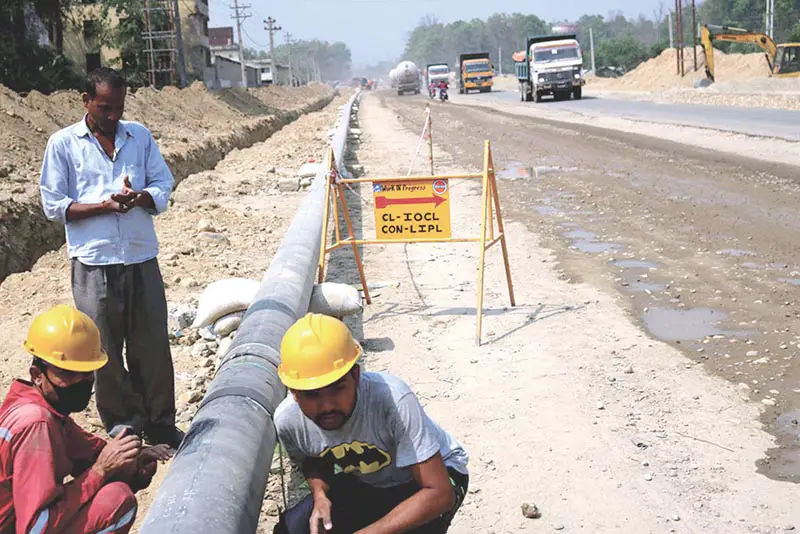 Likewise, the Indian government will build two transmix tanks for storing mixed fuel (petrol and diesel), and a firewater tank with a capacity of 3,000 kiloliters for security inside the depot. Mr.  Yadav informed Indian Oil Corporation (IOC) will spend about IRS 75 crores for building these infrastructures. The Nepali side will also bear significant expenses for the pride project.
Also read: Gwarko Flyover Bridge Design to Undergo a Slight  Change
Nepal-India petroleum pipeline begin operation?
The Nepal-India petroleum pipeline project is aimed to complete by December 2023 and start on January 2024. It is South Asia's first international petroleum pipeline project to date.
So far, Diesel has been imported through the pipeline but petrol will also flow when the project functions at its maximum capacity. Besides, kerosene will also be imported through the cross-border petrol pipeline from next year.
The petrol pipeline in Parsa will save expenses
The cross-border petroleum pipeline will add a new dimension to both Nepal and India's trade relationships while also lessening the costs of importing fuel. It will free the need to use tankers for importing fuel from Amlekhgunj to Barauni saving costs of transport, fuel, technical errors, environmental pollution, etc. The government of Nepal (GoN) expects the project to save Rs 15 crore in overhead costs annually.
When the project completes, the federal government's national storage capacity of diesel in the Amlekhganj depot will reach 24,840 kiloliters while the storage capacity of petrol will reach 16,630 kiloliters.
The government is also working on building two tanks each having capacity of 5 kilometers storage capacity to maintain fuel reserve deposits for 90 days.