Prime Minister Sher Bahadur Deuba inaugurated Butwal International Conference Center on Saturday, August 27th. Located in Butwal Mandap, Butwal-8, Ramnagar, the multipurpose facility was built at the cost of over Rs 1 billion.
The Federal Government of Nepal was responsible for the allocation of the budget to build the BICC. The conference center (Butwal Antarastriya Sammelan Kendra) has been built to its completion in two phases.
Home Minister Balkrishna Khand, Minister for Urban Development, Metmani Chaudhary, former Deputy Prime Minister, and Finance Minister, Bishnu Poudel, among others attended the high-profile inauguration event.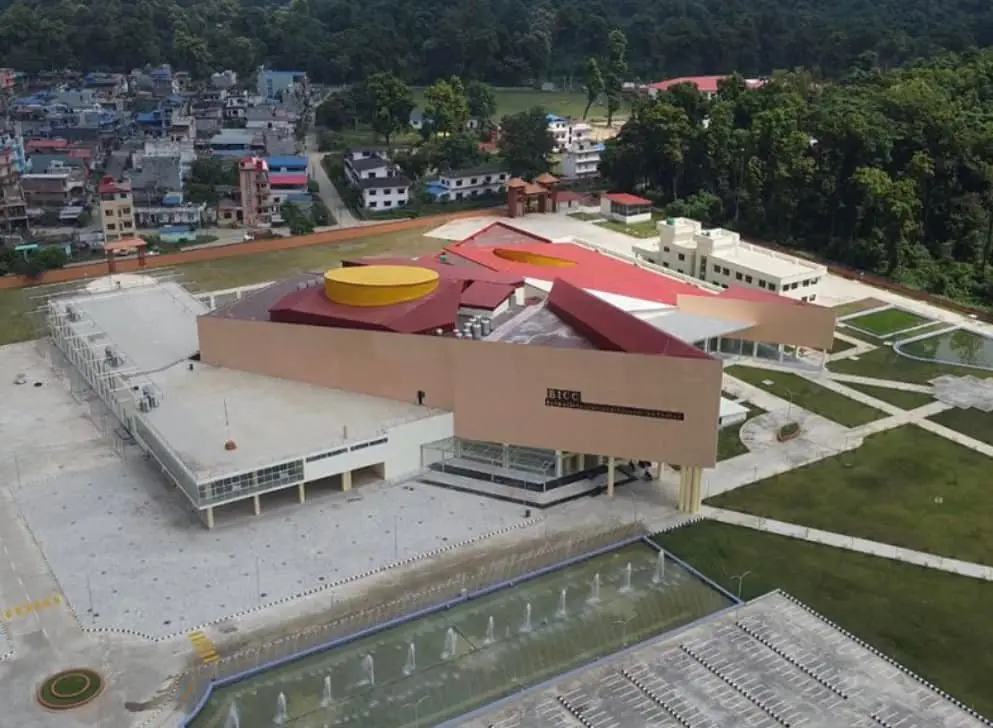 The conference center resembles the Nepali national flag from an overhead view. It is the largest assembly center outside the capital city, Kathmandu.
It will be used for national and international meetings and assemblies.
Also see: Government to Construct Balambu-Kalanki Flyover, Cost 13 BN
Butwal International Conference Center details
According to the project manager Dharmendra Panthi, the conference center stretches across almost 3 acres of land and comprises one main hall and 12 other smaller halls. The signing for the project took place on 2071 Magh 15th. After 8 years, the large building project is finally standing ready.
Department of Urban Development and Building Construction under the Federal Government built the conference center at a budget of Rs 1.11 billion.
As per Panthi, the main hall of the BICC can accommodate 1,100 attendees. The other 12 small-sized buildings have a capacity of 50 to 550 seats.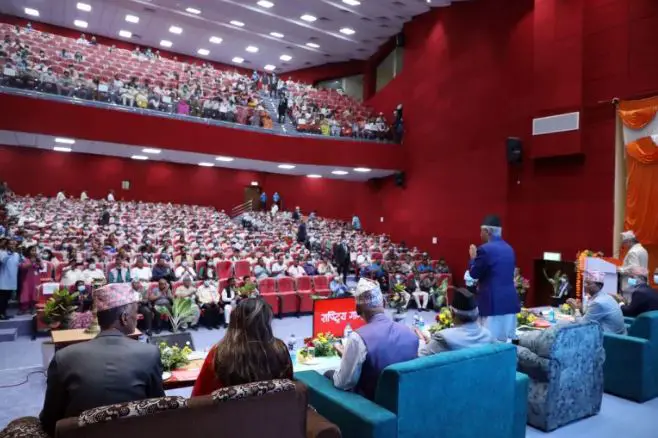 The conference center has been built in two phases with the construction starting in 2071. The earthquake and embargo by India as well as difficulty with tree clearing and the lack of construction materials forced the authorities to delay the phase two project to be completed by 2076.
But Panthi shared that the building is completed ahead of the extended timeline.
Also see: Nagdhunga–Naubise Tunnel Road Completes by 60%, Details
A billion-rupee project
The main hall was allocated Rs 23 crore under the first phase of the construction project. There are two lecture halls of 50/50 and 100/100, and 6 meeting halls that can accommodate 500 visitors. Similarly, there also are VIPs, Video translators, and other rooms. The second phase of work had a budget of Rs 1.3 billion.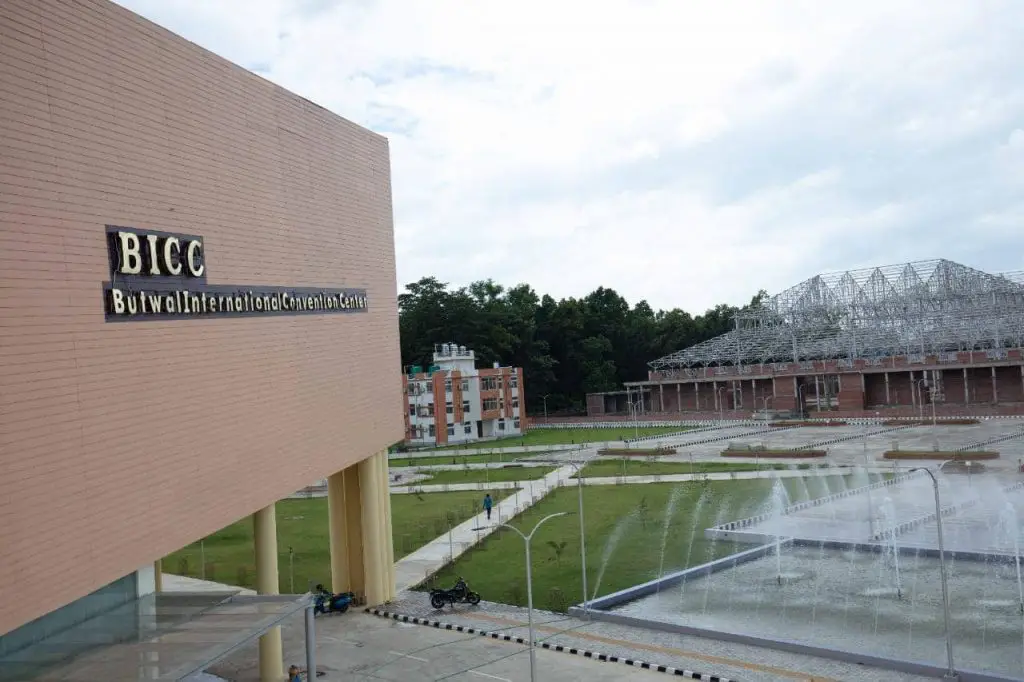 There are also 2 service blocks, a canteen, 1 greenhouse, and other buildings.
The conference center is also friendly for the specially-abled. The parking lot has a capacity for 400 4-wheelers and 4 hundred two-wheelers. Meanwhile, there is also a helipad.
Altogether, there are five gates including both entrance and exit and each gate has a security guard and a ticket counter.
Are you delighted with this mega construction project by the government of Nepal? Share your opinion in the comments below.