Nepal's first-ever robotic surgery is set to commence soon. The highly advanced medical practice is becoming a reality at the behest of Kathmandu Medical College (KMC). The hospital has revealed this to the media at a recent press conference.

As per Keshav Sapkota, the information officer for the medical college, the hospital will begin the benchmark practice within the third week of August. The Sinamangal based hospital expects the state-of-the-art facility will bring more reliable treatment of its patient in neurosurgery.

Sapkota also informed that the hospital's neurosurgeon Dr. Amit Thapa and his team have received training from an American equipment manufacturer for neurosurgery. The hospital has procured and set up an S8 Stealth System with Guide, NIMS Eclipse Version 4 Ultra Operative / Navigated Drill, and MISS System to begin surgeries.
Read: Top 5 Emerging Technologies in 2021
First In Nepal and Second Among SAARC Members
It is the first time that robotic surgery will replace human hands. However, Dr. Sunil Sharma, the Chairman of the college says, the technology also makes Nepal only the second country among the SAARC siblings to bring it into practice.
This high-end technology has not come cheap either. Dr. Sharma revealed that the hospital has forked out Rs. 100 million to bring the highly sophisticated tech to Nepal.
How Will It Work?
The robotic-assisted surgery exploits its precise navigation system to locate tumors and neves on the 3D monitor. Then, the tumors are removed through holes in the head and spinal cord. The AI of the machine can also locate how far the tumors have spread which aids the doctors in proper preparation for surgery and improves efficiency.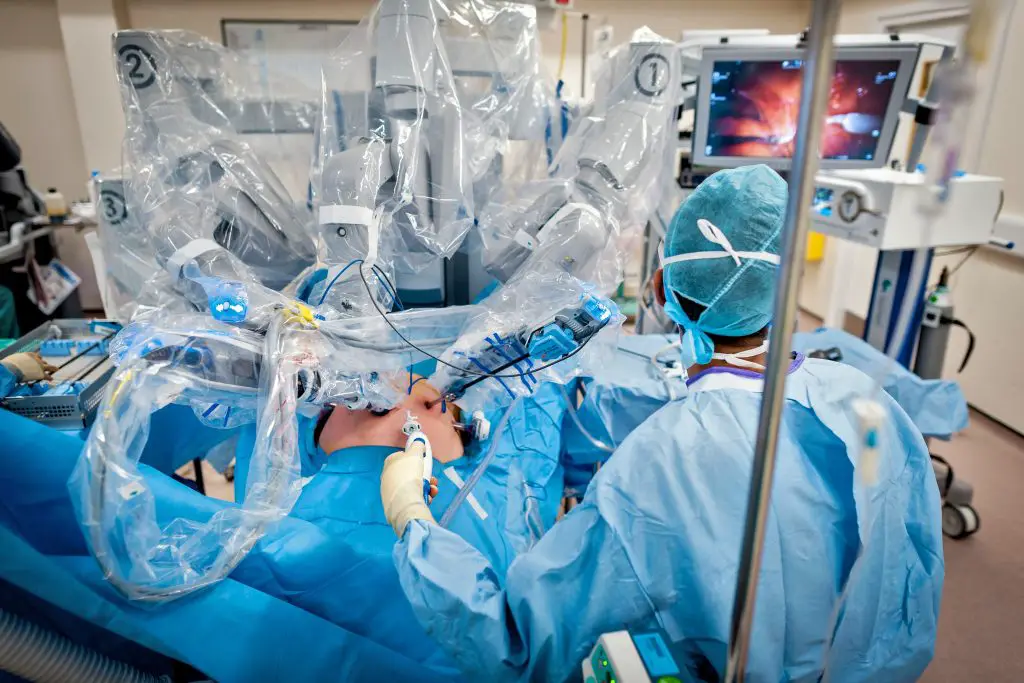 In the robotic surgery process, the navigation system will inform the surgeons of the whereabouts of a tumor and nerves on the 3D monitor. As per the information, tumors are removed through holes in the head and spinal cord. The college claims that patients will not require major surgeries as the technology can easily tell how far the disease has spread. In the previous surgical procedure, surgeons have been working by making imaginary 3D images while operating on the internal organs of the body.
Robotic surgery will minimize the possible complexities in the treatment of cancer and other neuro-related surgeries. Meanwhile, This technology will itself be a reference for many hospitals to upgrade their own systems as well. Cancer patients will be some of those to benefit most from the sophisticated setup. The fatal non-communicable disease has become one of the most chronic public health concerns in Nepal with an estimated 50,000-70,000 new cases per year. the machine will aid oncologists in finding out the tumor and determine the diagnosis with AI-assisted hardware.
If you have any say about Nepal's first-ever robotic surgery initiation, let us find them in the comments below.