You can book an online appointment with a doctor at Civil Hospital. The New Baneshwar-based hospital has initiated an online service that allows the public to book an appointment with doctors online for OPD service.
Telehealth is yet to go mainstream in Nepal however; technology is making health services more feasible.
Civil Hospital has launched the online book appointment service with the help of Midas technology. The service is available through the app Civil Service Hospital of Nepal – Book Appointment.
Civil Hospital's online appointment service allows interested individuals to reserve appointments on chronic diseases and receive consultations from expert doctors through the mobile application.
The hospital has been providing an online ticket for OPD service with PrabhuPay since 2019. The latest addition of online appointments will further elevate the hospital's approach to integrating technology into its health services.
Payment Options to book an Online Appointment?
Civil Hospital's Online Appointment service is available through the mobile application. Those seeking a consultation with the doctors can download the app and register their profile. Once they are in, they can book an appointment not just for themselves but for their friends and families too.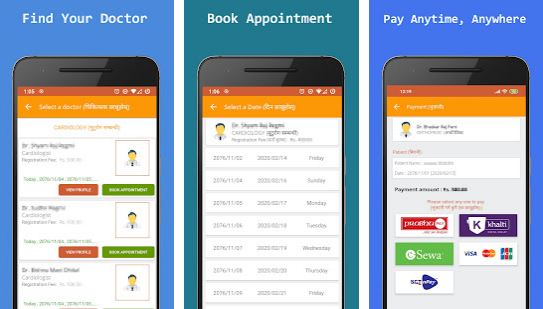 Smartphone users can book an appointment from 16 different departments of the hospital.
The app users can check for the available doctors at separate departments and reserve their appointment at the time of their convenience.
As for payment, the app users will have a range of options for paying online. One can perform the transaction through Connect IPS, Khalti, Mobile Banking, E-banking, etc.   
Do read: Hamro Patro Health Service Goes Live | Consult A Doctor On-Demand
Online Feature To Aid OPD Service
Civil Hospital expects its online appointment service to run its OPD service more smoothly. As the public can sign up for a consultation with doctors on the go, it will spare them a hassle-ridden visit to the hospital and acquire the service at their own convenience over the internet.
As the app users can pay and book an appointment online, this will achieve greater satisfaction for those seeking medical attention from Civil Hospital.
Remote health services are taking a pace in Nepal with the growth of smartphone penetration and cheaper broadband. The online appointment and consultations will provide greater comfort and convenience to thousands of people who cannot visit the hospital physically at a given time.
With 4G expanding across the country, and the talk of 5G broadband, telehealth service could take off in Nepal to counterbalance the disadvantage caused by complex geography and the lack of transport in remote areas of Nepal.
What is your take on the recently growing telehealth services in Nepal? Do share your expectations from these online mediums for remote health facilities in Nepal.