The largest hydropower project among private companies Solu Khola Hydroelectric Project  (Dudhkoshi) has started commercial electricity generation. Nepal's PM Pushpa Kamal Dahal 'Prachanda' inaugurated the project at an event on March 7.   
The project has been started after a three-month trial. The project started its trial in late Kartik.
It is the largest hydropower project from private entities while the third largest among all in Nepal.
What is the capacity of the Solu Khola Hydropower project?
Solu Khola Hydropower project can generate 86 MW of electricity. At the moment, it is generating 29/30 MW of power. Him Pathak, Chairman of Sahas Urja Limited said that the Solu Khola hydropower project's commercial beginning is proof that private companies of Nepal can start large-scale hydro projects with domestic investment. He said, "Our success lies in hard work, not in textbooks".
Also read: Nepal's Largest Solar Power Project Speeds Up In Jhapa
Solu Khola Hydropower project technology
The Solu Khola Hydropower project is based on Run-of-River (ROR) technology. It is constructed in the Solukhumbu district and has headworks in Solu Dudhkunda Municipality and Thulung Dudhkoshi Rural Municipality. The project generates electricity using the water from Solu Khola.  
The gross head of the project is 613.20 meters and the net head is 598.09 meters. A penstock pipe of 1864 meters is laid vertically and horizontally. A transmission line of 12 km 132 KV has been constructed and connected to the Nepal Electricity Authority (NEA)'s Lamane substation. The project has a surface power plant.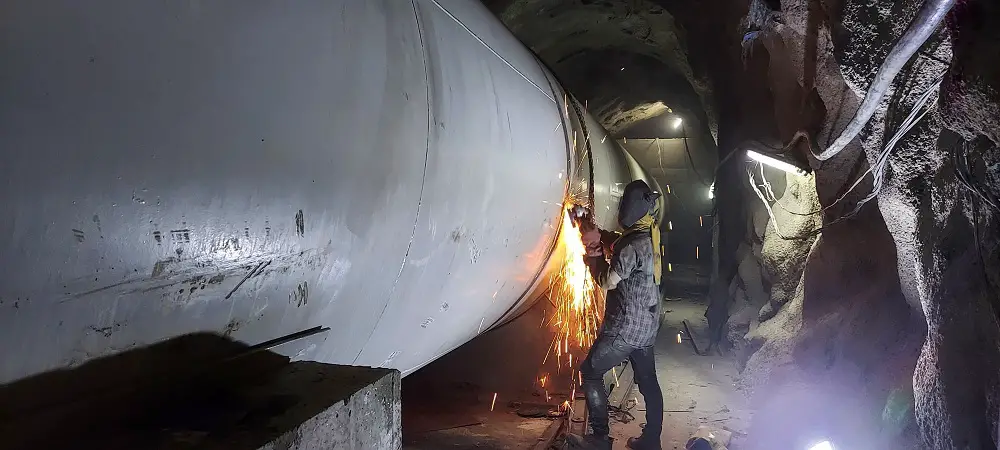 The project can generate 520.20 GWh of power (100.27 GWh in the dry season and 419.93 GWh rainy season) annually.
CE Construction has completed the project which was awarded the contract in 2017 after the contract with C.M.C. di Ravenna was terminated for slow progress.
Many banks and financial institutions have invested in the Solu Khola Hydropower project under the co-financing of Nepal Investment Mega Bank.
The growth in electricity generation is extremely vital for Nepal. A huge sum of Nepali currency outflows for the purchase of fuel every year. A shift to electricity-run vehicles and electric stoves will greatly reduce our dependency on fuel minerals. At the same time, the situation with load shedding has not yet dissipated in a practical sense. So, further investment into hydropower projects is a crucial way for Nepal to remedy the power-related issue.
Read our post on Why You Should Buy an Electric Vehicle in Nepal?