Huawei and Websurfer Partnership have commenced for the digital transformation of the ISP. Websurfer falls among the top ten ISPs in Nepal. The ISP has signed a formal agreement with Huawei, the Chinese tech giant for end-to-end network solutions and technologies. Let's know more about Huawei and Websurfer partnership in this article.
Huawei and Websurfer Partnership
Huawei and Websurfer have joined hands for upgrading the service and quality of the ISP. Huawei Nepal will provide Research & Development (RD) for the ISP to foster its development of network infrastructure and architecture. As per the agreement, Websurfer will be getting technical support and assistance from Huawei Technologies. Likewise, the Chinese Tech firm will provide training programs for Websurfer employees.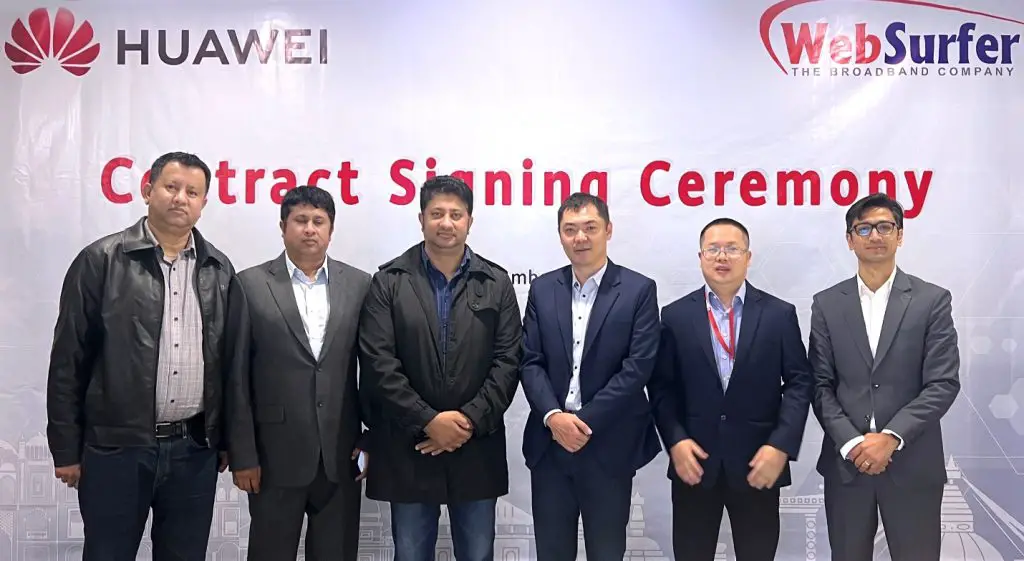 Huawei Nepal CEO, William Zhang expressed, "This is a long-term and strategic partnership that will create win-win gains for our two companies". He added, "We are creating a future-proof network for Websurfer and bringing Huawei's latest consumer-end equipment to Nepal so that subscribers can have a smooth experience using Websurfer's internet."
The Managing Director of Websurfer also expressed his happiness, "In our search for a partner who understands growing technologies and the needs of our users, Huawei is the technology leader without a competitor providing solutions for high-speed fiber internet and secured network solutions. We are excited to bring Huawei's intelligent products and solutions to Nepal."
Have a Read:- Worldlink Internet Education Program Covering 7 Provinces
What will it mean for the Customers?
With the alliance of Huawei and Websurfer, the end customers will be benefitted too. Here's what can be expected from the partnership;
Customers will soon be able to enjoy Huawei's latest technology and products used on Websurfer's internet.
The company believes in catering to improved and high-speed fiber internet.
The partnership is also aimed at providing a more reliable and stable internet connection than before.
Customers will also enjoy seamless WiFi roaming features and an overall smooth user experience.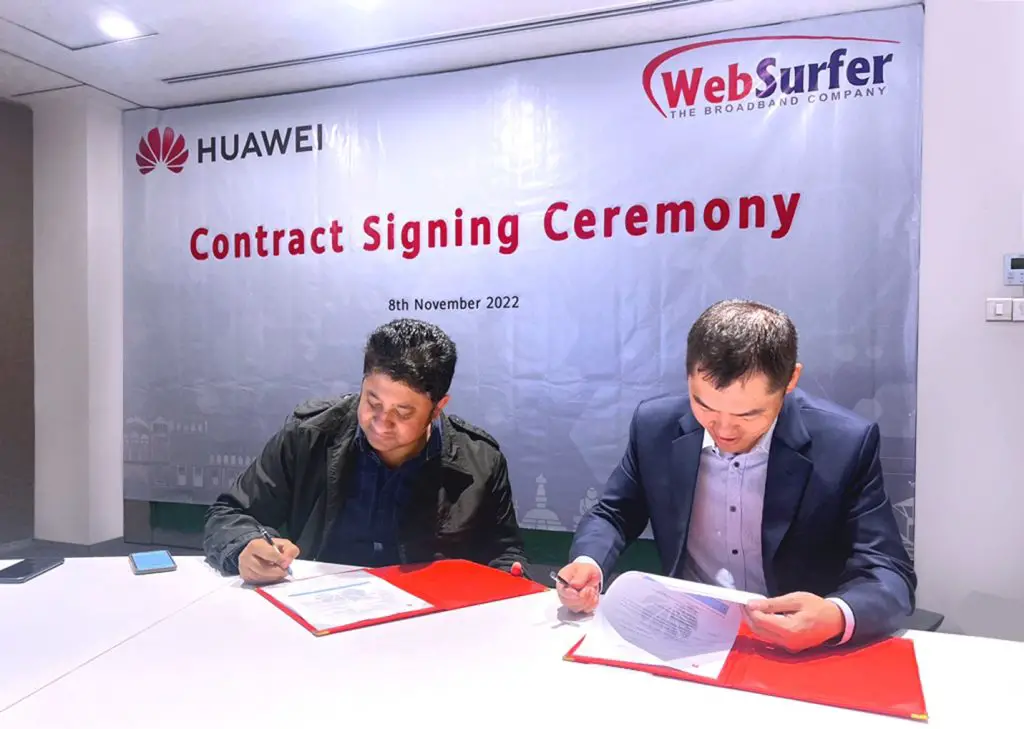 About Huawei Nepal
Huawei Nepal has been in IT and communication projects for more than two decades now. The company has also worked with major Telecom operators like Nepal Telecom and Ncell for expanding their 2G/3G/4G networks across various regions. The company has been adding the Telcos by providing technical equipment for network expansion and other projects. It also installed wireless base stations in the Everest Base Camp region. And it is likely to be one of the important players in bringing the 5G network to Nepal as well.
Also, Read:- ViaTV World Cup Offer 2022, Get 51% Off on Himstar TV Sets
About Websurfer
Websurfer is an ISP that was established back in 1999. This Internet and Digital service provider in Nepal, have been providing fiber Internet, Digital TV, and IPTV to Corporate
and individual consumers. Websurfer is focused on providing quality Internet solutions to its customers. It is also providing internet packages without FUP at cheaper rates in the market.
As known, the ISP market is filled with giant competitors like Worldlink, ViaNet, CGNET, etc. Hence, Websurfer has been under the shadow for a while now. So, Hauwei and Websurfer Partnership act as a much-needed move to thrive in the market. Having Huawei Nepal's back will ensure more progress and advancements for the ISP. And hopefully, Websurfer will compete better in the market with more number of customers/users.
Also, Check:- Top 5 ISPs in Nepal: Find Out Their Packages and Prices
So that was all about Huawei and Websurfer Partnership. Are you a Websurfer subscriber? How is its service and internet quality? Do write us your experience, thoughts, and views in the comment section below.