Far West (Sudurpashchim) Provincial Government has added more options for the public to connect with the authority under the Hello CM initiative. Prior to this, people could only establish their contact with the government through the telephone. Now, they can connect via social media, e-mail, SMS, et to submit their grievances.  
Hello CM was launched by the Far West government to allow the public to register their concerns and grievances with the authority.
With digital options added, people can use social media, website, SMS, and other means to draw the government's attention to their concerns. The program's chief Nawaraj Ojha said the new options will make it more accessible to the public.  
Similarly, Chief Minister Trilochan Bhatta shared his own opinion. "We have refined the service to make it easier to receive more suggestions, complaints, problems, etc.," he added. The additional digital means complement the growing use of the internet in today's time.
The minister has also directed the program to establish a link with the ministries, local bodies, and central government.
Also read: Digital Technologies in Budget Speech FY 079/80
You can use the website of the Far West Government for Hello CM communication
The public can go to hellocm.sudurpashchim.gov.np to submit their grievance through the website. You can also upload files or images to add additional information.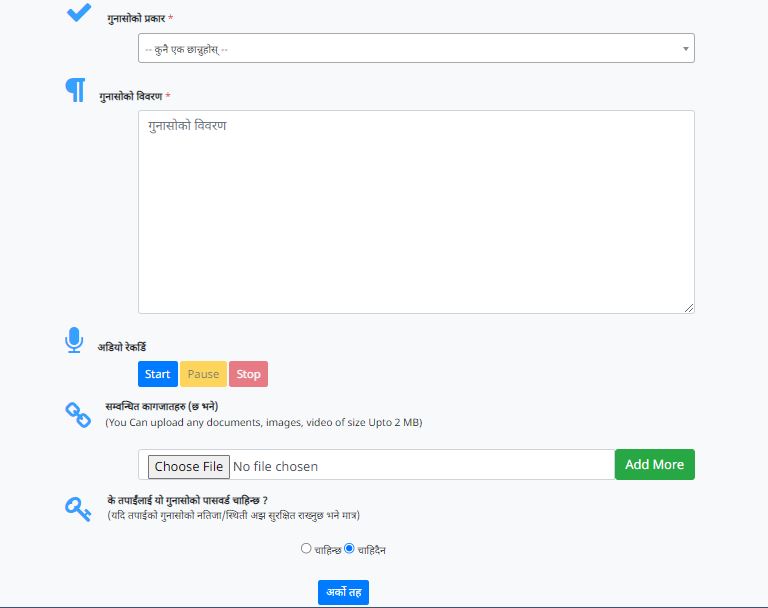 The provincial government's chief secretary Narayan Prasad Sharma Duwadi says it addressed the issue within 4 hours after its submission. He shared that every concerned ministry has two employees service round the clock for the public service through Hello CM. Check out: Mayor Balen Sah Announces New Policies for Kathmandu Metro
Have you ever made a call to any form of government under a similar program? You can share your experience in the comments below.