Popular Nepali app Hamro Patro has marked its 12th anniversary. After starting the service in 2012, the app has become the country's most downloaded app to date. known for its plethora of services through the single platform, the app could soon also launch its digital wallet Hamro Pay.
Hamro Patro was first launched for the iOS platform and then became available on Android in 2012. Over the years, the platform has continuously added new and useful features which has made it an instant hit for smartphone users. Currently, it features services not limited to date, news exchange rates, telehealth, online astrology services, remittance, etc.
Hamro Patro holds several records for downloads. In 2015, it marked a milestone of 1 million downloads. After this, the company Hamro Patro, Inc. established its office in Nepal and furthered its services more effectively. Similarly in 2018, the 'Super App' touched 5 million downloads which translates to a whopping 50 lakh in Nepali.
Also read: Hamro Patro Increases Remit Limit to $1 Lakh in 6 Months
Hamro Paro founder and CEO Shankar Uprety thanks the users
On the occasion of its 12th anniversary, Hamro Patro, Inc. founder and Chief Executive Officer (CEO) Shankar Uprety extended his regards. He said, "We are encouraged for more hard work. I express my gratitude to the users of the Hamro Patro app. The download numbers are the reflection of the users' trust and companionship. We moved forward with the commitment with more responsibility and trustworthiness, and for the 12 years of our calendar, we express our sincere gratitude to everyone. We promise to continue our digital and meaningful companionship for hundreds of years to come."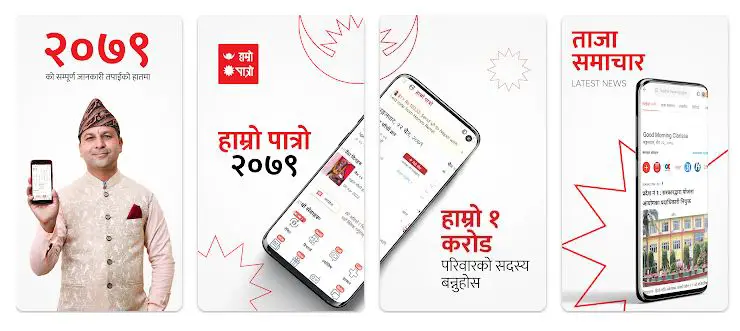 Check out: Hamro Patro Launches Hamro Learning Center, e-Learning
Hamro Patro started mobile recharge service in 2019. Since 2020, the company has integrated eCommerce while also adding remittance and telehealth services in 2021.
Next, the company is in works to officially launch its much-awaited Hamro Pay digital wallet as it enters its 13th year in the service.
Download Hamro Patro app: Android | iOS
What is your favorite feature on the Hamro Patro app? You can share in the comments below.