You can win an iPhone 14 on Khalti Top up of Rs 50. Find out the steps to participate in the offer below in the post.
Apple's flagship iPhone 14 series started arriving in Nepal after the government ended the infamous phone ban. And as usual, the premium iPhone series has received another strong word-of-mouth popularity. Considering people's fondness for the mega-successful phone series, Khalti brought this mouth-watering offer for its users to win the premium-tier handset.
If you use Khalti digital wallet, you can stand a chance to bag home a brand-new iPhone 14 just by performing a top-up of Rs 50.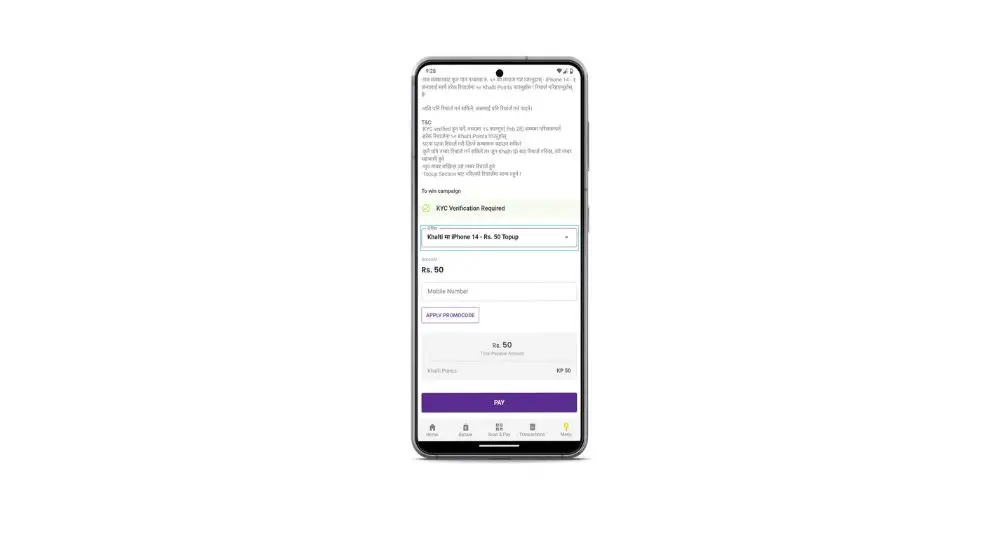 To participate in the offer, you need to tap on 'Khalti ma iPhone 14' on the Khalti app and perform a Rs 50 top up. Besides, for every top-up, you can earn 50 Khalti Points too.
Regarding the offer, the company's CEO Binay Khadka said that the offer encourages people toward the Digital Nepal goals of expanding digital payment behavior among smartphone users.
Also read: Top 5 Digital Wallets in Nepal: Updated (2023)
How to win an iPhone 14 on Khalti Top up of Rs 50
Check out the steps to win an iPhone 14 on a Khalti top up of Rs 50.
Launch the Khalti app.
Find the 'Khalti ma iPhone 14' icon in Features Services and tap on it.
Perform a top up of Rs 50 on any phone number.
Choose between Bank Link or Khalti Wallet and tap Proceed to Pay.
That's it. Now your participation in the offer is confirmed.
Remember that only KYC-verified Khlati users are accepted in the offer.
The offer is effective from 12 January to 28 February 2022.