Rhino Water Entertainment started operating a cruise ship on the Narayani river today on Magh 1, 2079 (January 15, 2023). The beginning of the commercial cruise ship marks a new era of commercial watercraft in service in Nepal.
Rhino Water Entertainment Managing Director Ramchandra Kandel confirmed the cruise's commercial debut.
The company conducted the ship's successful trial two years ago in December 2019. But Kandel shares that its regular operation was delayed due to the Covid-19 pandemic and the series of lockdowns.
The sailing ship is powered by two engines and built by technicians from Kerala, India.
Cruise Ship on the Narayani River is historical for Nepal!
It will be an understatement to state that people have waited a long for a ship operation in Nepal. The idea of ships running in Nepali waters has been treated with awe, while also mocked.
However, it can't be denied that there is a genuine curiosity as to whether the idea of shops running ships on the rivers in Nepal could turn into a reality. Today, it materialized. The said mini-ship is a small-scale operation as the name itself implies but it stirs Nepal on the track to commercialize ships on the perennial rivers of Nepal.
Rhino Water's cruise mini-ship has a station at Kavreghat in Bharatpur Metropolitan Municipality-16 Dnyaneshwar Community Forest. It can accommodate 180 passengers at a time and has three decks. A 15-crew member will board the ship.
Check out: Best Electric Cars Price in Nepal | Latest 2022 Update
Ticket Cost for the Trip on the Ship on the Narayani River
MD Kandel says that the company could take passengers for an hour-long trip. A ticket to the Narayani River cruise ship is set at Rs 700.  
Inside, there are different types of cruise trips as well. A breakfast cruise costs Rs 1500, while it costs Rs 2000 for lunch cruising. Similarly, a dinner cruise costs Rs 2500. Inside, there are restaurants, a stage for cultural programs, and a hall for meetings. Additionally, passengers can also take selfies at 'selfie points'.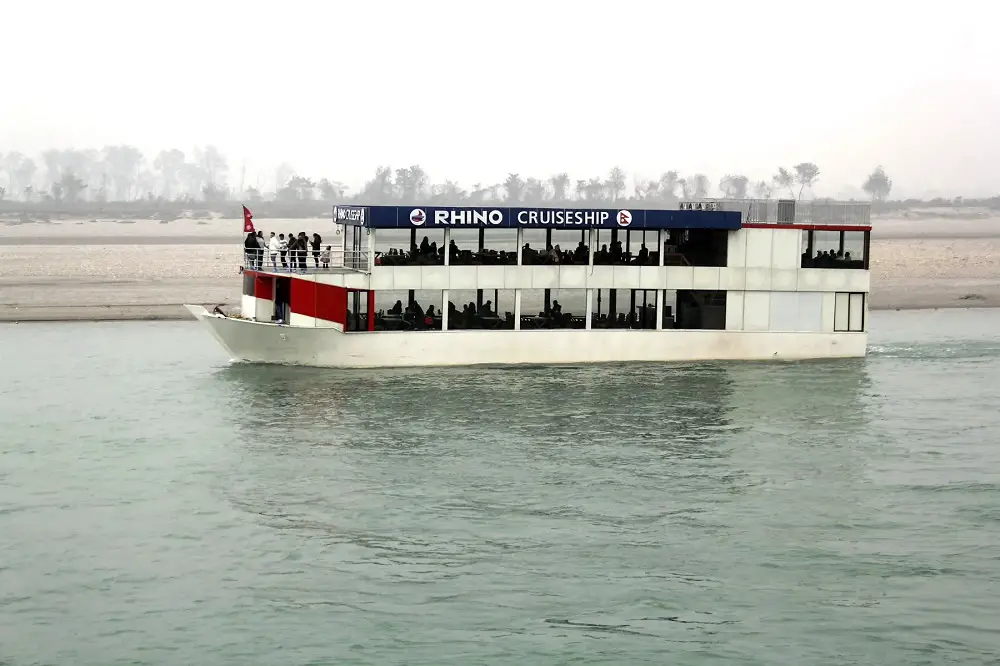 Every passenger will have insurance worth 10 lakhs. There are also facilities for activities such as weddings, weddings, engagements, birthdays, wedding anniversaries, etc., while staying on the cruise ship.
Mr. Kandel adds that the riverboat's design has been slightly modified to look better than its earlier look. The changes in its design cost the company an additional Rs 1 crore while its weight has increased by 10 tons.
Check out: A Signature Bridge Will Be Built Over the Narayani River
The Length of the Narayani Pani Jahaj Ride
The company has permission to operate its cruise ship for 40 km. But the water level of Narayani is low so only a few kilometers trip is expected at the moment.
The cruise is 100 feet long and 25 feet wide and built on Norwegian technology.
Are you eager for a trip on the cruise ship on the Narayani river? Do share below in the comments.