Through the 'Nabil Digibank portal', the bank will offer all of its online services through a single platform to its customers.
Nabil Bank Ltd.'s quest for digital banking practice has taken a notch. The A list commercial bank has formally launched Nabil Digibank Portal to provide all its online services.
The bank's CEO Anil Keshari Shah kickstarted the service at an event yesterday on Thursday, December 12.
Nabil Digibank Portal Includes:
The newly launched online service will integrate multiple banking services digitally for the customers. This includes Online Account Opening, Demat Account, Online Fixed Deposit, New Debit Card, Debit Card Replacement, among other services.
The Nabil Digibank Portal brings a major convenience to customers who will receive major banking services all on the same portal. The bank says it will be adding more services in the coming days.
Check out: How to apply for Nabil Bank Dollar Card online?
At the event, the bank also launched popular VKYC and Virtual I Card features which are again other online features of the first private bank of Nepal.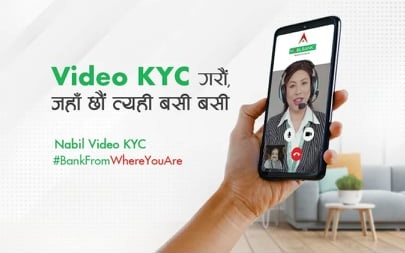 About Virtual KYC (VKYC)
Virtual Know Your Contribution (VKYC) spares the bank's customers to visit the bank physically to verify their ID. Video/Virtual KYC includes an online AI feature that stores the data of customers and authenticates them.
KYC is an important tool to verify the customers' identity within any digital services such as digital wallets, banks, and financial institutions. Nabil Bank's VKYC will now let its customers submit their KYC on the go with the beginning of its online feature.
Recently, NMB Bank also launched its own VKYC feature and it is set to become a new trend among the B/FIs in Nepal.
Digital Banking Becoming The Norm
Nepal's digital banking practices have been remarkable. Recently, NMB Bank was recognized with the Bank of The Year 2021 Asia award by the Banker Magazine for its lead in digital banking.
Besides, the banks have been very innovative with their range of services lately. Nabil Bank itself has introduced Nabil Cash Machines that allow its customers to deposit money from an ATM. Similarly, NIA Asia has an uninitiated cashless withdrawal system that enables customers to withdraw cash via mobile application without the need for a physical ATM card.
Read more: Nabil Cash Machine: Allows Both Cash Withdrawal And Deposit
The COVID-19 has shown a silver lining to Nepal's digital quest and the banks have played a key role in usurping the government's Digital Nepal Framework. The digital/online banking services will bring comfort, convenience, and ease of services to the Nepalese who love to receive their services over the internet.
Which bank offers its best online services in your opinion? Share with us in the comments down below.