Nepal's most popular app Hamro Patro has started the "Hamro Learning Center" to provide education access online. The feature brings subjects from classes 4 to 11 accessible within the app over the internet. The feature is available in the beta phase for now. But the company says it will enhance the app with contents and add more usability soon.
Hamro Learning Center will help students who have been deprived of necessary lessons and courses due to the lack of means and resources.
Shankar Upreti and Deerwalk Sifal School's Director Hitesh Karki signed the (MoU) agreement for the e-learning project.
After the agreement, Karki said the collaboration with Hamro Patro allows it to broaden the access of flipped classes to a higher number of students.
"Our classes are popular among the students, Sifal School Director Karki said. "We expect more students will be benefitted when learning materials become available on Hamro Patro," he added.
Similarly, Hamro Patro CEO and Founder Shankar Upreti say the learning center will inspire a positive change in Nepal's education and enrich the access to education for common people/students.
Also read: Hamro Patro is introducing a Video Conferencing Feature
Hamro Learning Center benefits all, especially, the disadvantaged
Hamro Learning Center will try and address several issues felt in Nepal regarding education. In rural areas, the students still can't get books due to delayed printing. Unfortunately, though, it is only worse in rural areas but the case applies to the whole country.
Lack of human resources (teachers) is another cause of failing school sessions for many. Besides, financial restrictions have also limited opportunities for the economically challenged. So, the feature will be a perfect resource for students to overcome these harsh realities. Hamro Patro also makes lessons available for them within a few clicks.  
Hamro Patro says it will bridge the gap between students and quality education through the Hamro Learning Center.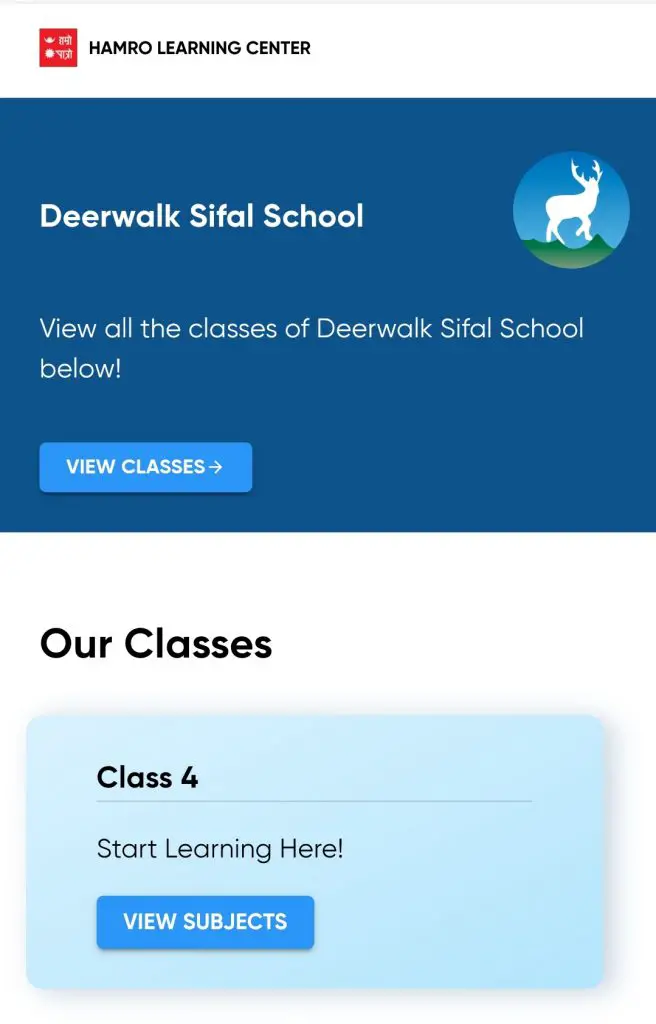 Upreti also says the feature will see gradual improvement and get more features. Students will get a quality education with the help of technology.
The platform includes learning content for classes from 4 – 11. There are many video materials for students. Besides, questions and quizzes will be added soon.
Learning Center is an inclusive system. Any school can include its educational tools and materials in it. At the moment, Sifal School's students have free access to the lectures by the school's teachers. To start browsing the feature, download the Hamro Patro app.
About Hamro Patro and Deearwalk Sifal School
Hamro Patro is Nepal's most popular app with the highest number of downloads. Besides the calendar service, it offers astrology, online health service, radio, news, etc. In addition, you can also benefit from its affordable remittance service. Soon, the super app will be launching its digital wallet too.
Deearwalk Sifal School established in 2016 AD aspires to produce global citizens with proficiency in languages, math, and science.
Check out: How To Activate Mobile Internet in Ncell, NTC, and Smart Cell
How do you see Nepal's education system going online in the recent months since the Covid-19 fracas? Do you see e-learning effectively addressing the issues related to education in rural Nepal? Do share in the comments below.