The marvel of Bangladesh's engineering Padma bridge has been unveiled recently. The 6.15-km-long multipurpose rail-road bridge marks the country's growing riches and capacity in the region.
The bridge laden with records is also the world's deepest bridge with its piles running 127 meters deep into the Padma river.
On June 25th, Bangladesh's Prime Minister Sheikh Hasina inaugurated one of the biggest ambitious projects in years.
The project to build the bridge began in 2014 and was completed this year on June 22 taking ten years to complete.
Speaking at the inauguration, an emotional PM Hasina said, "This bridge is not just bricks, cement, iron, and concrete This bridge is our pride, a symbol of our capacity, our strength, and our dignity. This bridge belongs to the people of Bangladesh." Also see: World's Longest Suspension Bridge Opens in the Czech Republic
Self-funded after foreign creditors backed off
Initially, Bangladesh wanted to build the Padma Bridge with funds from the World Bank, Asian Development Bank (ADB), and the Japan International Cooperation Agency (JICA). However, the proposal was not entertained by the World Bank citing "corruption." Later, other institutions also refused to lend a helping hand over similar concerns bringing an international blemish to the country.
This forced the government to self-fund the project and the result is a marvel of the country's resolve, attitude, and capacity. The government cast aside all the hiccups and built its longest bridge in 10 years' time.
The mega project cost the country nearly $3.87 billion.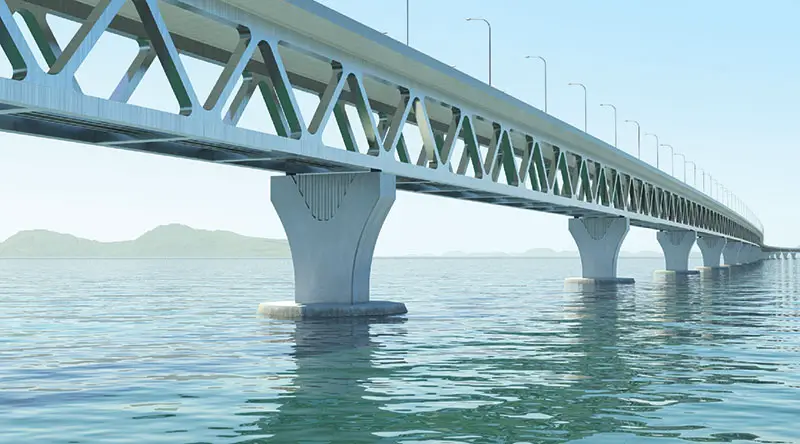 The bridge connects Dhaka with 21 districts in the country's southwest region. Experts say, the bridge will pivot Bangladesh's transport and trade potential and could potentially change the way they live.
Don't miss: World Bank Aid to Nepal, 17 Billion for Digital Economy
Padma Bridge, a moment of reckoning for Bangladesh
The 6.15 Km multipurpose bridge includes a 4-lane highway on the upper level and a single-track railway just below it.
Likewise, the bridge is set to reduce travel time from hours to minutes. The long journeys between districts have been cut down to mere 7 – 8 minutes. The time these trips took would stretch hours before the opening of the Padma Bridge.
Likewise, the bridge would help greatly reduce traffic congestion during bad weather. The vehicles no more have to wait in queues before being ferried across the large Padma river. The country can also expect a huge tourism bump with the bridge being a shock and awe for the people in the region.
The mega-structure is also said to contribute to Bangladesh US $4.56 billion in just one year, the Bangladesh Bureau of Statistics has predicted.
The Padma Bridge is the culmination of engineers and experts from 20 countries. A staggering 14,000 workers' diligent effort helped Bangladesh battle through all the odds and build the country's greatest modern-day infrastructure.