BREAKING NEWS!!! The government has decided to ban TikTok in Nepal citing its social damages. A Council of Ministers' meeting on November 13 (Kartik 27) decided to take down the popular video app in Nepal, shared Communication Minister Rekha Sharma. Telecom companies and internet service providers (ISPs) have been ordered to block IP addresses to the TikTok platform and already TikTok.com has been pulled off Nepal's internet.
Subsequently, the Ministry of Communication, Information, and Technology (MoCIT) through the Nepal Telecommunication Authority (NTA) urged the immediate implementation of the ban on Nepali service providers' networks. The decision comes a few days after the government said that it was tightening its monitoring of TikTok and would use a system that will automatically remove undesirable content from the app.
It has been said that the decision was taken to stop the proliferation of illicit content, and those that weakened national interests, and compromised social harmony.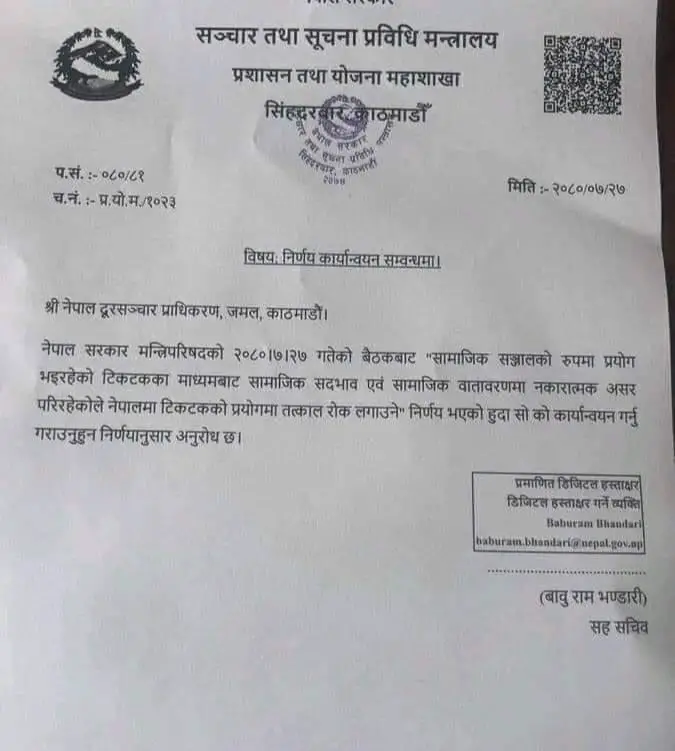 TikTok banned in Nepal
NTA, Telcos, and ISPs are coordinating to close down the popular video app
After the government decided to pull the plug on TikTok in Nepal, regulator NTA sent an email to the telecom service providers- Nepal Telecom (NTC) and Ncell, and ISPs to start blocking TikTok on their network. Earlier, the Communication Minister said that the technical work should take up to half an hour.
After the order, cellular service providers and ISPs began their technical works, and around 8 PM on Monday, November 13, TikTok.com went offline. On both Vianet, WorldLink, and other prominent networks, access to the website was blocked.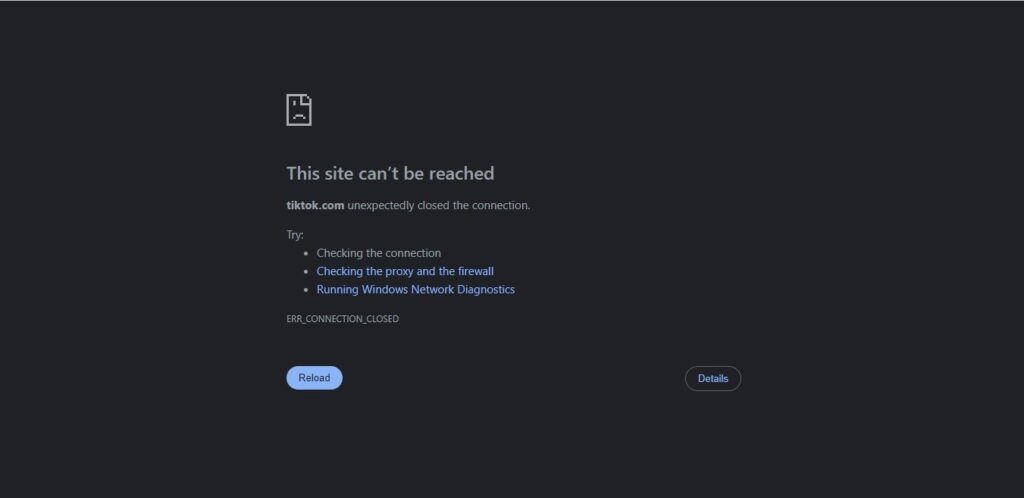 Now, it seems on Tuesday, November 14, TikTok's mobile applications also seem to have gone offline on some networks. Blocking TikTok is network-specific so if the app or webpage access is blocked on one network (Ntc, Ncell, or any ISP network), it's possible that any specific service provider is yet to implement the blockage and so it may continue to be accessible.
Banning TikTok or any other platform differs for app and web with the latter being the easier task. However, sooner or later, all Nepali smartphone users might not be able to use TikTok on their devices if the ban goes into full swing.
Also read: TikTok, Google, and Facebook pay Rs 9 crore in tax in Nepal
Why the Government banned TikTok in Nepal?
The government said that TikTok was banned to contain socially harmful material. The Home Minister Narayan Kaji Shrestha said that the decision was taken to stop anti-social content from spreading that could potentially damage social harmony. It's clear at least on the surface that the government's official narrative for the TikTok ban was to nullify explicit and "negative" content.
And there's some justification to it as well. While it is an easy medium for people to share their content, the app has been drawing immense criticism for "being too vulgar". +18 content, anti-social, anti-religious, and anti-cultural videos are rampant on the video app and it seems Bytedance, TikTok's parent company has seemingly failed to stop their presence.
On the flip side, many use TikTok for healthy exercise of personal freedom, freedom of expression, creativity, etc. It's become a major platform for business promotion for many too.
TikTok ban Nepal time
The Nepal government TikTok ban in Nepal on Monday, November 13, 2023. From around 8 PM, TikTok's webpage was already offline.
It's highly opinionated
Ever since the announcement for TikTok ban was announced the internet space of Nepal went into a meltdown. Some have embraced the decision, some have welcomed it, while some popular "TikTokers" have denounced it. Popular TikTok creator Eva Giri criticized the decision and said that she was using TikTok for entertainment and business purposes.
Gagan Thapa a renowned Nepali Congress politician criticized the decision and remarked that the decision was an intrusion into the free of expression. He also demanded that the government rescind its decision to shut down the popular video-sharing platform in Nepal.
Likewise, former Communication Minister and prominent CPN (UML) party member Gokul Baskota, also expressed his disapproval and chanced the occasion to throw a satire. But he hinted that the government should prefer content filtering instead of pulling it down.
But it seems social media users themselves have celebrated the government's decision. There's been a deluge of meme feasts on Facebook and other social networks celebrating the ban.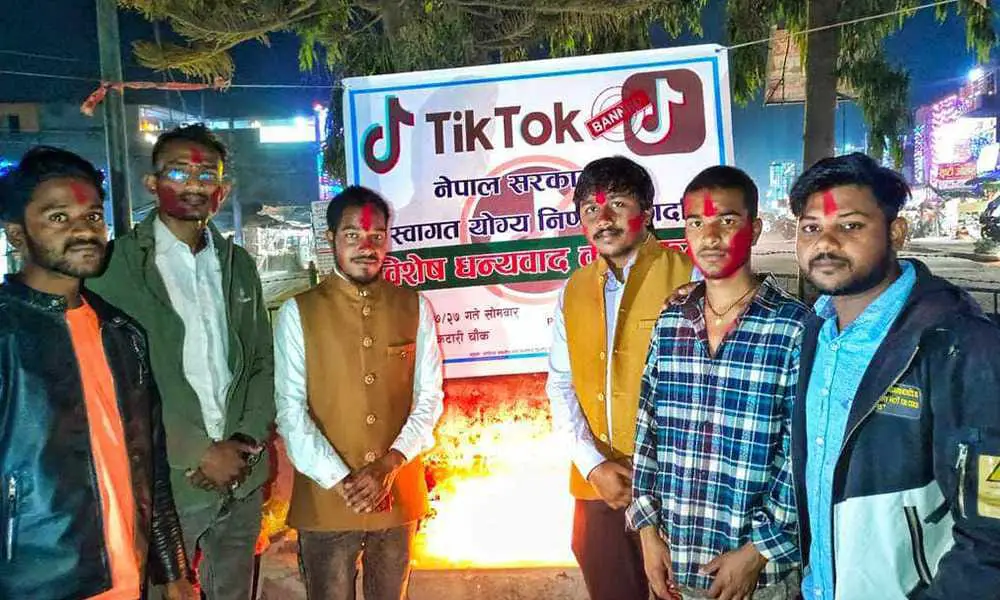 Some youths in Siraha expressed their approval for the TikTok ban in Nepal
This represents the general reaction of most TikTok naysayers in Nepal. But there's also a section of netizens who preferred to show the positive use of the app and wished the regulation could be the better way to go.
There's a way around it!
For those who find it necessary to use the app, there could be a way around it. Banning an internet platform is easy but also easy is the way for an alternative method to access it. If you happen to want to use TikTok even after the ban, you may use a VPN. It bypasses the government's and telcos' network restrictions and encrypts the network which lets you use an app, in this context TikTok.
But do note that we by NO STRETCH OF OUR IMAGINATION ENCOURAGE OR PROMOTE the use of VPNs that could conflict with the government's decree. It's to be taken as a piece of information only.
Check out: Most popular social media apps in Nepal | 2023 |
TikTok ban will relieve Nepal's 30% bandwidth
TikTok accounts for a large chunk of Nepal's bandwidth- a massive 30% of the total which is the highest for any app in Nepal. The ban means a relief to Nepal's international bandwidth. Reportedly, Nepal spends up to Rs 90 crore per month for internet bandwidth. Banning TikTok would save Rs 20-25 crore a month.
Will the decision stay?
While the ban has come into effect on the webpage and steadily to mobile apps, there are strong voices criticising the decision, and history has it that such decisions don't last long. This happened with PUBG in the past. The government decided to ban PUBG Mobile in Nepal on April 12, 2019, but soon, the Supreme Court overturned the decision just after two weeks.
So, the previous precedents allow us to assume that there is a chance that the TikTok ban decision could be revoked, particularly since the members within the ruling party have also criticized the decision and the app itself has been a way of life for many and a source of employment generation too.
Is the TikTok ban justified?
What is your honest opinion on the TikTok ban? The call for it has been heard for a long but do you think banning an internet platform is a necessity and even possible? And does blocking access translate to maintaining decorum? Do share your honest opinion in the comments below. PS: We stay neutral on this (chuckles).