The government of Nepal seems to be closely monitoring TikTok in Nepal. Releasing a notice on Sunday, Kartik 19, 2080 (November 05, 2023), the Ministry of Home Affairs called on the video-sharing platform against making content that hurts religious and cultural sentiments.
In its notice, the Ministry said that TikTok and other top social media apps have become indispensable parts of our lives and they can be used to obtain rightful information and stay socially connected in a dignified and lawful manner. But wrong material can negatively impact individuals and society and defame them while stirring communal, and religious conflicts and even affect national integrity and national interests.
TikTok is registered in Nepal and is a tax-paying company so it's easier for the government to coordinate policies closely. Previously, Nepali authorities worked with Meta during the elections to keep an eye on social media activities to keep the polls dignified.
Anti-social TikTok videos will be automatically removed
The notice mentioned that the government is coordinating with the Cyber Bureau of Nepal, government agencies, and the TikTok office in Singapore on a system that will automatically remove TikTok videos that constitute misuse of social media. Additionally, the creators of such content will also be brought into the legal proceedings in Nepal. To draft plans on stricter regulation of TikTok activities in Nepal, a meeting between the Home Ministry, Communication Ministry (MoCIT), law enforcement agencies, and international representatives of TikTok took place on Friday, Kartik 17, 2080 (November 03, 2023). the notice revealed.
The meeting discussed the topic of removing anti-social and social unity compromising videos on TikTok and bringing the TikTok users within the perjury of the legal system of Nepal. It seems artificial intelligence (AI) will be used to effectively remove the content that TikTok's system considers a threat to social unity and peace.
Check out: The Government to levy 2% Digital Service Tax in Nepal
Will TikTok be banned in Nepal?
A section of social media users has long demanded for TikTok to be banned in Nepal. They are not the structured protest but the disconcerted voices but the current government move seems to be the path to a higher-level monitoring of the popular social platform.
Already, the government is working on regulating social media but hasn't been able to scrutinize as seriously leading many to raise their displeasure with some content on TikTok and other social media. In recent times, the anti-religious, anti-social, and anti-cultural content has increased in quantity and frequency. Many have also expressed their disapproval of illicit and explicit +18 content.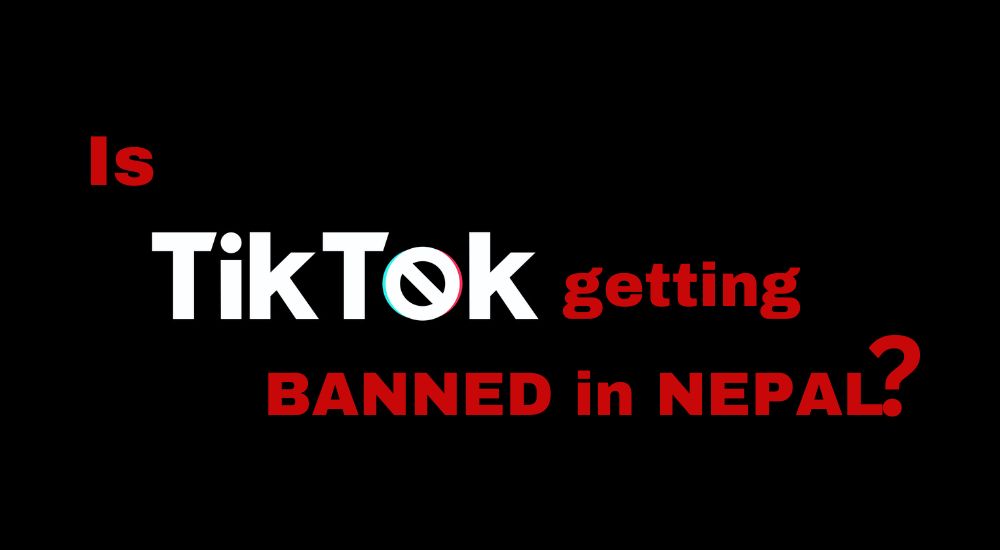 Social media is a platform for the development of social connectivity and spreading the right information but misuse is also increasing in deluge and TikTok has been the target of many with already staters striking their regulation on the Chinese app. But will TikTok be banned in Nepal? Not likely. The government is working closely with various authorities to contain misinformation and anti-social material and that should put users' act together, let's hope.
Check out the notice released by the Home Ministry.