A deepfake video showing Rashmika Mandana (falsely of course) has gone viral in India. The incident has sparked concerns about the prowess of Artificial Intelligence to spread misinformation and misguide people. The particular video has drawn the attention of prominent Bollywood figures and ministers with legendary actor Amitabh Bachchan and a union minister Union Minister Rajeev Chandrasekhar calling for judiciary proceedings. The South Indian actress has also released her incident over this unfortunate material.
First things first, what's a deepfake?
Let's make it simple. In layman's terms, a deepfake is a technology that is used to falsely use someone's image or a photo of another person's body. Attackers or some tech-savvy use this AI-powered technology to use some prominent figure's image to give them an impression that the former did the thing.
So a deepfake video has the face of a person but the body of another in an act. We have often heard of actors' faces used in explicit videos. What's even worrying is that not just ht face, the technology can also mimic the audio. The "deep" in the deepfake means a higher level of similarity that makes it too difficult to understand that it's a fake video.
We have a dedicated post on the threats from the deepfake technology. While the tech has drawn enough notoriety for ht wrong reasons, check this YouTube channel to see how dangerously convincing deepfake videos can be.
What is Rashmika Mandana deep fake viral video?
The video showing a deepfake Rashmika Mandana has a lady walking in a black dress. While the video is not too mature in content, the ire it has drawn is likely because the video has "her" with bulging upper private parts (We have intestinally refused to use the word here). In the video, the Rashmika's head has been superimposed upon another person's face.  In the original video, the lady in question is someone who goes by Zara Patel who happens to be a British-Indian social media influencer.
Check out: Beware of the "Nepali Girl" App, You Might Lose Your Money!
Rashmika Mandana vs Zara Patel | Fake vs. original video
Here in the image, you can see side-by-side the original video of Zara Patel and the "deepfaked" one that shows Rashmika Mandana
The actor speaks out
After the video went viral, the Pushpa film actress released her statement and said that she "was hurt". She branded the instance "extremely scary" and wished no one had to go through this.  
"I feel really hurt to share this and have to talk about the deep fake video of me being spread online. Something like this is honestly extremely scary not only for me but also for each one of us who today is vulnerable to so much harm because of how technology is being misused," the actress wrote on Instagram.
Before that, she wrote, "Today as a woman and as an actor, I am thankful for my family, friends, and well-wishers who are my protection and support system. But if this happened to me when I was in school or college, I genuinely can't imagine how could I ever tackle this. We need to address this as a community and with urgency before more of us are affected by such identity."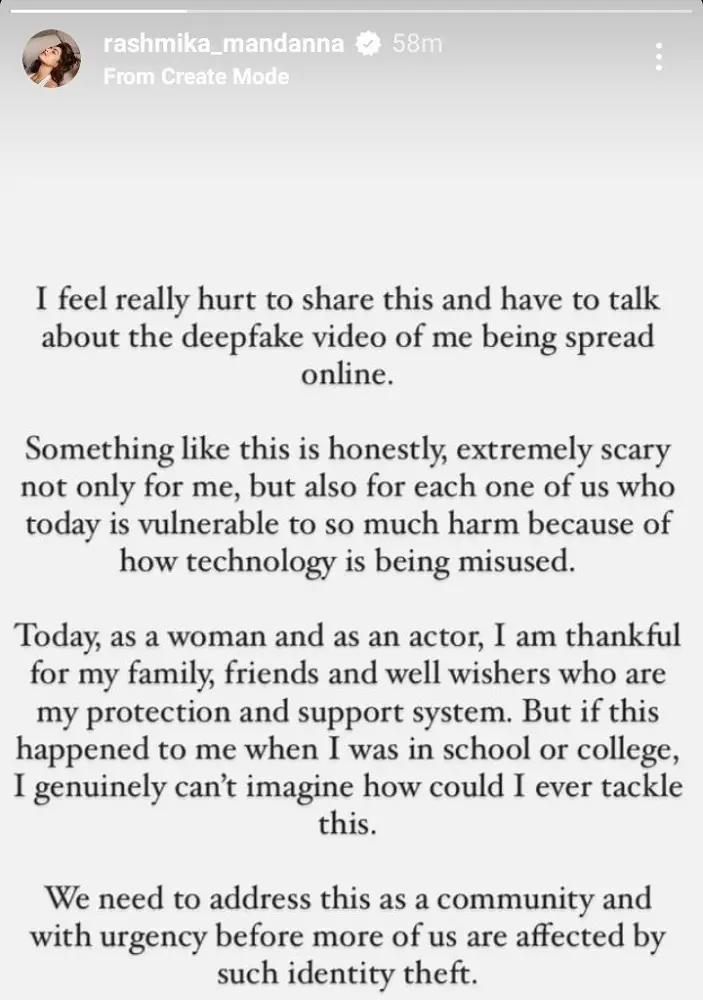 She also maintained that it was urgent to address the threat of deepfake technology so as to save others from being the victim of "identity theft."
Amitabh Bachchan urges the actor to seek law
Bollywood icon Amitabh Bachchan was the first from the industry to voice his sharp displeasure over this incident. Even before the victim actress made her statement, the Deewar actor said that the video was a major concern. Retweeting the post of a fact-checker, the Big B wrote, "Yes this is a strong case for legal."
Find both the original and the deepfaked video here.
The Internet can be a space for fun and learning but also dangerous. Be careful of its vast potential of harm and use it carefully.