Beware of the Nepali Girl app, if you have this app installed on your phone, you might want to delete it right away. There has been a piece of news about a malware and spam app known as "Nepali Girl". The app is designed to track your phone number, view every activity on the screen, and then eventually steal your money. Users who have installed the apk are reporting theft of money from their bank accounts and digital wallet. Let's know more about this "Nepali Girl" scam app in this article.
Nepali Girl App, Where Does it Come From?
Installing apk outside of Google Playstore is a pretty risky task in this digital world. This scam app known as the Nepali Girl app seems to be a primary target for those viewing adult websites. As the name implies, the app is luring users into getting attractive partners. Aslam Ali, the head of cyber security at F1Soft company has noted the app's phishing behavior on the user's usage pattern.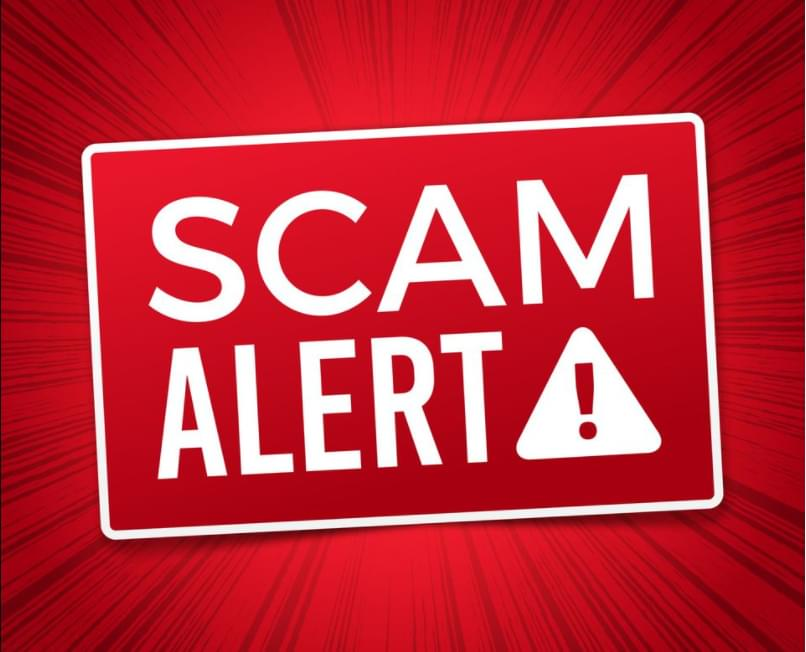 He further mentioned the vulnerability of adult site viewers whose activities are constantly being monitored by scammers. The latest cases show such scam APKs are usually sent to adult sites and online football viewers. Upon installing the app, it asks for the entire permissions of the phone. It can dangerously perform actions and control the display as well.
"We have already registered 10/12 such complaints," he said, "We are carrying out necessary investigations on those cases." However, there is no accurate data about how many smartphones have been infected so far.
Nirmal Dahal, the co-founder of cyber security firm Cryptogen, says that Android users are especially vulnerable to such risks. "Because of the lack of awareness among the users, such crimes are on the rise recently," he says.
Also, Read:- Daraz alerts users after fake job offer spreads on WhatsApp
What Can Nepali Girl App Do?
The Nepali Girl app works as spyware and can record your calls, and view photos and videos on the phone as well. With permission granted, it can act like a super admin app. This potentially puts the data of the user at a great amount of risk. Personal information is easily breached. And money from mobile banking app and digital wallets are stolen effortlessly too.
The spyware app was first seen in China and now it is circulating in Nepal too. Not only with the Nepali Girl name, but such apps are also disguised with other monikers such as Viber, WhatsApp, and Messenger as per Aslam Ali. Even if deleted or uninstalled, such an app's vulnerable residues might still be on the smartphone.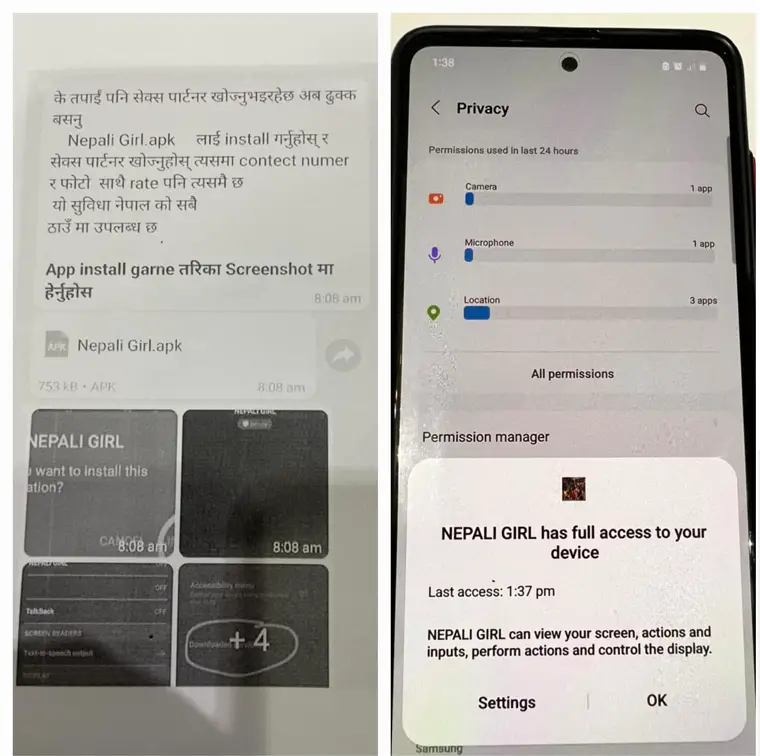 Such apps are potentially looting money from digitally unaware users. Users of specific old age groups are more vulnerable as per Mr. Ali.
A recent informal investigation revealed that more than two crore rupees were stolen from customers' bank accounts due to such APKs. However, it is yet to be revealed how many customers of which banks were affected.
Do Read:- NTA and BugV to improve cybersecurity with ethical hackers
Vijay Limbu, another cyber security researcher and co-founder of Bhairav ​​Technologies, also says that most of the malware and spyware APKs are installed on mobiles due to the ignorance of the users. Also, due to the rush to download and open the app, some users do not even pay attention to which permission to grant or not.
How to be Safe from Such Apps?
Malware and spyware apps are all over the internet. Hackers and scammers are always targeting old aged people and children to fulfill their filthy desires. Hence, digital awareness must be given to such unaware user groups about the potential scams and risks. The Internet is an ocean of boon as well as loopholes of risks and vulnerabilities.
Hence, it is advised that apps should only be installed from official stores like Playstore and Appstore. Even installing from the official store needs a sense of awareness while giving permissions to the app. One should never blatantly provide sensitive permissions to any app.
So that was all about the Nepali Girl app. If you have this installed on your smartphone, we recommend you uninstall it right away and scan further for residues. It is much better to perform a factory reset in case of residues are found.
Also Read:- NTA and NRB to Make Digital Financial Services Secure
Do write us your thoughts, opinions, and queries in the comment section below.