The popular Nepali feature film Kabaddi 4 released on the Cinemaghar app on Friday, November 11. The fans of the blockbuster movie can now watch the fourth and final installment in the Kabaddi franchise on their smartphone on the go.
Those who missed out on the movie's cinematic experience will be able to enjoy the highly-popular movie on the small screen.
The Rambabu Gurung-directed Rom-com got its OTT release after a resounding large-screen success after its theatrical release on 27th May. The film earned Rs 22.90 crore in its theatrical lifetime which makes it one of the highest-grossing films in Kollywood to date.
Regarding the film's OTT release, Sanjib Dhakal, Chief Technical Officer (CTO) of the Cinemaghar app said that the movie is available on all types of mobile phones, tablets, Android TV, Amazon Fire TV, and other smart devices.
Also read: OTT Platforms vs Cinema Hall, Which One is Better For Watching Movies?
Kabaddi 4 released on the Cinemaghar app at a cost of just Rs 200
You can enjoy the historically successful Nepali movie for just Rs 200 at your comfort. The payment is facilitated through digital wallets. Users of eSewa, Khalti, and other mobile payment apps can pay for the movie through their respective mobile apps. There are arrangements done for people who live outside Nepal too. Mr. Dhakal said that Nepalese living abroad can subscribe to the movie using PayPal, a dollar card, etc.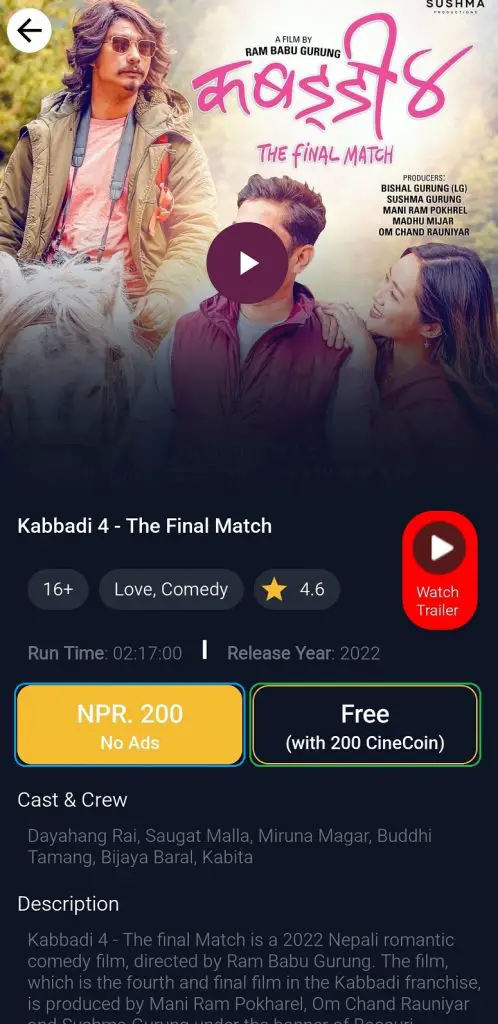 You can also watch the movie for free but for that, you need to have 200 CineCoin. You can earn the CineCoins by watching ads, logging in, through Refer & Earn, etc. But that's gonna take time. By spending Rs 200, you can watch the movie without any interrupting ads.
Check out: You Can Buy QFX Movie Tickets Directly from Khalti, Steps
The film's star cast includes Dayahang Rai, Saugat Malla, and Miruna Magar as the main leads