Netflix has slashed its subscription price in Nepal including over 30 countries. By decreasing the costs, the American video streaming platform aims to maintain and grow its user base amidst fierce competition in the industry. Find out the new basic to premium Netflix subscription rates below.
Netflix dropped subscription rates for countries in Asia, Europe, the US, Sub-Sahara Africa, Mid-East, etc. While the list of countries includes Thailand, Malaysia, Indonesia, Croatia, etc. However, the company hasn't decreased the costs for the subscription plan in the US and the UK.
Regarding the lowered subscription price, Netflix said, that subscribers "have never had more choices when it comes to entertainment." The move comes at a time when other companies such as Hulu and Disney+ have increased their subscription costs.
Check out: OTT Platforms vs Cinema Hall, Which One is Better For Watching Movies?
Netflix resorting to measures amidst the competition
Netflix has seen record-breaking swings in its user base in recent years amidst competitors. Especially, password sharing has remained a major issue. Slashing subscription costs could help minimize the customers' jump to other platforms. Likewise, the new Netflix price in Nepal could attract many new smartphone users while also keeping others hooked to it.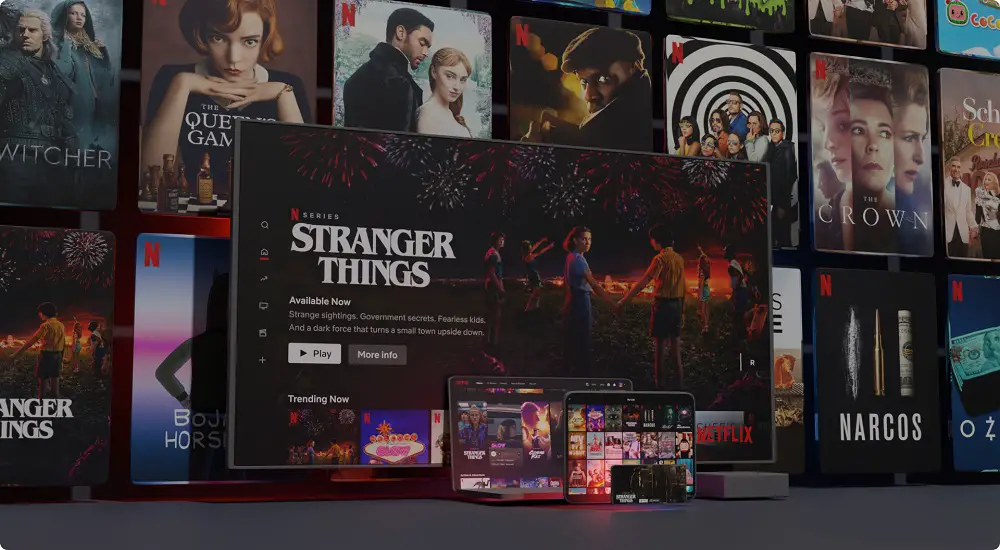 In 2022, the company laid off hundreds of customers amidst declining revenues. It also started ads-included low-cost Netflix services.
Netflix said, "We are always looking at different ways to make our customers' user experience better. We are cutting down subscription costs in certain countries."
Meanwhile, the popular OTT company has also adopted measures to balance its finances. Earlier this year, it limited users' ability to password-sharing. The plan involves users having to pay a small sum if they want to share their Netflix password with friends and family they don't live with.
Also read: Kabaddi 4 released on the Cinemaghar App, Find out the cost
Netflix price in Nepal
The new Netflix subscription costs in Nepal start with a basic Mobile plan at $2.99 a month which becomes Rs 396 in Nepal however, the benefits are limited under this plan. You can watch on a phone or a tablet only at 480p resolution. The Basic plan comes for $3.99 (Rs 528.49) and includes 720p video resolution and viewing ability on a phone, tablet, or TV.
Likewise, the Standard Netflix plan will now cost $7.99 a month which translates to Rs 1,058.31 decreasing from $9.99 a month previously. After buying the package, you can watch your favorite movies and web series on Netflix on any phone, tablet, computer, or TV in full HD (1080p) quality.
How to buy Netflix subscription in Nepal
You can use a dollar card to buy a Netflix subscription from Nepal. Various banks have started providing dollar card services. If you want to know more about dollar cards, read them here.
Netflix premium price in Nepal
The Premium Netflix plan costs Rs 1323.22 in Nepal which is $9.99 a month in US dollars decreasing by the previous $11.99 cost. The Premium subscription brings the maximum video quality of 4K and also gets HDR support serving an aesthetic viewing experience.
Netflix price in Nepal
New cost
Previous cost
Video quality
Available on
Mobile
$2.99/
Rs 396
$3.99/
Rs 528.4
480p
Phone and tablet
Basic
$3.99/
Rs 528.4
$7.99/
Rs 1,058.3
720p
Phone, tablet, computer, or TV
Standard
$7.99/
Rs 1058.3
$9.99/
Rs 1,323.2
1080p
Phone, tablet, computer, or TV
Premium
$9.99/
Rs 1,323.2
$11.99/
Rs 1,588.13
4K and HDR
Phone, tablet, computer, or TV
Netflix price in Nepal
What do you think of the new Netflix price in Nepal? Is it affordable to you or you would have wanted a lower cost? Do share in the comments below.