Nepal's leading digital wallet service eSewa has launched eSpeaker, an audio device that helps to confirm QR payments. With this, eSewa has also formally jumped into the recent trend of bringing an audio device that gives voice confirmation for QR transactions.
eSewa says that it brought the eSpeaker service to make digital lifestyle more convenient. The device can operate on SIM cards and WiFi. Yarsa Tech built eSewa's eSpeaker device which is a completely made-in-Nepal product.
QR payments is hugely popular and is mainstream in cities at least. It's so widely accepted that many people prefer mobile payment (Scan N' Pay) over paying through paper bills. However, there are some shortcomings. Delayed messages, the merchant's registered phone being away, or unavailable, network failure, etc. result in problems with QR payment confirmation which fails the idea of convenient online payment.
An audio device that works separately addresses this by issuing a voice confirmation upon successful transactions. If you ever had to wait for payment confirmation at a merchant even after you made your payment, then you understand the frustration. eSewa which is largely used by majority of the smartphone users can now benefit from the eSpeaker audio device if the merchant uses this at their place of business or service.
Before eSewa, other digital wallets, and banks launched their version of audio devices for QR payment confirmation. Check out:
A key contribution to the digital economy
eSewa's Chief Business Officer (CBO) Ashish Gautam inaugurated the company's innovative eSpeaker audio device. Subash Sharma, F1 Soft's Director who was also present at the event said that the device will assist small and medium enterprise owners. He stressed the importance of eSewa for its contribution to the digital economy and businesses. NJ Subedi, the CEO of Yarsa Tech, the company that built the QR payment confirmation device said that the company had been working on it for the last few months.
Bishwas Dhakal, the President of F1 Soft transacted Rs 2500 and gave a demonstration of how eSewa's eSpeaker device works. He then thanked Yarsa Tech for inventing such a device in Nepal.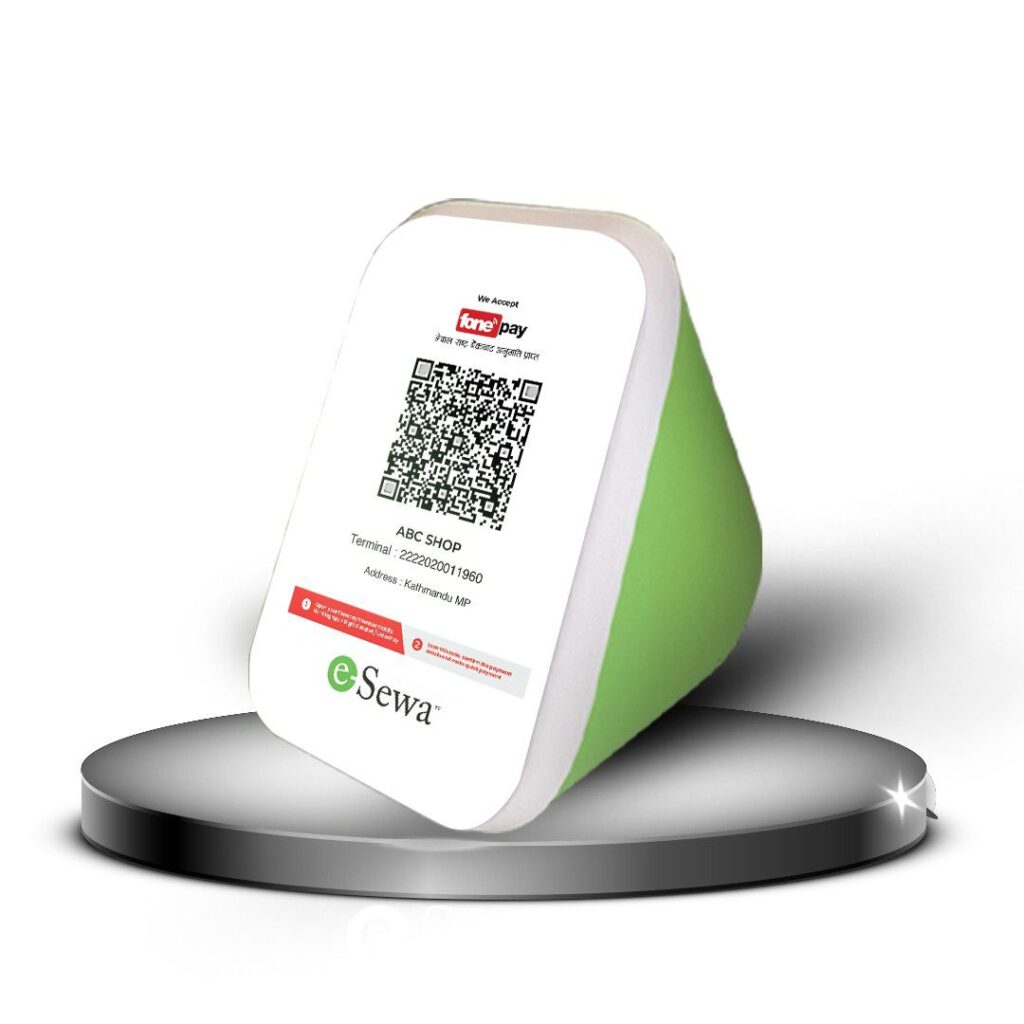 How to get eSewa's eSpeaker audio device?
To get eSewa's eSpeaker device, you need to only follow the basic steps below:
Go to eSewa's web or open eSewa mobile app.
Go to New Services and choose eSpeaker request.
When your form is approved, you will get it delivered across Nepal by the company.
The device can be bought on either monthly installment payment or a full payment.
Esewa's eSpeaker QR payment confirmation device costs Rs 4000 but in this festival offer, you can grab it for Rs 3600. The device comes with a 12-month warranty. Applicants will get the device at their doorstep after Chhath.
| | |
| --- | --- |
| eSewa's eSpeaker device | Cost |
| Festival offer cost | Rs 3600 |
| Original cost | Rs 4000 |
eSewa is Nepal's largest mobile payment app with over 78 lakh customers representing over 80% market share. You can use eSewa for utility payments, insurance payment, booking flight and bus tickets, etc.