eSewa has launched Mero Yatrako Sathi, targeting the upcoming festive season in Nepal. The offer brings offers on the bus, airplane tickets, hotel booking, and others. There is a mega prize for one lucky winner too. Find all the details below.
There are discounts, cash back, and one bumper prize under the festive offer. Let's find out all of them in detail.
The offer brings a 200 percent cash back on a bus ticket for a user every day.
Under this offer, first-time domestic plane ticket buyers get an additional 5 percent cashback or up to Rs 300. For this, the user must use the promo code 'Naya' while booking the ticket.
Likewise, users could earn 5 percent or up to Rs 2500 cashback on international flight ticket purchases every Sunday from 4:00 pm to 5:00 pm.
In addition, the user also gets an extra Rs 150 for buying three or more flight tickets. To be eligible, the user has to mention '3POWER' while booking a ticket.
Likewise, the festive eSewa offer also brings discounts on hotel bookings. The offer is effective from Bhadra 16. Under this offer, users get a 20 percent discount while booking their hotel for their holiday. The offer is valid for a month.
Also read: Pay Your British Council Run IELTS Exam Fees Via eSewa
More details on eSewa festive offers for hotel booking
While making a reservation at a hotel through eSewa from 1:00 to 1:30, users would get 50 percent or up to 4 thousand in discount. The offer is applicable for hotel bookings on Bhadra 22 and Ashoj 1. Similarly, a lucky couple would win a Rs 5,000 discount on booking a hotel room on Bhadra 19, Bhadra 22, and Ashoj 2.
eSewa has also included a mega prize in its Mero Yatrako Sathi offer. The company says a user will win a brand-new Suzuki Avenis Scooter who participates in the offer. Only a KYC-verified eSewa user will be eligible for the mega prize offer.
Check out: Top 5 Digital Wallets in Nepal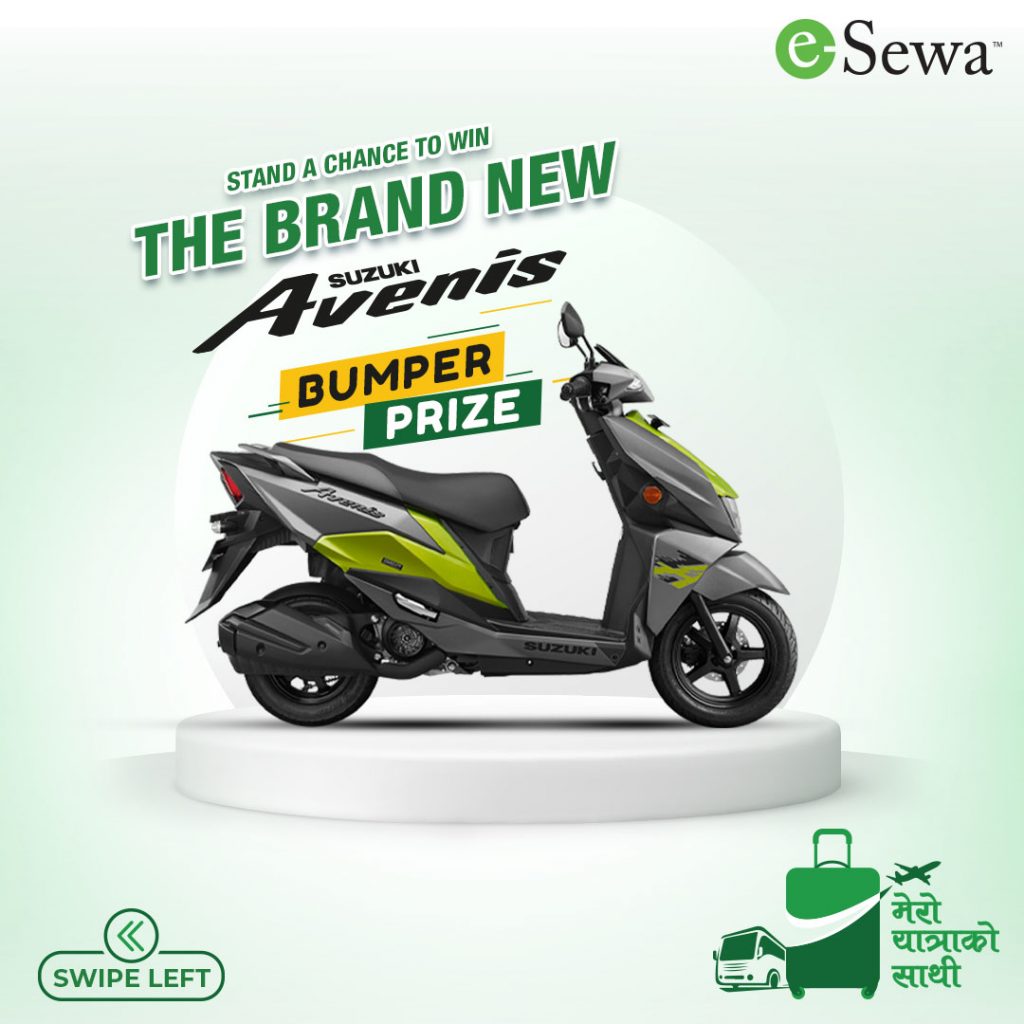 The offer is valid from Bhadra 16 to Ashoj 16.
Do write in the comments for any queries regarding the offer.