Citizens Bank has initiated the chatbot service Citizens Sathi to provide digital banking services to its customers. The bank expects the service to promote its digital banking and promote a better customer experience.
The bank started the service with an emphasis on digital banking.
With the service, customers of the bank can make requests for services through the chatbot.
The chatbot will also let the customers learn information regarding the bank's services with agents. Check out: Citizens Bank Starts Cash Deposit Machine, Digital Banking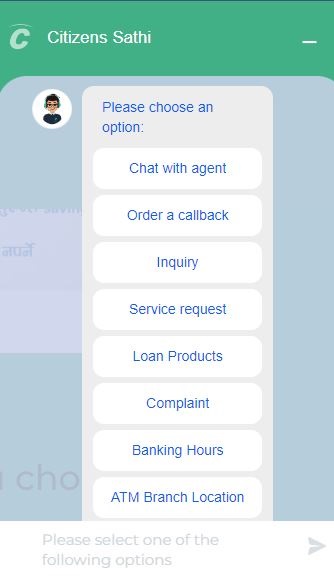 The bank believes its Citizens Sathi service is customer-friendly and makes the bank's services more feasible, accessible, and trustworthy.
Citizens Bank is dispersed around the country with 80 branches, 133 ATM outlets, and 96 branchless banking serving a total of 14 lakh, and 90 thousand customers. Promoting digital banking services to offer convenient and reliable services, the bank has already inaugurated e-KYC, account opening via the Nagarik App, etc.
In addition, the bank has also established a customer help center to communicate with its customers regarding the bank's services.