Daraz has signed agreements with a total of 18 banks to offer discounts on products during its biggest shopping campaign – Daraz 11.11 2022. The bank discounts lets you drive down the final costs of your favorite products and bring them home. Find more below.
Daraz, Nepal's biggest eCommerce giant has announced the return of its annual single-day shopping fair. The company launches the popular campaign on November 11 for 24 hours. But this year, the shopping spree will lasts 9 days, and ends on November 19.
Find the best highlights about this year's Daraz 11.11 2022 campaign including mega deals, vouchers, mega giveaways, etc.
The campaign has tons of discounts, vouchers, and mega deals. Daraz partners with various banks to offer discounts on customers' purchases during the campaign. This season, Daraz has partnered with a total of 18 different banks and will provide discounts of 20% (up to max. Rs 3,000) on prepayment via Debit and Credit cards.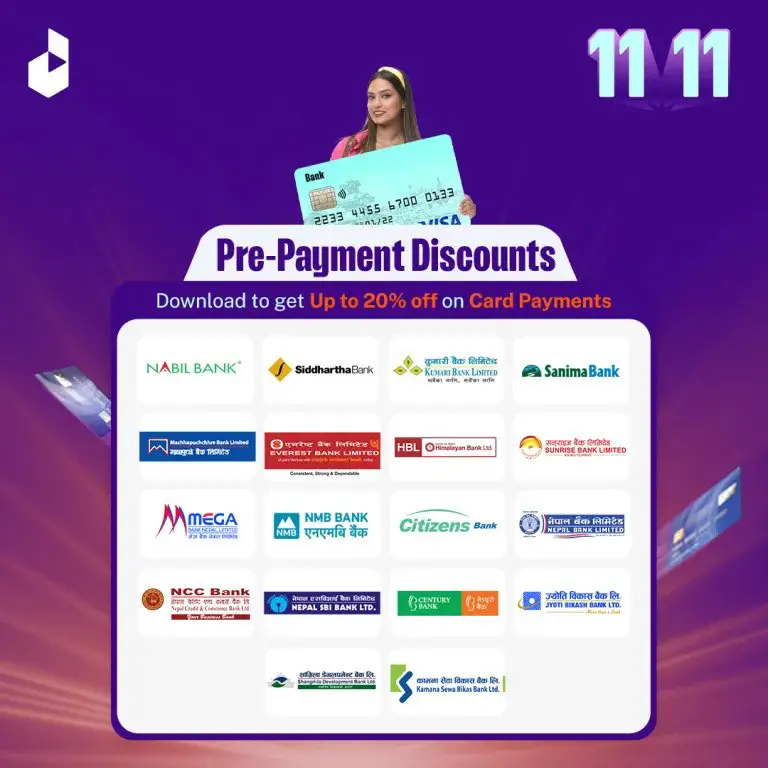 Customers who pay via Debit Card will get up to 15% (max Rs 2,500) discounts. Upon payment via Credit Car, the discount will be of a possible 20% (max Rs 3,000). The discount offers are available through partnered banks of Daraz and the buyers need to have their cards activated while shopping to receive the benefits.
| | | |
| --- | --- | --- |
| Daraz 11.11 2022 bank discounts | Credit Card prepayment | Debit Card prepayment |
| Prepayment | 20% (Max Rs 3,000) | 15% (Max Rs 2,500) |
Do read: Century Commercial Bank and Daraz partners, 11.11 discount
Partnered banks for Daraz 11.11 2022 sale campaign
Daraz has partnered with the following 18 banks for the Daraz 11.11 2022 campaign.
Nabil Bank
Sanima Bank
Machhapuchchhre Bank Limited
NMB Bank
Everest Bank
Sunrise Bank
Mega Bank
Citizens Bank
Nepal Bank
Kumari Bank
NCC Bank
Nepal SBI Bank
Century Bank
Jyoti Bikash Bank
Shangrila Bank
Himalayan Bank
Kamana Sewa Bank
Siddhartha Bank
The prepayment discount will be valid for a limited duration during the campaign. If you want to grab the bank discounts, you need to be an early bird to seize it.
Check out: Daraz to Deliver Goods via Electric Scooters in Kathmandu
Daraz has over 11 lakh products on sale for the year's biggest shopping fest.
To know more about the bank discounts, let us know in the comments.