Chinese manufacturer BYD has become the first automaker to manufacture 5 million electric vehicles. The brand achieved the envious feat after reaching the magic number with its New Energy Vehicles (NEV) production. The milestone lineup that marked the five millionth EV was a Denza N7.
In achieving so, BYD has become the world's first OEM to reach 5 million EV production trailing only by Tesla with 4.6 million all-electric vehicles as of June 2023. The Chinese auto giant took over a decade to reach 5 million NEV count.
IN china nev refers to vehicles that are fully powered by electric energy. This inlcudes: plug-in electric vehicles (pevs), battery electric vehicles (BEVs), plug-in hybrid electric vehicles (PHEVs), and fuel cell electric vehicles (FCEV)
However, the company has seen its EV sales skyrocket as just 18 months were needed to reach 3 million sales and 9 months to hit the 5 million production milestone.
BYD sales are firmly divided between BEVs and PHEVs with the former gaining a minor advantage.
2022 proved to be a remarkable year for BYD as it oversaw sales of 1.86 units. It has only gone from strengths to strengths in 2023 as well. In the first half of 2023, BYD has already sold 1.5 million NEVs globally while becoming the top-selling brand in China.
BYD only took none months to reach 5 million Nev sales from 3 million
Also read: BYD Dominates Global EV Market, Sells 104,346 All-Electric Vehicles, 1,500 Seagulls
BYD NEV history breakdown
Here's the breakdown of how BYD has evolved through the years to stamp an envious EV market dominance:
1995: BYD battery company established
2003: BYD Auto founded
2008: The company introduced its first NEV
2021 May: Reached 1 million NEVs sales
2022 November: 3 million NEVs
2023 August: 5 million NEVs
BYD celebrated to mark the 5 million NEV production at its global headquarters. On the occasion, Wang Chuanfu, Chairman and President said:
"Today marks a historic moment for BYD as we witness our 5 millionth new energy vehicle rolls off the production line. On this special occasion, we would like to extend our sincere gratitude to our customers across the globe for their trust in our products, our partners in the industry for this journey shared together, and every one of our employees whose hard work and dedication have made this landmark possible."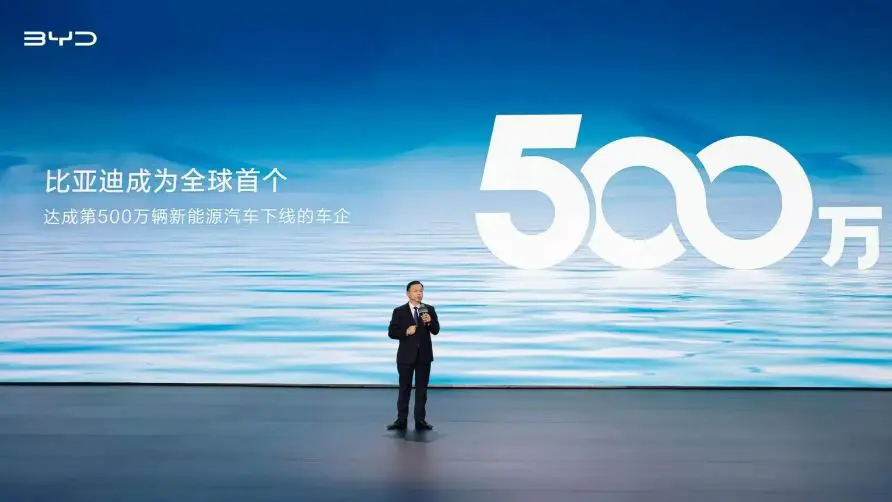 The 5 million NEVs include BYD, luxury Denza brand) and commercial vehicles such as vans, trucks, and buses). BYD says that its cars are shipped to over 54 countries. In Nepal too, BYD electric cars are becoming more popular. Check out BYD's latest models- BYD Seagull and BYD Atto 3.