Seems like BYD is set for sustained global dominance with the Chinese automaker setting milestones one after other. It sold 104,346 all-electric vehicles (EVs) in April. The company saw its sales boost with Seal EVs and the affordable Seagull lineup.
In its Sales Volume report for April, BYD showed how its EV business is booming. The Shenzhen-based company sold 104,346 BEVs (Battery electric vehicles) which is a massive 82% up compared to the same month in 2022 and 1.7% up against the previous month.
Likewise, BYD sold 105,103 PHEVs PHEVs (Plug-in hybrid electric vehicles) totaling the sales to 209,464 commercial passenger vehicles in April, which is 98% up YoY. If we add buses and other vehicles, the total reaches a further 210,295 NEVs. BYD cumulative deliveries of NEV reached 4.1 million. April is the best month in BYD history in terms of sales volumes. In the meantime, the company discontinued internal combustion engine vehicles a year ago.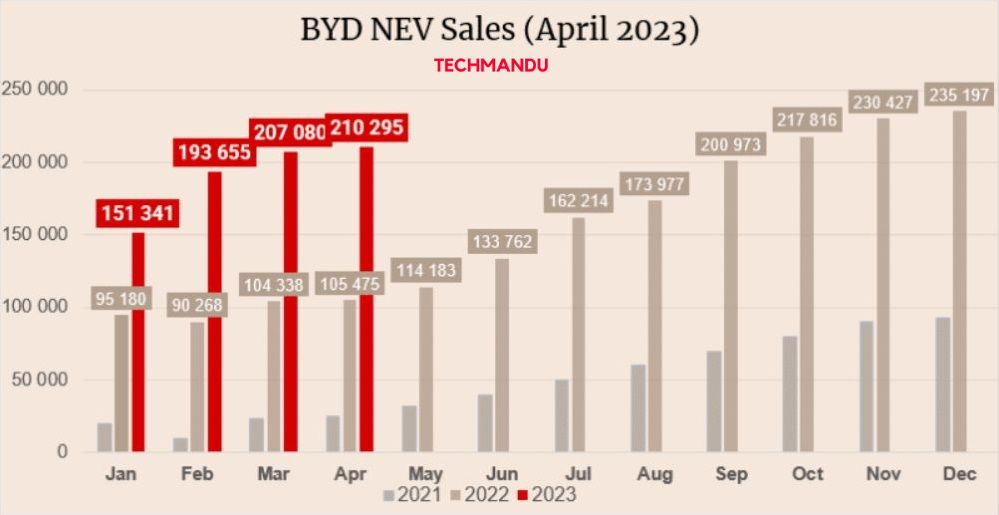 Check out: BYD Cars Price in Nepal | Latest 2023 Update
BYD Sales in April made history | 14,827 NEVs sold
The report also revealed that 14,827 NEVs (New Energy Vehicles) were exported. The BYD Atto 3 has been massively popular in various markets. EVs and PHEVs are called NEVs in China.
BYD has announced its brand Denza owned by Mercedes which managed to sell 10,526 SUV EVs. Denza sells the luxurious MPV Denza D9, The second EV Denza N7 will be launched in June. BYD has become the best-selling car brand in China beating Volkswagen.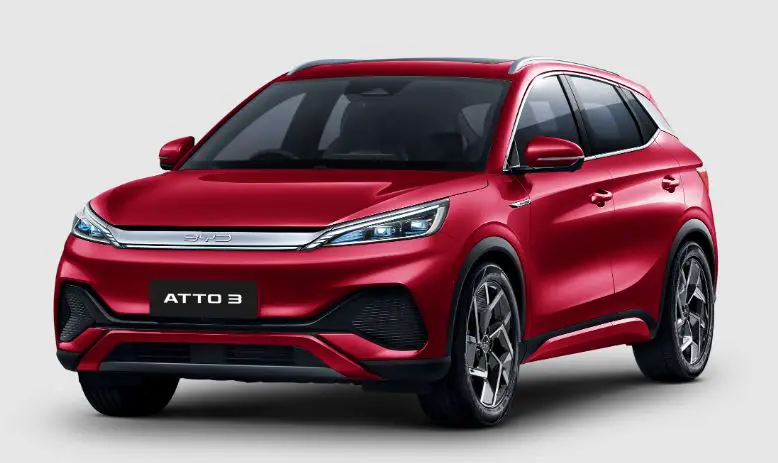 IThome published the breakdown of BYD sales in April. The data reveals that the best-selling series was the Dynasty selling 115,550 vehicles:
BYD Qin – 42,202 units
BYD Yuan – 39,160
BYD Han – 14,329 units
BYD Tang – 11,759 units
BYD Song – 8,100 units
The second best-selling series was the Ocean themed four-wheelers which sold a total of 83,388 vehicles:
BYD Dolphin 30,462 units
Frigate 07 – 10,003 units
BYD Seal 6,212 units
Destroyer (Chaser) 05 – 5,380
BYD Seagull 1,500 units
BYD E2 – 2,095 units
BYD Song Plus – 27,736
The last row is not a mistake; BYD considers BYD Song Plus an Ocean series.
BYD is also making a profound name in Nepal as it rises to global dominance in the EV market with affordable lineups. For more on BYD EVs and other related information, do leave your query in the comments below.