Nepal's leading ride-sharing service provider Pathao has launched Pathao Kawach', a campaign aimed at providing protection to all those on the ride. This brings 5 different facilities to customers, riders, captains, and footmen.
The company spokesperson Surakshya Hamal says the benefits will be easily available through the Pathao app.
Download Pathao app: Android | iOS
Pathao Kawach 5 benefits
As stated above, the campaign brings 5 different benefits to all those who get on a Pathao ride. This includes all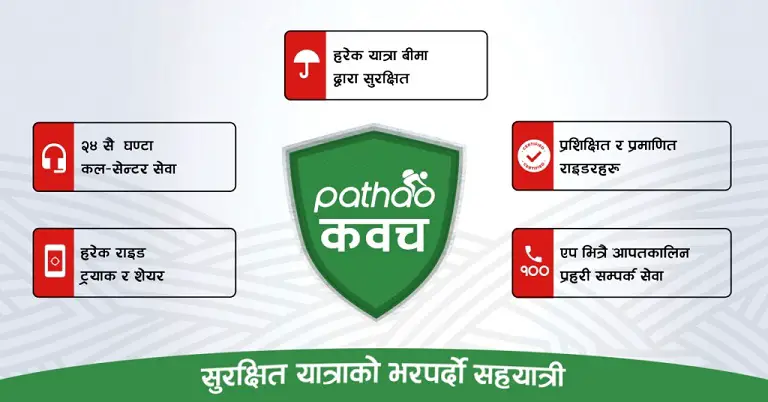 1. Insurance on each ride
One of the hallmarks of the campaign is that every Pathao ride is insured. The ride-sharing leader will cover accident insurance of 1 lakh to 10 lakh in case a mishap does take place.
2. Trained and certified riders
What makes a ride safe and more comfortable than having a trained and certified rider? The Kawach campaign ticks the box for your risk-free ride with an able and seasoned rider.
Check out: Top 5 Ride-sharing Apps in Nepal
3. 24-hour call center service
If you have a complaint or an issue that you experience with a ride, you can immediately dial Pathao. The Value Added Service keeps its customer care call center available round the clock. Not a single query would go unheard with the Kawach campaign.
4. Emergency police service through the app
If you ever run into a situation that demands attention from the law, Pathao has got your back. Whether an accident or an unlikely behavior you witness from anyone, you can take it up to the police right from within the Pathao app.  
Also see: Ride Sharing Services Must Register with Provincial Government
5. Every ride is tracked and Shared
In an attempt to keep its rides safe and secure, the Pathao Kawach campaign has added another tier of protection. The company says it will track and share every ride to ensure that both the riders and customers remain safe and being 'watched'. This helps to update or avoid any type of incident or behavior that could be hazardous to any party.  
Pathao is promoting the campaign under the slogan "Pathao Kawach, your reliable companion for a safe ride".
All the services and benefits from the Pathao Kawach campaign will be available on online rides only.
How delighted are you with Pathao bringing the Kawach campaign to protect its rides? Do you wish other ride-hailing platforms to follow the suit? Do share your opinion in the comments below.