Kathmandu University (KU) has inaugurated a LUPIC-based classroom and lab. The international education project will further boost digital learning infrastructure and elevate the learning experience in the country's one of most respected educational institutions.  
The system is designed as per the Leading University Project for International Cooperation theme.
The inauguration ceremony had the participation of officials from Kathmandu University, Lumbini Technological University, a Project Lead from South Korea, LUPIC team members from Nepal, and others who were present online mode.
The idea of the LUPIC project is to promote the education system in developing countries. Under this cooperation, human resources are trained, leveraging the available resources and experiences from Korean universities.
KU has agreed with Chinju National University of Education and the National Research Foundation, both from South Korea for its LUPIC-themed classroom and lab.
Also read: High-Tech Classroom Established At National Innovation Center, Kirtipur
LUPIC model brings digital infrastructure to Kathmandu University
At KU, the LUPIC-themed project includes interactive displays for teaching/learning, a YouTube Studio, and a computer lab with advanced technologies and software.
Assist. Prof. Dr. Sushil Shrestha, a Department of Computer Science and Engineering and LUPIC team member, explained the modality of the model classroom and briefed the features of the studio and lab.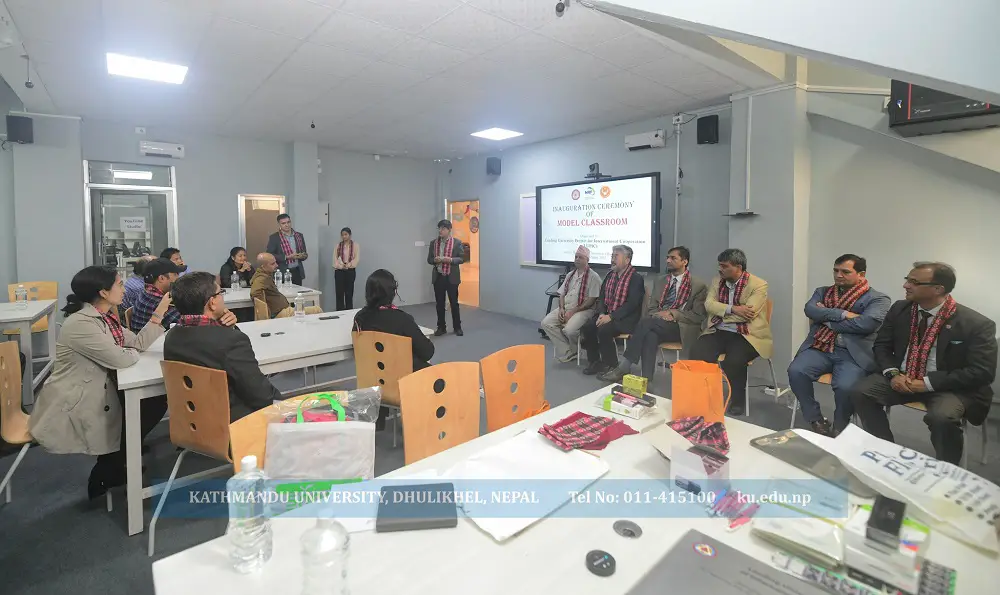 Similarly, Prof. Dr. Bhola Thapa, Vice Chancellor also shared his delight at the integration of the model classroom at KU. He thanked the donor institutions and the project members for their help to incorporate the state of art model classroom and lab into Kathmandu University. He later advised the team members to utilize the model classroom infrastructure and also care for its sustainability and how it can be furthered to the next level.
The LUPIC initiatives have been implemented in various countries such as Sri Lanka, Mongolia, Ethiopia, etc. with effective results. In Nepal, the fast-growing educational model is practiced in both undergraduate and master's programs.
check out: NMB Bank and Flywire Partner to Pay for Education Abroad
The project also requires a specially designed curriculum and textbook for academic programs.
KU expects to exploit the project to empower women's education and opportunities.