The startup company Kaicho Group has invented a device that sends a notification after FonePay payment. The device will be useful for merchants to be assured of the transaction when they don't have their mobile phones near them.  
The company says the device notifies users with a beep and a voice message following a successful FonePay transaction. The company has shared a short demonstration video on its official Facebook page.  
The device will be particularly useful for businesses (stores, restaurants, mart/malls) to get assurance of the mobile QR payment. When merchants don't have a mobile phone nearby, they can learn of the payment through the device.
Check out: Twin Brothers Unveil QR-Based Tea Vending Machine TeaScan
A device that Sends a notification After FonePay Payment
Sujan Poudel, CEO of Kaicho Group says, "Most stores, mart, and hotels have a FonePay QR payment service. But even after the mobile payment, it needs to be confirmed. At times, the notification also comes late."
"But our device notifies about the transaction in three to five seconds followed by a voice message. The voice also states the amount paid making the service more trustworthy and convenient," he adds.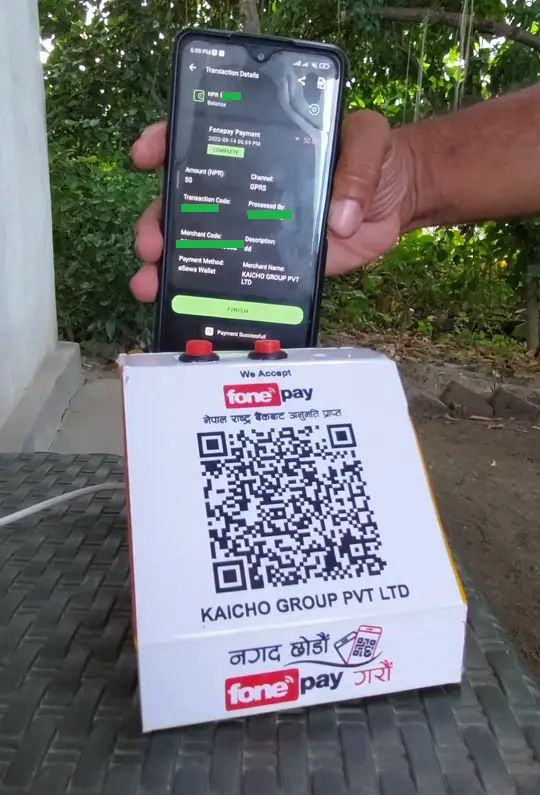 Meanwhile, you can also book your unit of the device. You can contact the company at 9848558143, or at 9804525143 to reserve one for yourself.
Also see: Digital Saugat, with an aim to create 1 lakh digital marketing experts
For now, the company has sent a prototype of this device to FonePay. Once approved, it could work on the project with FonePay's cooperation.
Do you think this product would help you sort out your FonePay transaction faster for your shopping or any other services? Do share in the comments below.