Nabil Bank has started the Nabil FoneLoan "QR Merchant" service which enables the bank's customers to borrow loans at their convenience via the bank's mobile banking app.
The service has now been made available for both Salary accounts and QR merchants.
The private commercial bank launched the digital loan service in collaboration with UNCDF with an aim to empower Small and Medium Enterprises (SMEs) and women entrepreneurs.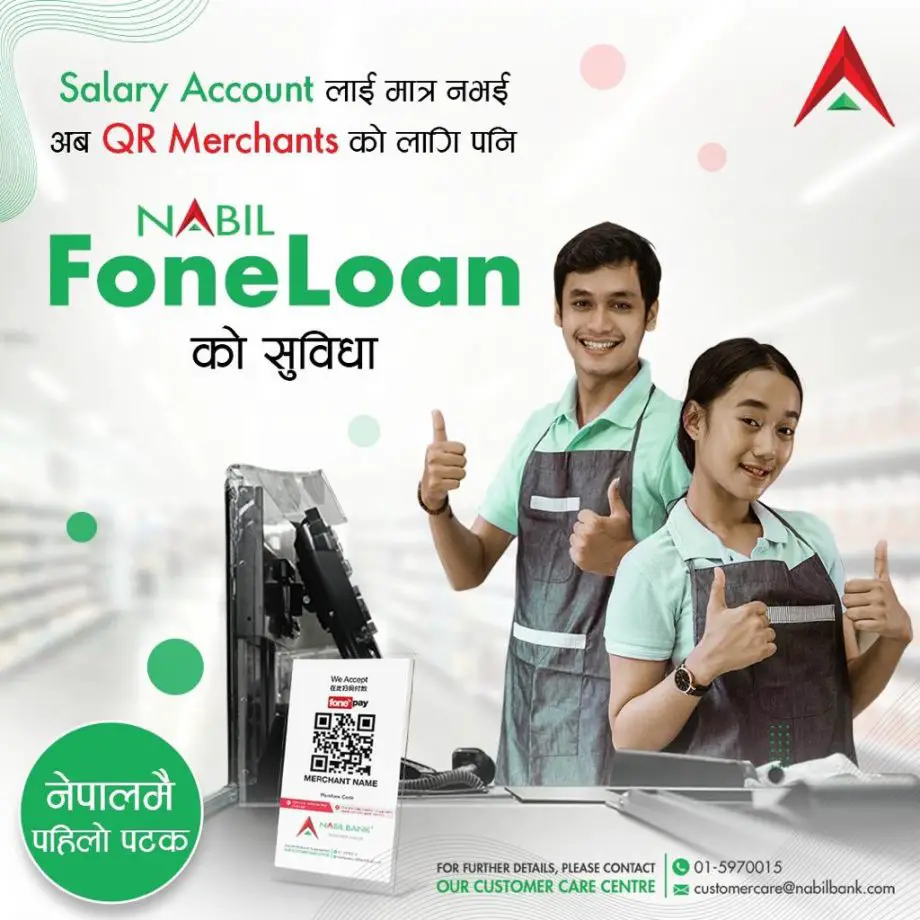 To benefit from Nabil's FoneLoan "QR merchant" service, a customer needs to have an active account at the bank. Meanwhile, being Nabil's QR Code Merchant is another mandatory requirement for the digital loan service.
Besides, the customer also must have had transactions worth Rs 10 thousand via 5 QR payment sessions in the previous month. The bank also requires the customer to have transacted through QR once every week for the past 4 weeks in succession.
Check out: Nabil Cash Machine: Allows Both Cash Withdrawal And Deposit
Nabil FoneLoan Service will promote SMEs and digital banking
"This is Nabil Bank's complete digital service. We have introduced such a service for the first time in Nepal to encourage our QR merchants to perform digital transactions based on QR payment without any collateral," Gyanendra Prasad Dhungana, CEO of Nabil Bank said.
He added that the Nabil FoneLoan service will especially benefit youth and women entrepreneurs who are engaged in SMEs and will further promote the bank's digital banking services. Also see: Use Nabil Mobile Cash Service to withdraw Without an ATM Card
The service has just launched and the bank has enforced a threshold for the loan service. At the moment, a registered Nabil Bank merchant can receive a loan of Rs 1 lakh without any collateral for one month. The bank says it will further improve upon the criteria and extend the receivable loan amount limit and the period.
Download: Nabil SmartBank app
Are you compelled by the digital and convenient loan service from Nabil bank? Do share with us below the comments.