Leading private commercial bank Sanima Bank has launched Sanima 5 in One account facility. It's the revised and upgraded relaunch of its previous three account services brought in collaboration with Sanima Capital.
Sanima Five in One service brings together services such as demat, saving account, CRN, C-ASBA, and Mero Share. Under this initiation, the bank's customers can apply for one of the all, or all services at once. Both existing and new customers can benefit from this service at its 5 in One online platform here.
Do read: Brokers Can Use Their Own TMS for Share Trading, Nepse Rules
Sanima Bank Five in One Service highlights
With this service, the bank's customers can use the online platform to create a new saving account or open a Demat account. Additionally, the electronic platform also allows users to create C-ASBA, and Mero Share accounts and one for trading shares.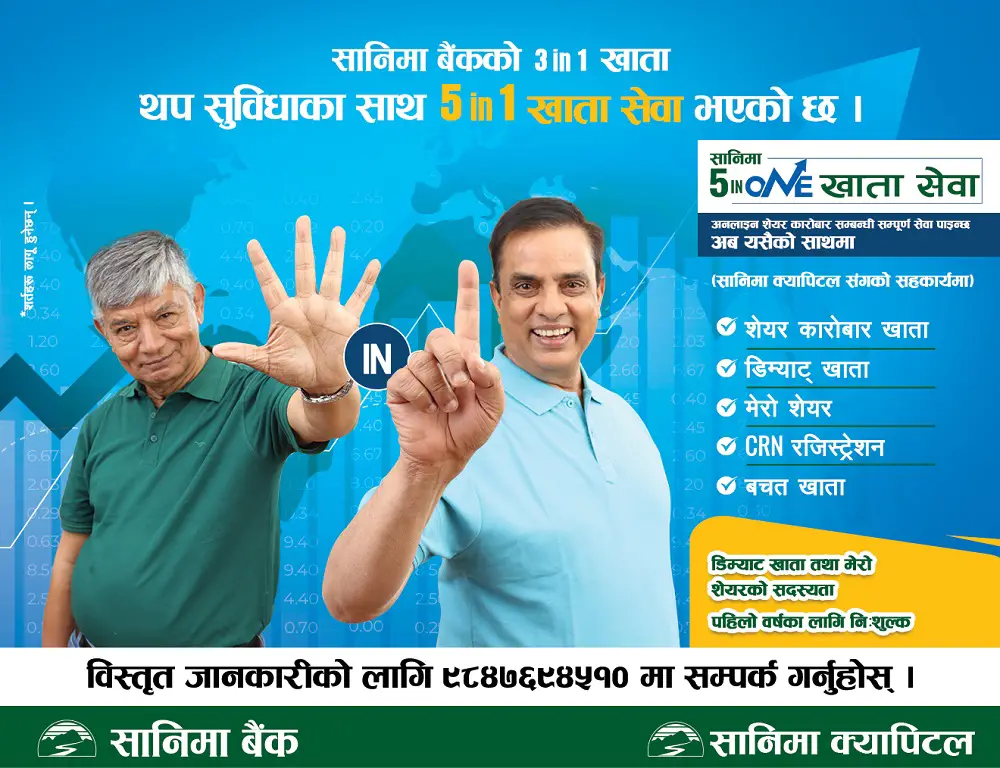 As part of cultivating electronic services, Sanima Bank has been adopting various digital banking practices. The Five in One platform is created with the objective to provide its customers with a platform for an easier and more convenient method to trade shares.
Also read: Sanima Bank Starts Cash Deposit Machine | Rs 1 lakh
Sanima Bank five in one service in sum:
Sanima Bank provides the following five services with its "Five in 1" initiative:
Share trading account
Demat account
Mero Share
CRN registration
Saving account
Sanima Bank is one of Nepal's leading financial institutions. The bank provides its banking services across seven provinces playing a prominent role in financial inclusion.