Sanima Bank has brought Cash Deposit Machine into operation. The trendy digital service allows people to deposit cash into their accounts directly through the machine. With this, people don't have to visit branches, stay in the queue and fill in forms.
The service is available to customers who have an active bank account of the bank.
Lately, digital banking services have become the trend. We can notice banks starting deposit machines to provide convenience to their customers. The Himalayan bank has recently started a similar service while Nabil Bank has also launched such services. Now, Sanima Bank has started the similar service.
Also check out: Deposit Directly via Cash Deposit Machine by NIC ASIA Bank
Sanima Bank starts cash deposit machine service
With this service, the bank is promoting digital banking practices. Customers do not need to visit the bank and do paperwork. They can deposit cash into their bank account within a few clicks without visiting a bank branch.
"Sanima Bank has launched Cash Deposit Machine to its valued customer that allows customers to deposit cash on their own using the machine. The bank believes that this facility will provide hassle-free service and save time for the customer," the bank said.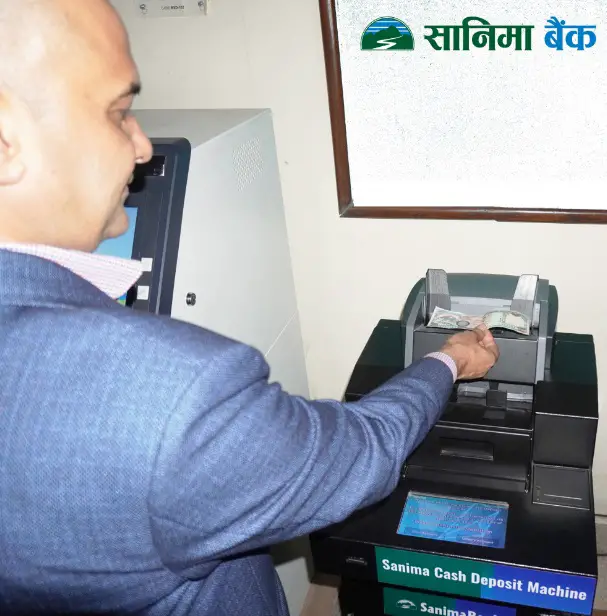 For now, Sanima's Cash Deposit Machine is installed at its central office in Naxal. Soon, the service will expand to other branches. With this machine, you can deposit below Rs 1 lakh per transaction. The machine accepts Rs 500 and Rs 1000 denominations.
Check out: Free Data on the Mobile Banking App of Sanima Bank on Ntc, and Ncell
How do you like the banks starting 'machines' for digital banking services? Do you prefer them despite their limits or prefer the traditional paper way? Do share in the comments below.