Nepali viewers will need to pay Rs 500 to watch World Cup 2022 held in Qatar. Media Hub, the company with exclusive rights to the tournament shared that watching the matches live on any TV will require payment.
FIFA World Cup 2022 will kick start on November 20 and run till December 18.  
Media Hub has called on viewers to contact their nearest DTH, cable operators, or MSO to buy the subscription for the matches. Himalaya TV has been confirmed to air World Cup matches.
Also in 2018, the company earned the broadcasting rights for the World Cup matches held in Russia. However, it wasn't an "exclusive right" which resulted in Nepali viewers having other TV channels to watch the matches live. This time around, Media Hub has acquired exclusive rights to the World Cup matches that give it sole authority regarding the broadcasting of all the matches in Nepal.
That means any TV channel or online platform which wants to air FIFA Football World Cup 2022 must agree on the terms with Media Hub.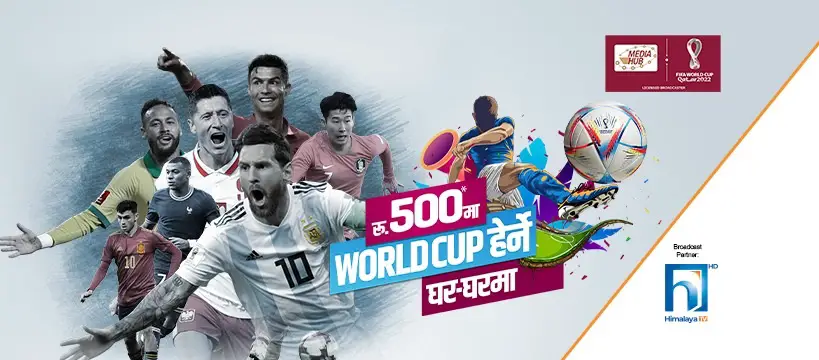 So far, Nepali audiences never had to pay for Football World Cup matches. It is similar abroad too. The company with the rights to the tournament is supposed to replenish its investment through ads. But Media Hub is charging an additional cost to the viewers which might not sit well with the fans.
World Cup matches will air live on Himalaya TV. We have also learned that Action Sports could broadcast the matches. And also regarding the payment, there might be more debate and development soon. We will keep updating you in that regard.
Check out: OTT Platforms vs Cinema Hall, Which One is Better For Watching Movies?
What is your opinion on having to pay Rs 500 for the World Cup 2022? Do share in the comments section below.