Nepal Telecom (NTC) provides a service called SIP Trunk service which allows subscribers to use the same number in substitute for many. The service is provided to organizations and offices that use at least 100 phone numbers.
The company rolled out the service before the Covid-19 lockdown began. Various government and diplomatic agencies are currently using the service which includes World Bank, American Embassy, etc.
Already, Ntc provides SIP PBX service for a minimum of 15 sessions a month. But for even more phone lines, the trunk service is made available.
To provide SIP Trunk service, the number in the customer's office is set up as an exchange, and it is connected through a trunk from interconnection at Ntc. Subscribers can use the numbers for varying purposes. Check out: NTC Group SMS Growing Popular, Send Messages to Thousands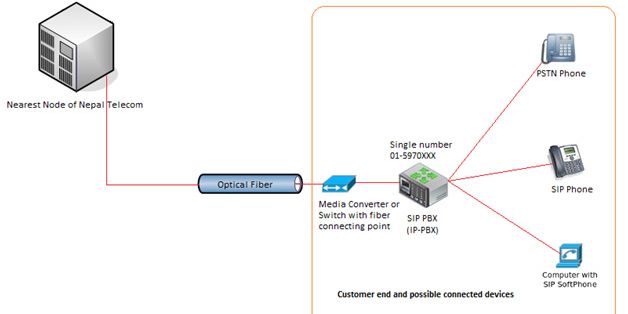 Advantages
One phone number can substitute for many. Removes the need for various contacts at the office.
A single fiber cable is used for the service. Many customers can call using the same phone number too. The number is hardly "busy" with it.
End users can enjoy features like call management, auto attendants, and IVR-based service.
Cable management becomes more effective.
Specifically useful for call centers, corporate offices, customer care, and hotels, banks, etc.
Check out: NTC Launches eSIM in Nepal, Distribution Begun!
Ntc SIP Trunk tariff
To subscribe to the IP Trunk service, customers first need to pay Rs 500 in the registration fee. The installation costs Rs 6000. For every 100 phone numbers, the service costs Rs 50,000 under the government ownership charge. Likewise, customers need to pay Rs 50,000 for local and STD lines in collateral and 1.5 lakh for the ISD line.
For rental charges, Ntc has set Rs 5000 and Rs 200 per 60 sessions which totals 17 thousand before taxes a month. The charge increases if the service is acquired for over 100 phone numbers.
Customers can visit Ntc's website https://ntc.net.np/post/sip-pbx-service to subscribe to the SIP Trunk service. A form needs to be downloaded and submitted to the nearest branch office or the concerned directorate of the telco with all the details.
If you want to learn more about the service, let us know through the comments below