Nepal Telecom (NTC) launches VoLTE on World Telecommunication day (May 17, 2021), after rigorous testing which it has been doing since it started expanding 4G to more areas. VoLTE (Voice over Long Term Evolution) is an advanced 4G feature that provides provide HD voice calls over an LTE network. Ntc 4G service is being available in all 77 districts, so VoLTE is now available all over the country but with select handsets.
Since 4G is data-only technology, Telecom companies require extra features to support voice over 4G or fall back to the existing legacy networks like 2G, 3G while being on 4G.
Check out: Several Codes of Nepal Telecom | Balance Transfer | Check Own Number
VoLTE (Voice over LTE) is an extra feature solution to provide Voice over 4G LTE. Since voice passes through the data (IP) network for the voice services, it is similar to Voice over IP.
Just like OTT applications (Skype, Viber, Messanger), the VoLTE allows you to call using your own number through 4G. There is an expectation with this service that the voice call becomes free. But it's unrealistic for a country like Nepal now. So, the telcos in Nepal will charge the calls through the service at a cost per minute.
Nepal Telecom has also invited smartphone companies to perform VoLTE tests on their handsets. Nepal Telcom 4G supports two bands i.e. band 3 (1800MHz) and Band 20(800MHz). So, after testing VoLTE along with other features of Ntc's 4G LTE network, they are able to provide it to the public.
Voice over LTE technology (VoLTE) provides HD quality voice call through a 4G network. So, to test those 4G bands, VoLTE, and more, Nepal Telecom aims to collaborate with the Smartphone vendors/distributors. They will also list the supporting handsets on their website after the test.
Check out: Ntc TV service Over FTTH; NTTV Price, Package and How to subscribe
Here are some of the advantages of VoLTE:
Crystal Clear Voice with low noise
Faster Call setup
Longer Battery life
Additional service of Video calls using ViLTE
For a telecom operator also, VoLTE is advantageous, as it enables a new operator to provide the voice with their 4G network. This is what Jio did in India, as a greenfield telecom operator. Whereas the existing ones can also provide Voice and high-speed internet with 4G network on no-coverage zones.
Nepal Telecom launches VoLTE on a massive scale after sufficient testing and development of their network. We can expect Ncell might also bring the VoLTE service in near future, but there is no news or rumors about it till now.
This feature is idle for the upcoming telcos to be a 4 Gonly operator while providing Voice using VoLTE. It is mostly useful for upcoming operators like UTL, CG Telecom, Smart Telecom, etc.
Above everything, you need to consider that the telecom operator whose SIM you use must have the service VoLTE enabled in their network. Not every 4G LTE network will have this feature. Likewise, you also need to enable VolTE for your SIM. Similarly, on the customer end, you need to have VoLTE support on your smartphone. As every 4G phones don't have VoLTE enabled, you need to make sure your operator and your smartphone support the service if you want to use the service.
As the phone companies are updating their software to enable VoLTE and more services for Nepal, you need to update your phone OS to the latest version.
Check out: How to take loan in Ntc, Ncell, and Smart Cell?
How to check if your phone supports VoLTE?
To check VoLTE support on your phone, you need to
Go to your phone settings
Go to Mobile/Cellular Networks for Particular SIM card settings
Then if you can find "Use VoLTE" or "VoLTE calls for SIM 1" in there, and toggle the switch to enable, then your phone supports VoLTE.
Otherwise, you have to ask the phone company to enable it. If you push them, most probably they will provide the feature on their next software update.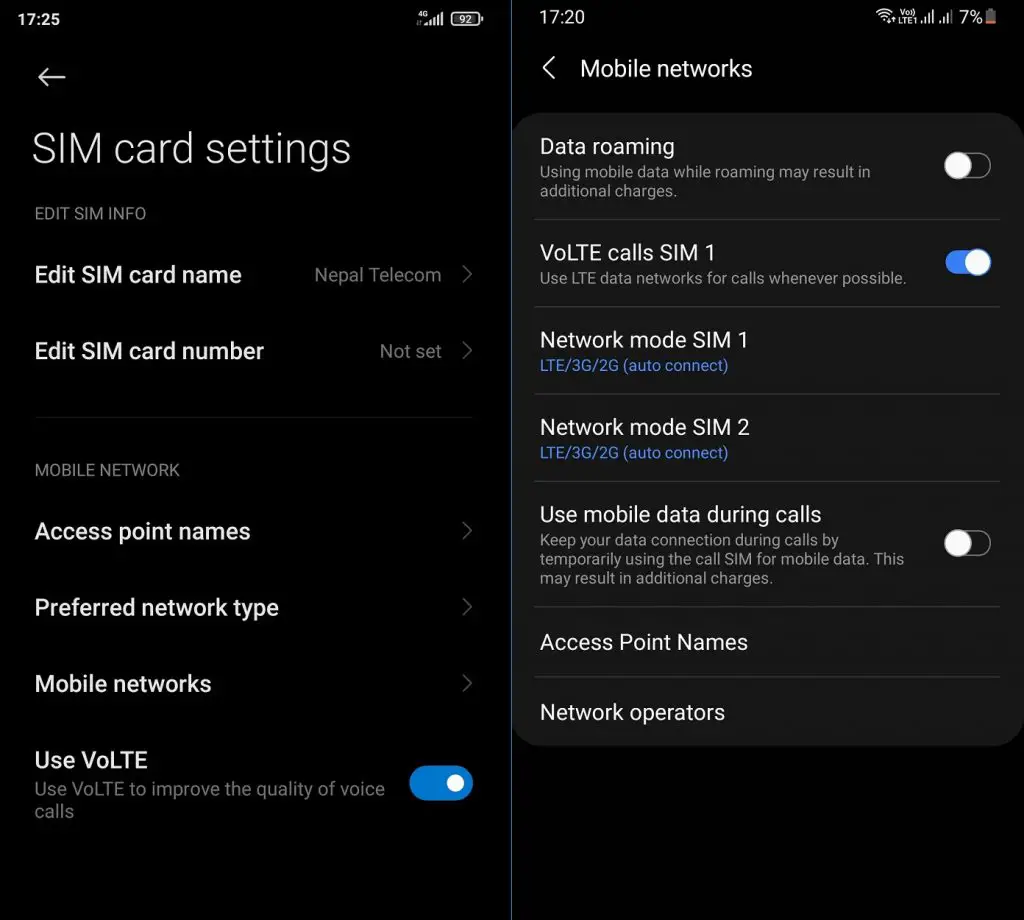 How to enable VoLTE on Xiaomi Phones in Nepal?
As known, most of the latest Xiaomi (Mi, Redmi, and Poco) phones support VoLTE. But if you do not find the VoLTE toggle on your phone settings, you need to dial a code to enable it. To activate VoLTE service in Xiaomi phones, you need to
Go to your Dialer
Dial *#*#86583#*#* which will enable VoLTE on your phone.
Then you can check the above settings to find and toggle the "Use VoLTE" option on your phone.
How to enable VoLTE on your Ntc SIM?
To activate the VoLTE service on your Ntc SIM card, you need to
First, have 4G enabled on your SIM card
Dial *444# and press 2 to activate VoLTE
VOLTE launch offer in Ntc
Ntc is providing a promotional package of free 100 mins calls with the VoLTE subscription. So, after you have succeeded in activating VOLTE on your phone and SIM, you need to dial *111# to get the free package. The free voice minutes can be used with VoLTE only and remains valid for 28 days.
Recommended Read: Namaste Pay; Digital payment service of Nepal Telecom
With the VoLTE activation, you can enjoy HD calls and IP video calls over the 4G network.
Read more articles from Techmandu!!