Here you will learn how you can apply for the job vacancy of Nepal Telecom (NTC) 2021 in easy steps.
Nepal telecom has announced vacancies for 270 employees in 20 different positions. The vacancy notice is announced for various posts ranging from technicians, accounting officers to engineers.
The validity period for the latest vacancy will stay from 2078-Mangsir-23 till 2078-Poush-01 with a double charge for application.
This is one of the rarest chances when NTC has called for such a huge number of employees at once. Therefore, there will be a huge amount of interest and a number of applicants this time crowding the telco's server.
Do read: How to take the loan in Ntc, Ncell, and Smart Cell?
The interested candidates can visit the recruitment portal to apply online for their desired vacancy in Nepal telecom. Below is the table showing the posts and the number of employees Nepal Telecom is seeking through the vacancy.
| | | |
| --- | --- | --- |
| SN | Nepal Telecom Position | No of Vacancies |
| 1 | Deputy Manager, Telecom | 3 |
| 2 | Deputy Manager, Accounting | 1 |
| 3 | Deputy Manager, Administration | 1 |
| 4 | Senior Engineer, Telecom | 2 |
| 5 | Senior Accounting Officer | 1 |
| 6 | Senior Accounting Officer, CA | 3 |
| 7 | Senior Administrative Officer | 2 |
| 8 | Senior Business Officer | 1 |
| 9 | Telecom Engineer (Electronics and Communication) | 48 |
| 10 | Telecom Engineer (Computer) | 20 |
| 11 | Telecom Engineer (Electrical) | 12 |
| 12 | Civil Engineer | 9 |
| 13 | Assistant Accounting Officer | 13 |
| 14 | Assistant Administrative Officer, Law | 2 |
| 15 | Assistant Administrative Officer | 11 |
| 16 | Assistant Business Officer | 11 |
| 17 | Overseer | 15 |
| 18 | Technician | 53 |
| 19 | Assistant | 28 |
| 20 | Junior Technician | 34 |
| | Total | 270 |
Vacancy of Nepal Telecom 2021/2078
There are different charges for different posts. Applicants can also choose to either apply in Open or inclusive competition as per Nepal Doorsanchar Company Limited Employees Regulations, 2078 (including the first amendment).
Applicants can upload their citizenship, PP-sized photo, certificate of education qualification, etc. to be valid for the candidacy.
Do read: Nepal Telecom VoLTE service; How to activate?
Also, make sure that the age bar won't affect your eligibility for the posts. Do check the qualifications required for the posts you want to apply for.
The employees who will be recruited in the above posts will be assigned to work in various directorates, departments, and offices outside the Kathmandu Valley.
Read: How To Transfer Balance On NTC, Ncell, and Smart Cell?
How To Apply For Vacancy of Nepal Telecom?
Applying for NTC's vacancy will take some time. Prepare your documents beforehand to save on time. Get your documents scanned and keep them in a folder easily accessible. While fillip up the data, make sure they match with your detail in the citizenship and other documents. Follow the steps below to apply for the vacancy of Nepal Telecom:
First visit www.recruit.ntc.net.np to open the log in page
Click on Register, input your mail and create a password. You will receive an OTP to proceed in your SMS or the email address. Enter the OTP code and the log in page opens. Use email as your ID and the password as your official password to log in to your profile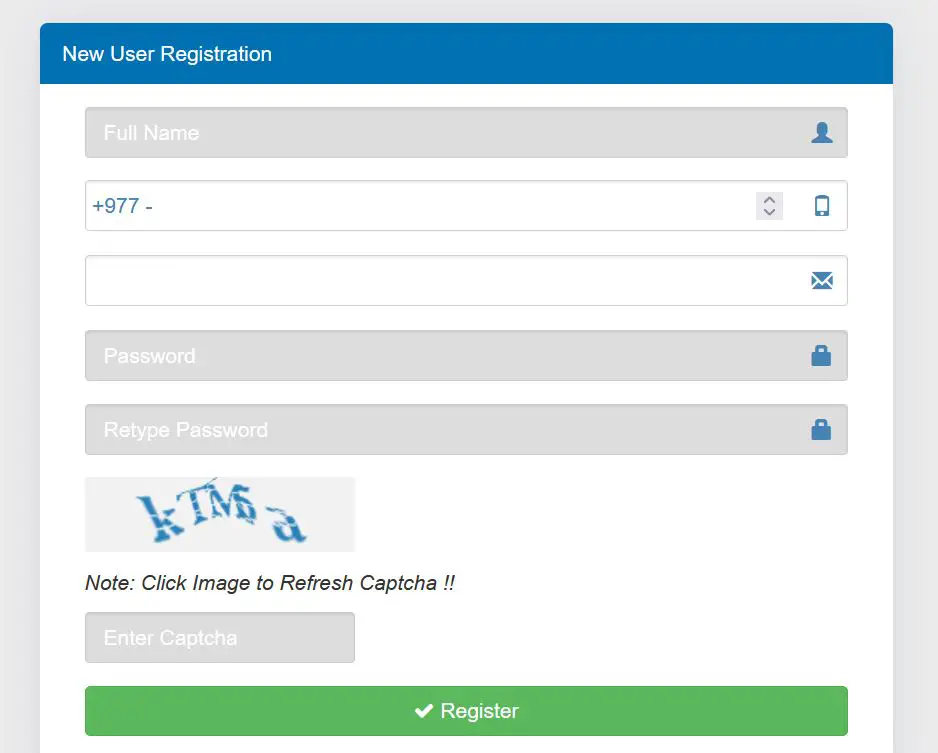 Click on Profile Entry. Fill up Profile, Family details, and Educational qualification. Fill up Training, Experience, and Council if required by the post your are applying for
If you are applying through Inclusive competition, go to Privilege group and enter your details, and upload documents and Save them [This is not valid for Female category]
Under Privilege group, enter your citizenship number for Registration number, and scan copy and upload citizenship in Privilege certificate. [It applies for the privilege group listed by Indigenous and nationalities Commission]
If you are entering Education more than once, click Add and Save and continue so
While entering your education qualification, ensure it meets the minimum qualification required by the post in the vacancy
If you are applying under specially privileged [with disablities] category, it is mandatory to go to Privilage group and upload certificate for authentication.
After you complete your Profile entries, go to Vacancy Post, click on Post Select and Apply for the post you are interested in. In case, the profile you created includes an error, you will receive message. Follow the instruction, go to Profile, correct the detail and Apply again.  
After you apply, you will proceed for payment. Click on Payment and select the digital wallet you prefer to pay for your examination charge. If you wish to pay at the Nepal Telecom counter, then print the page with the token number and the amount. You can pay the charges at Nepal Telecom's nearest branch in the office hour.
If you want to pay another day, log in and go to Applied Vacancy, click on View. Now, go to Payment and pay your exam fees.
This is how you can apply for the vacancy at Nepal Telecom. Make sure, you apply within the regular timeframe and fill up correct details to avoid any delay or rejection of the application later. Good luck
Do check: Important Ntc Numbers for inquiry and complain
Nepal Telecom is seeking a huge number of employees at once and this could be the golden opportunity for many of you to realize the goal of joining public office. As the no of vacancies is high, so will be the number of applicants Therefore, we urge our readers to hurry up and apply for their desired posts sooner than later and stay relieved.
We hope the steps listed above illustrate well enough to help you apply for NTC's vacancy. If you have any queries, do leave a comment below.